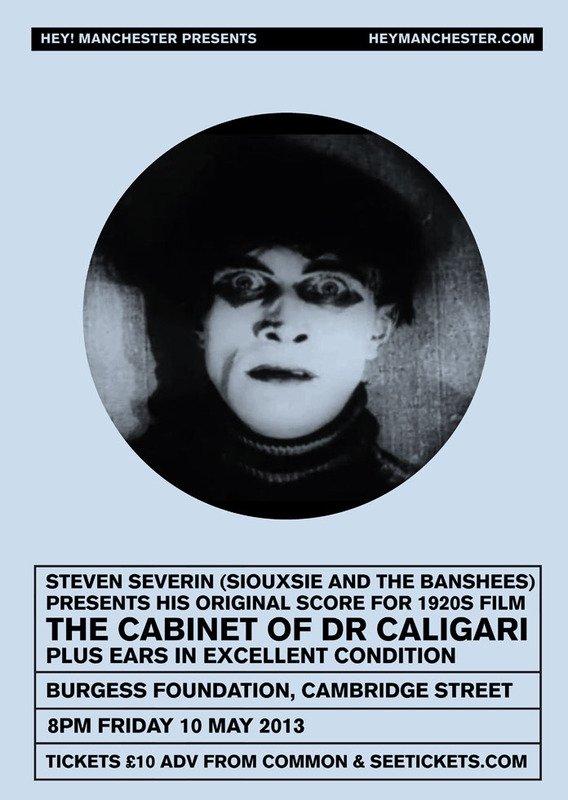 Date
Friday 10 May 2013 at 8:00pm
Location
International Anthony Burgess Foundation
Engine House, Chorlton Mill, 3 Cambridge Street, Manchester, M1 5BY, United Kingdom
Web: http://www.anthonyburgess.org
Description
Following on from his 50-date Vampyr world tour throughout 2012, Steven Severin returns for a UK tour giving audiences a rare opportunity to hear his electronic score for The Cabinet of Dr Caligari, the fourth in Severin's ongoing film accompaniment series, Music For Silents.
Live in person, acclaimed solo artist and founder member of the legendary Siouxsie and the Banshees, Severin presents a mesmerising synthesis of sound and image, heightening appreciation of the surreal and enigmatic nature of the original work. Caligari, Robert Weine's unsettling tale of fear and obsession, finds its aural counterpart in Severin's suitably textured score, a synthesised, highly atmospheric soundscape drawing the viewer rhythmically into the oneiric imagery on screen.
During their reign, Siouxsie & the Banshees established themselves as one of the foremost alternative artists and the only survivors of the London punk scene to evolve, innovate and succeed until their final demise in 2002. Severin has since committed himself almost exclusively to scoring for film and television.
Since 2008, Severin has been performing live electronic accompaniment to silent films, startling audiences across the globe who have now come to expect the unexpected from the man who has crossed paths with such diverse luminaries as John Cale, Alan Moore, Lydia Lunch, Marc Almond, Merc Cunningham, Robert Smith and the Tiger Lillies.
Support comes in the form of Ears In Excellent Condition (formerly known as The Otto Show). For this show, the instrumental trio will perform soundtracks for Cinderella (1922) and The Death-Feigning Chinaman (1928), two ten-minute silhouette animations by the German director Lotte Reiniger (1899-1981).
Price: £10 adv
More info
Don't want to see ads? Upgrade Now
2 went
Deleted user