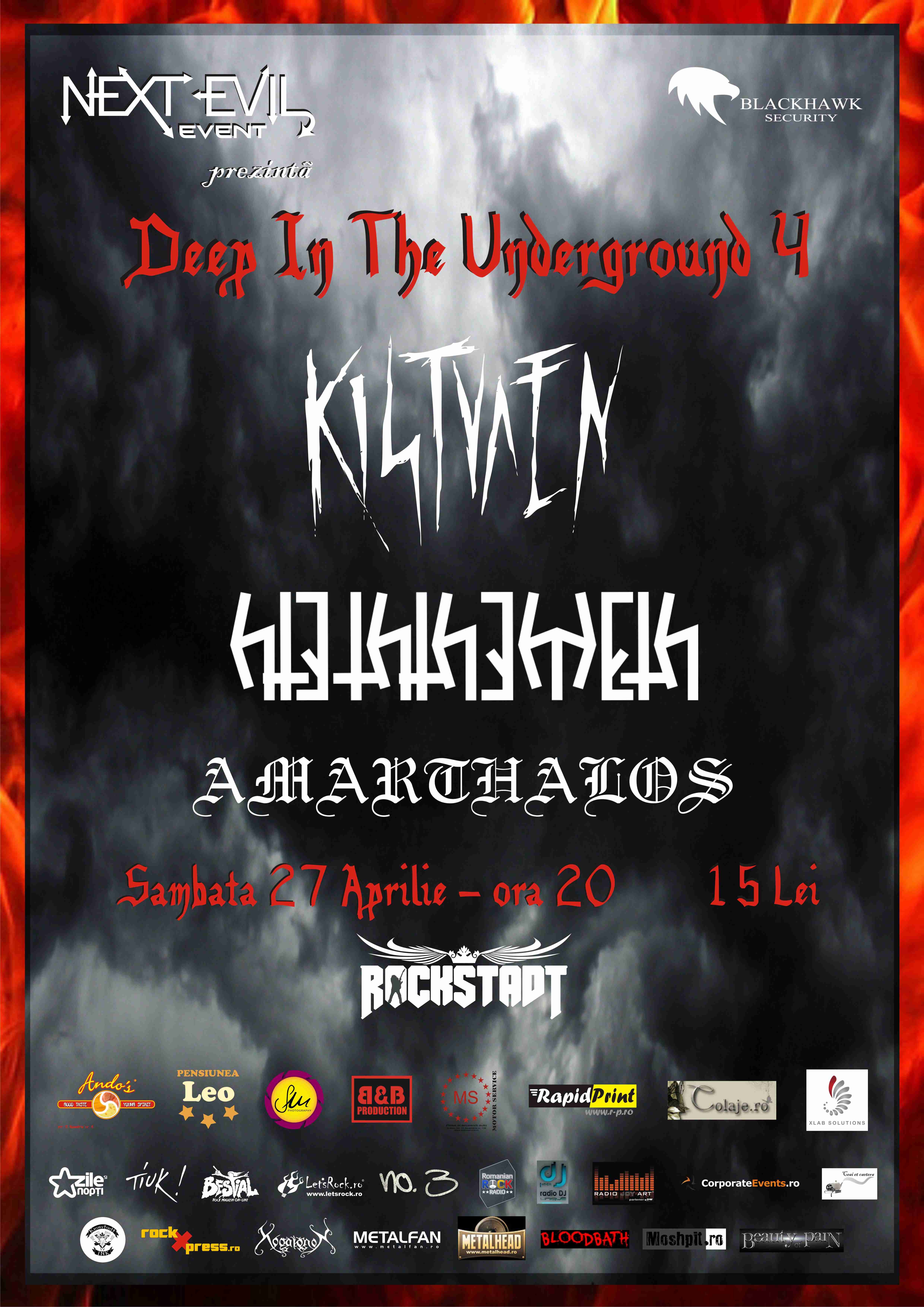 Date
Saturday 27 April 2013 at 8:00pm
Location
Club Rockstadt
Brasov, Romania
Description
Cornitele sus dragi amatori de muzici metalizate!
Next Evil Event va invita Sambata, 27 Aprilie 2013, in clubul Rockstadt din Brasov la Deep In The Underground 4 - o editie cu multa muzica exuberant de depresiva. Trei titulaturi ce isi invart codita in jurul black metal-ului, combinandu-l in fel si chip cu tot felul de sonoritati mai mult sau mai putin ciudate, va invita sa celebrati impreuna cu ele o seara magica.
Amarthalos - Vrajitor in arta magiei sunetului, muzicianul va transmite in aer sunete venite parca din alta lume. Imbinand cu succes elementele ambient cu black metal-ul, proiectul maestrului va propune o incursiune in interiorul spiritual al lumii ce ne inconjoara.
Hteththemeth - Dupa prezenta la editia cu numarul 3 a aceluiasi festival, noul album conceput de Lao Kreegan (aka Leo) si echipa sa, pe numele sau "Best Worst Case Scenario", isi dezvaluie mai departe povestea, purtand ascultatorul in continuare prin peisaje muzicale pline de trairi intense, unele chiar duse la extrem.
Kistvaen - Cea mai reprezentativa emblema a black metal-ului depresiv, trupa revine in orasul nostru, prima data fiind chemata cu ceva ani in urma in cadrul primului eveniment organizat de catre Next Evil Event. Avand la activ un album deosebit - "Unbekannte" si o componenta demna de un supergrup, Kistvaen este o prezenta mai mult decat placuta fie ca vorbesti de muzica ei, fie ca te referi la membrii trupei.
Asadar, dragi impatimiti ai muzicii underground, va asteptam cu drag si cu multi draci Sambata, 27 Aprilie 2013, incepand cu ora 20 la Deep In The Underground 4.
Biletul de intrare va costa 15 lei iar berea va curge din belsug pe acorduri intunecate. Obisnuita tombola nu va lipsi, prilej pentru multi sa-si procure artefacte pentru vremurile tulburi in care traim.
Next Evil Event.
Don't want to see ads? Upgrade Now