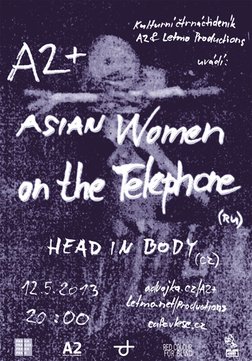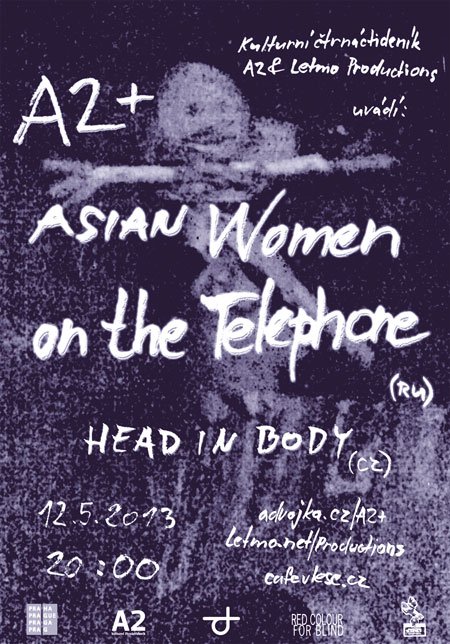 Location
Café V Lese
Krymská 273/12, Praha, 101 00, Czech Republic
Description
Letmo & A2+ present
V neděli 12. 5. na dalším z koncertních večerů série A2+, tentokrát ve spolupráci s Letmo Productions, vystoupí v podzemí pražského klubu Café V lese ruská experimentální postrocková skupina Asian Women on the Telephone vystupující také pod zkratkou Awott. Dále zahraje český deathraveový projekt Head in Body / Sister Body.
Některé skupiny si dají tak pěkný název, že se jich novináři ptají, jak na to přišly. "Jedna kapela, která se jmenovala Sun City Girls, měla v roce 1983 hit Asian Women on the Telephone," odpovídají členové Asian Women on the Telephone. Zbytek příběhu se odehrává v moskevském undergroundu. Produkce tria, které vzniklo v roce 2007 a od té doby vydalo už přes deset nahrávek, je inspirována ruským futurismem, kraut rockem, noisem, volnou improvizací, taneční hudbou. To vše dokonale zapadá do výsledného těžkého, hypnotického, a přitom neurotického zvuku, jehož smysl naznačuje heslo: "This is lo-fi music for a low-grade world."
Pomalé, možná rituální, možná otevřeně nihilistické tempo hudby, která jako by nepřítomně klesala pod hladinu šumů, ozvěny, zpětných vazeb a dronů do polohy nejnižších výrazových rejstříků těla, snadno vyvolá představu zpomaleného břišního tanečníka potěžkávajícího ve tmě – jako nějakého pololidského hybrida – své obří chlupaté břicho. Je v tom něco z hédonismu záměrného neumění, ale ještě více z promyšlené umělecké konfrontace, jejímž společenským vyzněním je sarkasmus: "Člověk je jako kámen, který tě praští do hlavy." Na působivosti skupině přidává také to, že pro každé své představení sestavuje nové masky a převleky.
http://asianwomenonthetelephone.bandcamp.com
Produkci českého projektu Head in Body vystupujícího také jako duo Sister Body lze popsat jako taneční hudbu, při které se nedá tančit, či jako distopické disko – taneční parket i pódium pokud možno zmizí v mlze a diskokoule se v takto nasyceném ovzduší absentujícího žánru otáčí jako enigma křišťálové lebky. Ocitáme se ve vhodné metafoře popové hudby, která začíná reflexí neurotického těla.
http://klangundkrach.net/sleepyhead/
12. 5. 2013 od 19.30 v Café V lese (Krymská 12, Praha 10). Vstup: 130/100 (studenti, nezaměstnaní, šikmá plocha).
http://letmo.net/productions
http://www.advojka.cz/a2+
http://cafevlese.cz
Born in 2007 from the ashes of three underground acts – Lubyanka, Park Kulturi and Domodedovo – a Moscow experimental outfit ASIAN WOMEN ON THE TELEPHONE is one of the new Russian avant-garde movement's most innovative and successful bands. Their artistic approach draws inspiration from the early Soviet-era Russian Futurism and Dadaism, and echoes a view of society as rigid, absurd, and schematic. They produce the strangest kind of music, with their own idiosyncratic, sarcastic vision. No overdubbing, no analog mixing or mastering… This is lo-fi music for a low-grade world. In fact, AWOTT have never stressed their musical content, regarding music just as an accompaniment to freaky costume-and-masked performances they set. Being banned periodically from Moscow club-venues due to rumored connection to "a mystical ritualistic sect", the band focused on studio work and put out a string of noisy recordings with unique packaging which were a true labor of love and couldn't be reproduced in proper manufacturing quantities. Still and all, nothing can be compared to live gigs by AWOTT.
Their trademark sound – almost exclusively instrumental – is a form of stripped-down, maximally lo-fi grunge full of background hiss. Frequently played at a very slow tempo, the swamp-like growl of these tracks sometimes slides into pure feedback or industrial drone, since individual notes are so drawn out. This is a very confrontational style, revelling in its sulky contrariness, yet at times – especially when the tempo increases sufficiently to banish thoughts of large animals – a hedonistic amateurism comes to the fore.
Don't want to see ads? Upgrade Now
11 interested
Deleted user