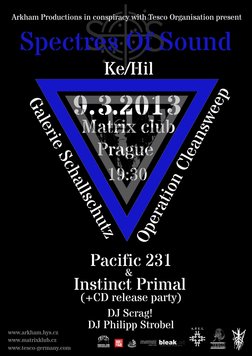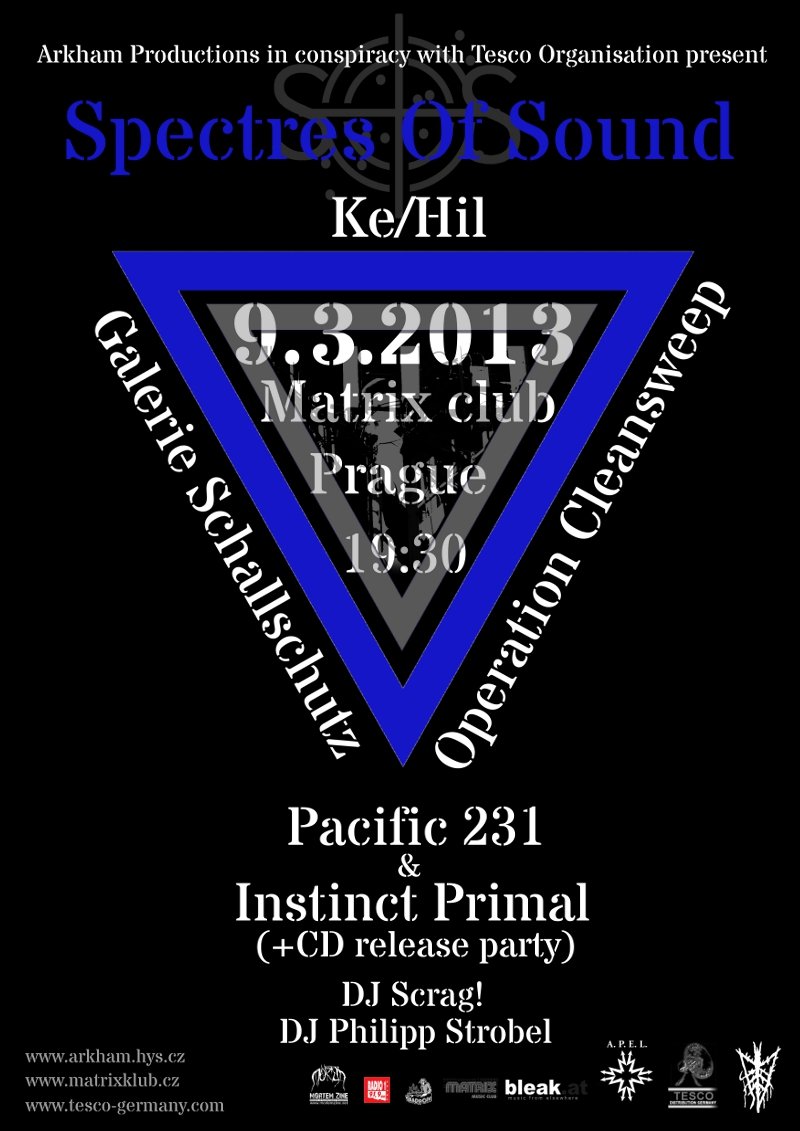 Date
Saturday 9 March 2013 at 7:30pm
Location
Matrix music club
Prague, Czech Republic
Description
After a long break that followed our one-day Death Parade festival in 2010, fans of the most extreme forms of electronic music can enjoy again live shows of representative performers all belonging to one significant record label. In the case of above mentioned Death Parade there were projects of CMI record label, this time we are bringing you three acts affiliated to the remarkable Tesco Organisation, which are all going to perform in Prague for the first time.
We are talking about Ke/Hil, Operation Cleansweep and Galerie Schallschutz. These three formations along with our local project Instinct Primal and a special guest Pacific 231 will swamp Matrix club in Prague with blasting noises and roaring sounds not easily acceptable for just everyone. The ambiguous name of event "Spectres of Sound", which could be inaccurately interpreted as scales of sound but correctly as menaces of sound, could imply its character. For those who are completely unaware of and unprepared for such a music genre would be perhaps more useful its abbreviation - S.O.S. The question is whether their prayers can be answered in a thundering storm..
KE/HIL
(nihilist death ambient/ power electronics)
Realizing that project Ke/Hil is made up of two members (B.Moloch, W.Herich) of the ultimate noise-terrorist group Genocide Organ alongside of not-less merciless unit Anenzephalia, it's not so hard to imagine what act of destruction may arise from such a notorious alliance. If Genocide Organ's music reminds you cynically of a harsh picture of bitter reality of this world pointing out the dark side of humanity, Anenzephalia reflects your fear and phobias of an unspeakable state when your loathsome nightmares infiltrate into a dull depressing gray indifference, then the work of Ke/Hil could reflect your undisclosed anxiety to admit such a tricky undesirable reality.
They force you to confess your fears of your own life, to acknowledge you are too weak to face your inner demons, to recognize your worries about unintended disclosure of your unpleasant, dangerous or forbidden thoughts that are carefully held locked out in a dark corner of your Thirteenth chamber. With extremely disturbing intense atmosphere Ke/Hil break into your wannabe safe shelter. They stab the blade slowly directly into an imaginary Pandora's box of your central nervous system to liberate you from a slavery of your own forced prohibitions and restrictions. Then, it's just your choice whether and how to deal with the freedom of negative thinking, or whether you will seek comfort in the only one way out - to enter the shadows in a ghostly subway heading to the final Hell-station.
youtube
OPERATION CLEANSWEEP
(power electronics/ death industrial)
Operation Cleansweep is somewhat mysterious project whose members perform under their initials I.B. and M.G. Although not issuing new albums for a longer time, they still have many followers and feature a significant cult status for their exceptional acts. Prague concert will be one of their rare live performances outside Germany, so it would certainly be a shame to miss such an unique occasion.
It would be too simplified and imprecise to just describe it as power electronics based on allusive provocative concept using various disturbing vocal loops and samples difficult to define. For those who are not familiar with their work, it would not illustrate sufficiently its insidiously captivating power and challenging danger within.
You will be completely seized and devoured by this and then, being infected with tainted visions and perplexed by bizarre ambiguous matters, casted into the cold dark pit where just fear despair and hopelessness will be your only companions. And from this bleak hole they will let you watch a destruction and disintegration of what was considered right and beautiful, but according to your captors was necessary to destroy and fix it. However, their goal is not to let you die, but to break you, to make you agree with them and join their cleansweep operation.
youtube
GALERIE SCHALLSCHUTZ
(dark ambient-noise/ death ambient)
For those who don't know about Galerie Schallschutz is helpful to outline in addition to music genre also the importance of aesthetic foundation and distinctive concept that characterizes their works. Technically, it is very sophisticated dark ambient with a wide range of sound layers, gloomy samples and hypnotic deep bass-droning background. While listening to their music you will find there is hidden something alarming, what urges you to reveal the eerie veil of form to see also the contents of its transmission.
The theme of Galerie Schallschutz concerns controversial governmental or military projects and experiments, their secret or questionable plans and the threat of abusing the researches for such a bizzare unbelievable and frightening matters like mind manipulation and psychic warfare, weather control and other natural processes interference. I guess everyone has at least heard of the HAARP project, projects Montauk, Rainbow and existence of certain military bases of unknown secret use..Almost nothing can be hidden from the eyes and ears of "big brother", mass-media order us how to live, subliminal messages attack our senses, etc. Is really the mind control so unreal? For the sake of higher goals, for our happy future, in order to establish the general welfare..? Welcome to the Brave New World!
It may appear like some exaggerated Orwell's dystopia and foolish fantasies of conspiracy theories about the New World Order domination. Galerie Schallschutz however are not any fanatic preachers, they don't want to be prophets of the only self-declared truth. They just want us to think, watch, realize and be aware. They recommend us to think for ourselves and question the words of so-called authorities. The message is for all who still want to think and who still can think. Everything you can imagine is true, so choose your thoughts thoughtfully, choose your beliefs carefully and choose your reality wisely...
myspace
PACIFIC 231 & INSTINCT PRIMAL
(experimental/ abstract electronics/ ambient)
Project Pacific 231 is a work of French artist Pierre Jolivet, who is now living in Ireland. He has been composing music for a long time, which is proved by both - the huge number of releases and also by a wide and ever-changing and evolving range of sub-genres that are the results of his work. He found the roots of his early works in noise-industrial bases which he also uses modified for the following albums. One could say that Pacific 231 has never left a certain inspiration in noise structures. Just later he began to make more and more experiments with sound samples of various kinds. Discovering the magic of abstract arrangements and sound collages led him also to co-operate with other artists. His discography has got more than eight split or collaboration albums with the artists as Lieutenant Caramel or Le Syndicat.
We will witness such a co-operation on the stage where Pacific 231 and Instinct Primal will be performing and presenting their brand new album. This new release will be also baptized there with the support of RADIO 1, which will be an importatnt event for our Czech alternative electronic music scene.
Instinct Primal is a Czech project of Jan K., which has been active for just a short time. However he has performed live several times since then and started to co-opetare with local and foreign projects. His work stretches from minimal dark ambient soundscapes through experimental collages of multi-layered samples and field recordings to more rhythmic structures. Instinct Primal is certainly not any monotonous music. Collaboration work of Pacific 231 and Instinct Primal, who are both not afraid of using various sound experiments, is supposed to be very good and genuine release.
When all live shows are over, the after party will follow. There will be playing DJ Scrag! from Vienna and DJ Philipp Strobel from Berlin. So unless you are not out of energy, stay and enjoy the noisy evening until the early morning hours…
Doors open: 7:30 p.m.
Entrance: 12 EUR
Venue: Matrix club, Prague
Address: Tachovské náměstí 7
Praha 3 - Žižkov, 130 00
GPS: 50°5'15.092"N, 14°27'17.259"E
Links:
Arkham Productions
Tesco Organisation
bleak.at
Matrix club
------------------------------------------------------------------
Po delší odmlce, která následovala po jednodenním festivalu Death Parade v roce 2010, se mohou příznivci těch nejextrémnějších forem elektronické hudby opět těšit na živé vystoupení významných spolků, které spojuje sounáležitost k jednomu proslavenému labelu. V případě zmíněné Death Parade šlo o projekty ze stáje CMI, tentokrát sem zavítají uskupení vydávající pod legendární značkou Tesco Organisation, které se v Praze představí poprvé.
Řeč je o Ke/Hil, Operation Cleansweep a Galerie Schallschutz. Tyto tři formace spolu s domácím projektem Instinct Primal a speciálním hostem Pacific 231 v sobotu 9. března zaplaví pražský klub Matrix zvukovými vlnami o frekvencích, jejichž výsledek není přístupný pro smyslové orgány jen tak ledakoho. "Spectres of Sound", název akce, jenž by se dal s přiznanou nepřesností vyložit jako zvuková spektra i přesněji jako hrozby/přízraky zvuku, by mohl napovědět, jakým směrem se bude hudební produkce večera ubírat. Nepřipraveným a žánru zcela neznalým jedincům by pak možná spíše přišla vhod jeho zkrácená podoba – S.O.S. Otázkou je, zda jejich volání o pomoc bude v té bouřící vřavě vyslyšeno...
KE/HIL
(nihilist death ambient/power electronics)
Uvědomíme-li si, že projekt KE/HIL sestává ze dvou členů (B. Moloch, W. Herich) ultimátní hlukově-teroristické jednotky Genocide Organ a zároveň z neméně přísného spolku Anenzephalia, není těžké si domyslet, jaké dílo zkázy může z takového spojení vzniknout. Jestliže hudba Genocide Organ vám připomíná cynickou formou krutý obraz reality světa současnosi i minulosti poukazujíc na odvrácenou tvář lidství, Anenzephalia odráží úzkosti a fobie z nedefinovatelného stavu proniknutí vašich nočních můr do jednotvárné deprimující šedi všednosti, pak dílo Ke/Hil by mohlo reflektovat váš potlačovaný strach si právě takovou zla nezbavenou realitu přiznat.
Nutí vás doznat se ke strachu z vlastního života, k neochotě čelit svým vnitřním démonům, k obavám z nechtěného vyzrazení nepříjemných nebezpečných či zakázaných myšlenek, které úzkostlivě držíte pod zámkem v temném koutě své třinácté komnaty. Ke/Hil svou krajně znepokojivou sugestivní atmosférou tento váš zdánlivě bezpečný úkryt narušují. S odlidštěným chladem vám pomalu zabodávají nůž přímo do pomyslné Pandořiny skříňky vaší centrální nervové soustavy, aby vás zbavili otroctví vlastních či vnucených zákazů a omezení. Pak už je jen vaší volbou, zda a jak se se svobodou negativního myšlení vyrovnáte, nebo zda pro vás bude útěchou již jen jediné východisko..přistoupit mezi stíny do temné podzemní soustavy mířící do konečné - pekelné stanice.
youtube
OPERATION CLEANSWEEP
(power electronics/death industrial)
Tento tajemstvím obestřený projekt, jehož členové vystupují pod iniciálami I.B. a M.G. již sice delší dobu není moc aktivní, co se týče vydávání alb ani živých vystoupení, přesto si u svých stoupenců udržuje významné postavení kultovního a výjimečného díla. Pražský koncert bude jedním z mála jejich živých performance mimo Německo, takže by bezpochyby byla škoda nechat si takovou unikátní příležitost ujít.
Charakterizovat ve stručnosti hudbu Operation Cleansweep není dost dobře možné. Bylo by poněkud zjednodušené říci, že jde o power electronics založenou na náznakově provokativním konceptu, který podporují znepokojivé vokální smyčky a těžko zařaditelné samply. Těm, kteří nejsou s jejich tvorbou obeznámeni, by to totiž dostatečně neilustrovalo jejich záludně podmanivou sílu a přitažlivě nebezpečnou neuchopitelnost.
Operation Cleansweep si člověka zcela získají a následně pohltí, aby jej pak infikovaného chorobnými představami a zmateného z nezodpovězených bizarních otázek vyvrhli do chladné temné cely, kde jeho jedinými společníky budou strach, zoufalství a beznaděj. Z tohoto bezútěšného místa jej nechají přihlížet postupné zkáze a rozkladu toho, co bylo považováno za dobré a krásné, ale dle jeho věznitelů bylo nutné právě to zničit a napravit. Jejich cílem však není vás nechat zemřít, ale zlomit vás, přimět souhlasit s nimi a zapojit se do jejich očistné operace.
youtube
GALERIE SCHALLSCHUTZ
(dark ambient-noise/death ambient)
Nezná-li někdo dílo Galerie Schallschutz, je zapotřebí mu nastínit kromě hudebního žánru též důležitost estetického východiska a výrazného konceptu, který charakterizuje jejich tvorbu. Po technické stránce se jedná o velmi propracovaný dark ambient s širokou škálou zvukových vrstev a pochmurných samplů s hypnoticky dunícími hlubokými bassy v pozadí. Při poslechu však zjistíte, že je zde něco skryto něco podezřele zneklidňujícího, co vás láká odkrýt tajemnou roušku formy a poznat též obsah jejich sdělení.
Galerie Schallschutz nám předkládají problematiku spekulativních vládních a armádních projektů a experimentů, jejich tajných či podezřelých plánů a hrozbou zneužití jejich výsledků k ovlivňování počasí a dalších přírodních procesů, nevídaným zásahům do našich životů i k přímé manipulaci s lidským myšlením. Snad každý již alespoň někdy slyšel o programu HAARP, projektech Montauk, Rainbow a o existenci určitých vojenských objektů nejasného využití...Očím a uším "Velkého bratra" již téměř nic neunikne, média určují, jak máme žít, podprahová sdělení útočí na naše smysly, atd. Vážně je kontrola myšlení tak nereálná? Ve jménu vyššího cíle, pro naši šťastnou budoucnost, pro obecné blaho společnosti...? Vítejte v krásném novém světě!
Možná se vám to vše zdá jako nějaká přehnaná Orwellovská dystopie a výplody bujné fantazie spikleneckých teorií o nadvládě Nového Světového Řádu. Galerie Schallschutz však nepřicházejí jako nějací fanatičtí kazatelé, nechtějí být žádnými hlasateli jediné pravdy. Říkají jen, že je třeba nad věcmi uvažovat, přemýšlet za sebe a zpochybňovat tvrzení takzvaných autorit. Promlouvají k těm, kteří stále chtějí a jsou schopni přemýšlet. Neboť vše, co si dokážete představit, je pravda, proto volte své myšlenky uvážlivě, zvažte pozorně to, čemu věříte a svou skutečnost si vyberte s rozmyslem..
myspace
PACIFIC 231 & INSTINCT PRIMAL
(experimental/abstract electronics/ambient)
Za projektem Pacific 231 stojí francouzský umělec Pierre Jolivet, který nyní žije v Irsku. Hudbě se věnuje již dlouhou dobu, což se odráží jednak na nemalém počtu vydaných desek a též na širokém a stále se měnícím a vyvíjejícím rozsahu sub-žánrů, které jsou výsledkem jeho počínání. Kořeny Pacific 231 sahají do noise-industriálních základů, ze kterých pak vychází i v případě následujících alb. Dalo by se říci, že určitou inspiraci v noisových strukturách nikdy zcela nezavrhl. Jen postupem času začal ve své tvorbě čím dál více experimentovat se zvuky a samply různých druhů. Objevování kouzla abstraktních aranží a snaha posunout své propracované zvukové koláže zas o něco dále byla též motivací pro spolupráci s jinými umělci. Ve své bohaté diskografii má více než osm společných alb například se jmény jako Lieutenant Caramel či Le Syndicat.
Zrovna jeden takový společně utvářený kousek budeme moci vidět a slyšet naživo právě na chystané akci, kde nám Pacific 231 a Instinct Primal představí svou zcela novou desku. U příležitosti vydání proběhne na koncertě za podpory RÁDIA 1 i křest alba, což bude i pro naši domácí alternativní elektronickou scénu celkem zásadní událost.
Instinct Primal figuruje na této scéně zatím poměrně krátkou dobu. Přesto již má za sebou četná živá vystoupení a domluvené a možná i rozpracované další hudební spolupráce jak se zdejšími tak i zahraničními projekty. Jeho tvorba kolísá od klidnějších dark ambientních ploch přes experimentální koláže vrstvených samplů a field recordings až k rytmičtějším polohám, které jsou stále rozvíjeny a pozměňovány, takže jednotvárností Instinct Primal rozhodně netrpí. Společné dílo Pacific 231 a Instinct Primal, kteří se nebojí rozmanitých zvukových experimentů, má tedy předpoklady k tomu, aby bylo velmi zdařilým originálním uměleckým kouskem.
Po skončení živé hudební produkce bude následovat after party, na kterou nám sem přijedou zahrát z Vídně DJ Scrag! a z Berlína DJ Philipp Strobel. Večer tedy zdaleka nebude končit nějak brzy a kdo bude mít ještě dostatek energie, může si tento nevšední hlukový večírek protáhnout až do brzkých ranních hodin.
Místo konání: Matrix klub, Praha 3
Začátek akce: 19:30
Vstupné: 300 Kč
Odkazy:
Arkham Productions
Tesco Organisation
bleak.at
Matrix club
Don't want to see ads? Upgrade Now