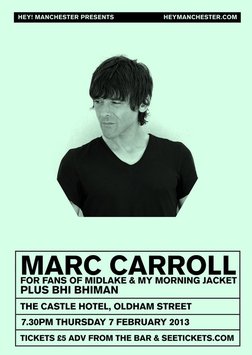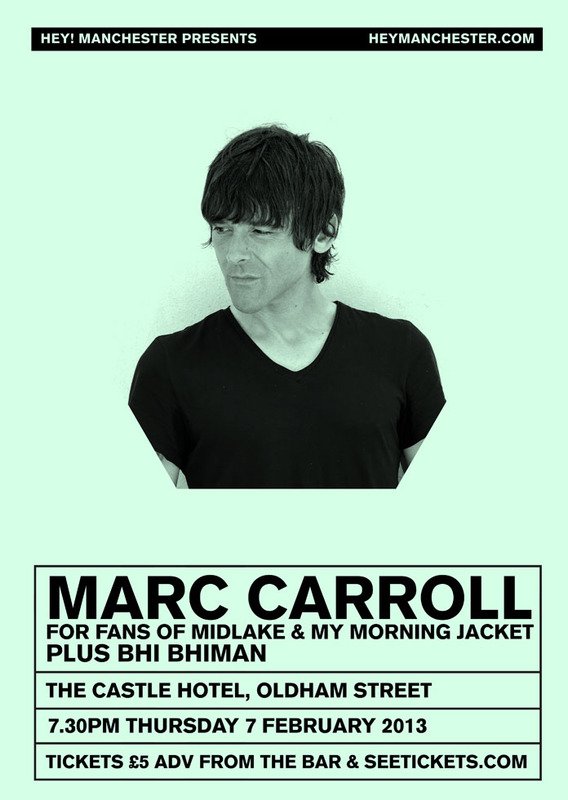 Date
Thursday 7 February 2013 at 7:30pm
Description
Singer-songwriter and multi-instrumentalist Marc Carroll made an immediate impact with the release of his 2002 solo debut Ten Of Swords, an album that demonstrated his mastery of a number of styles and unerring nose for a fine melody line. Carroll had been working on the music scene for several years prior to the release of Ten Of Swords. Raised in Ireland, Carroll spent most of his time moving between London and Dublin on the fringes of success with first the Puppy Love Bombers and then pop rock outfit the Hormones. Despite making a guest appearance on an episode of top US sitcom Friends (the one featuring the wedding of Ross), the Hormones never managed to make the breakthrough their charming hook-laden pop deserved.
Carroll branched out on his own at the start of the new millennium, recording solo material that would find its way onto Ten Of Swords. The album saw Carroll moving effortlessly between jangly Byrds-style pop songs, rock and traditional folk, allowing his instrumental dexterity and songwriting acumen to be highlighted to great effect. The influence of The Beach Boys to Husker Du, Hank Williams to Neil Young flow through Carroll's music. The lost songs and rarities collection All Wrongs Reversed was released by Carroll's record label Evangeline the following year.
Bhi Bhiman is an American original, and yet he seems transported from an era when songs were more important than the pretty faces that delivered them. His rich, bellowing tenor can soothe or explode at a moment's notice. His lived-in, knowing delivery belies his years. His songwriting, too, is quick to captivate. Bhi's mix of humour and deep empathy puts him in the company of distinguished (and much older) lifelong songsmiths like John Prine, Nick Lowe and Randy Newman. And Bhiman's technical, emotive guitar playing rises to the challenge that his striking voice presents.
Price: £5 adv
More info
Don't want to see ads? Upgrade Now