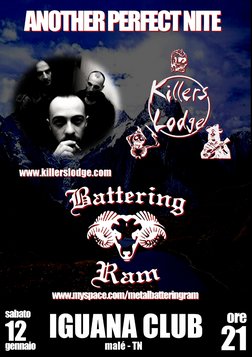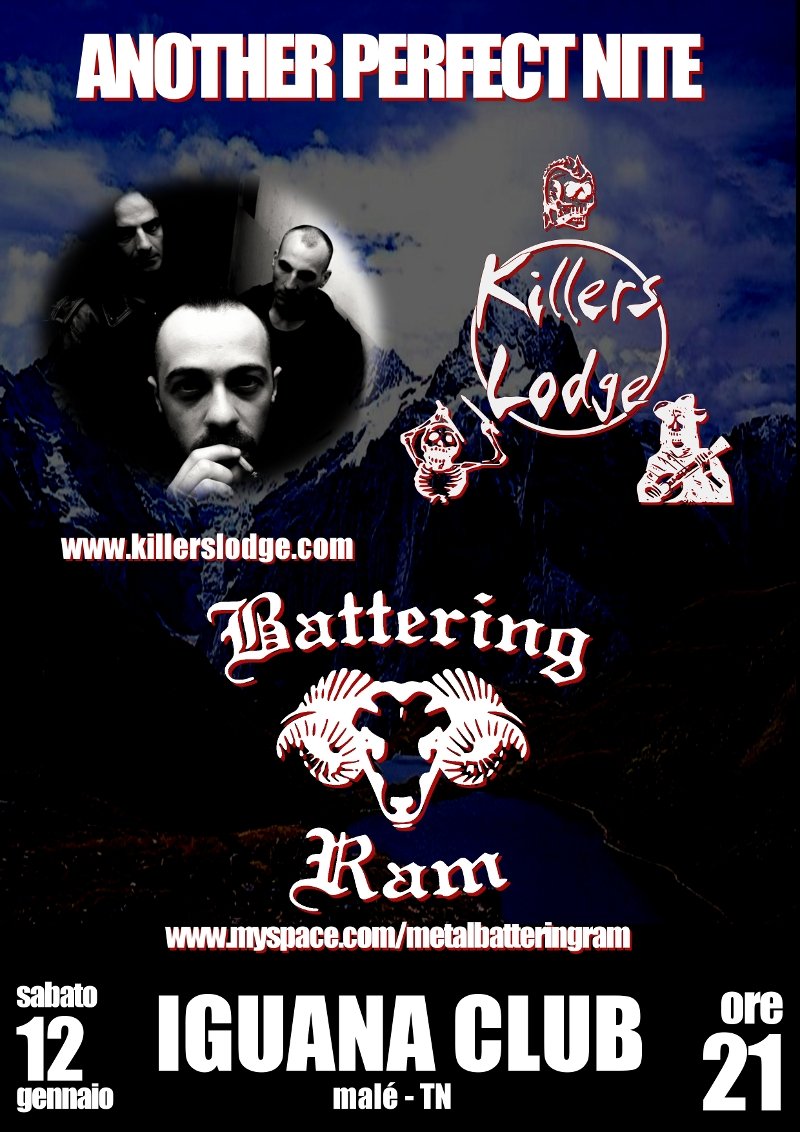 Date
Saturday 12 January 2013 at 9:00pm
Location
Iguana Club
Malé (TN), Italy
Description
KILLERS LODGE
Genova
https://www.facebook.com/killerslodge
Biografia
Il gruppo nasce nel settembre 2011. Dopo lo scioglimento dei Raza de Odio, John KillerBob e christo Machete fondano una nuova band, con l'intenzione di suonare rock 'n' roll grezzo, veloce e ignorante. Subito LJ dusk si unisce al duo completando la formazione.
Dopo qualche mese in sala prove, nel giugno 2012 il power-trio entra in studio per registrare una manciata di brani: il risultato è un heavy metal vecchia scuola ignorante e rockeggiante.
Nel settembre 2012 debuttano dal vivo con il nome di KillerBob And The Black Lodge e, dopo un paio di concerti, cambiano il moniker in KILLERS LODGE.
Tutti i membri sono musicisti ben noti alla scena e coinvolti in altri progetti:
- John KillerBob: CADAVERIA, DyNAbyte, in precedenza con Necrodeath e Raza de Odio.
- LJ Dusk: DyNAbyte.
Christo Machete: Dorothy's Doll, in precedenza con Zorn e Raza de Odio. Turnista con molte altre band a artisti come CADAVERIA, Athlantis, Odyssea, Mastercastle, Roberto Tiranti, Trevor (Sadist), ecc...
BATTERING RAM
http://www.myspace.com/metalbatteringram
I Battering Ram propongono un repertorio di cover di gruppi principalmente di stampo thrash metal. Il gruppo nasce nel 2008 ed è originariamente costituito da Oscar (batteria), Federico (chitarra), Moreno (basso) e Dominik (voce). Dopo alcuni mesi ed una data all'attivo si aggiunge Roberto alla chitarra solista, con questa formazione negli anni seguenti suonano in molti locali e festival in tutto il Trentino ottenendo un buon riscontro sia di critica che di pubblico. Da gennaio 2010 il gruppo è costretto a sei mesi di pausa forzata, per via dell'assenza di Moreno, a seguito dei quali tornano ad esibirsi in luglio al festival "7 chiavi" e in seguito riprendono ad esibirsi regolarmente con un nuovo e più ampio repertorio.
Don't want to see ads? Upgrade Now