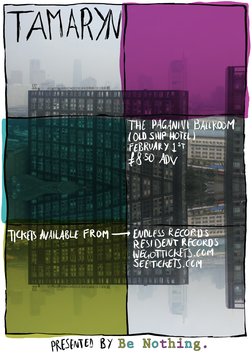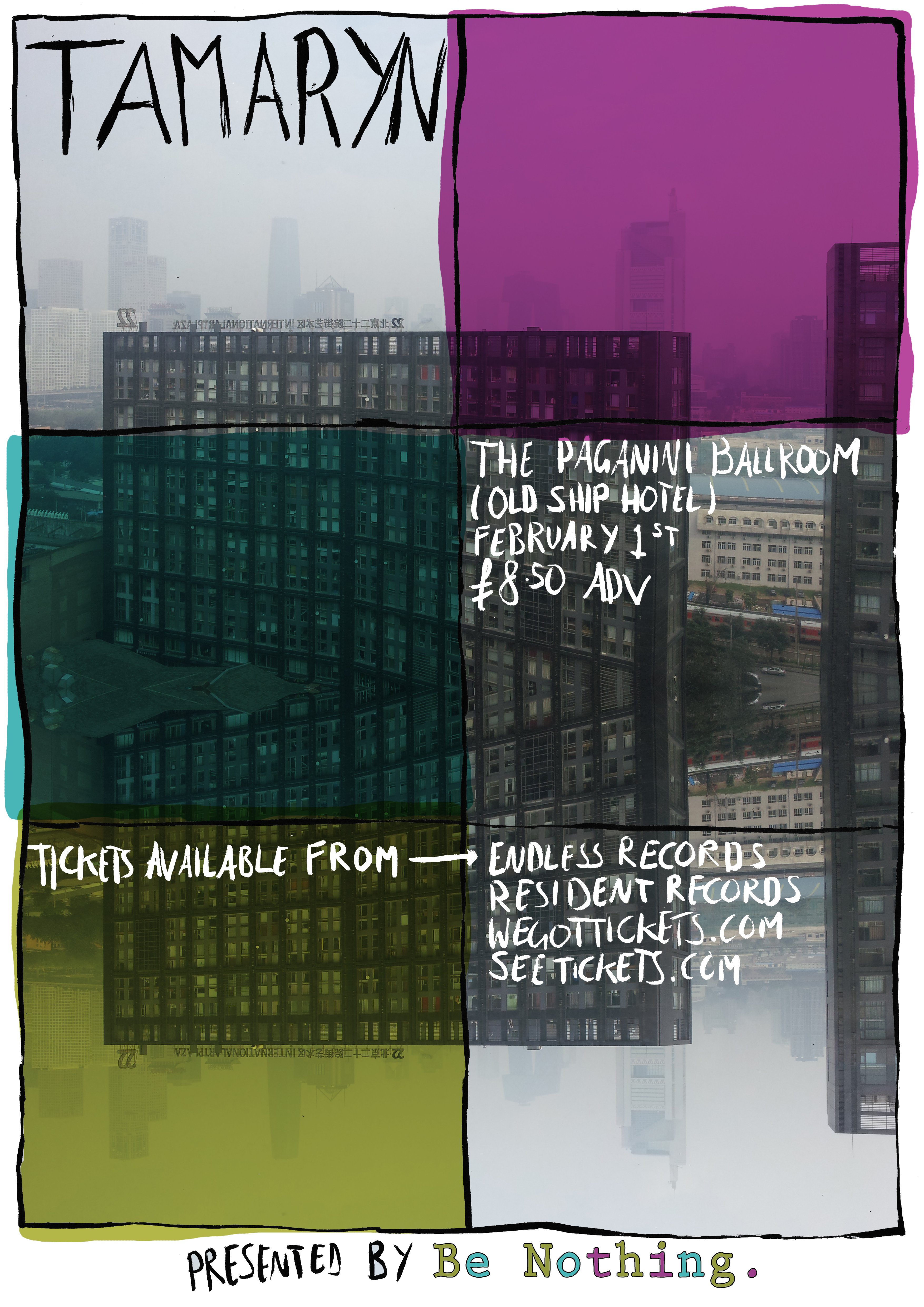 Date
Friday 1 February 2013 at 7:30pm
Location
Paganini Ballroom (Old Ship Hotel)
Brighton, United Kingdom
Description
Be Nothing Present a special night with:
~ TAMARYN ~
+ The KVB
Green Door Store
Friday 1st February
7:30pm
Tickets £8.50 adv
Online:
We Got Tickets ~ http://www.wegottickets.com/event/197938
SEE Tickets ~ http://www.seetickets.com/Event/BE-NOTHING-PRESENT-TAMARYN/Paganini-Ballroom-Old-Ship-Hotel-/680385
In-store:
Resident Records, Endless Records.
~~~~~~~~~~~~~~~~~~~~~~~~~~~~~~~~~~~~~~~~~~~~~~~~~~~~~~~~~~~
Tender New Signs is the kind of record that exists where experiences connect to the senses, where memories emerge and bring with them all the feeling and imagery that had been resting just below the surface of consciousness. It's the title of Tamaryn's second album, in partnership with her longtime collaborator and San Francisco native Rex John Shelverton. Informing the layers and textures found on their debut full length The Waves, this new opus takes a bold step forward in structure and form. With it's skygazing pop songs and impressionistic sketches of once well-guarded emotions, Tamaryn and Rex have created a defining work.
The roots of this musical partnership started over a decade ago. "Rex and I met in New York City where I was living in the early '00s," says Tamaryn. "We bonded instantly and over time started sharing ideas for songs. Eventually we began to collaborate on some recordings, traveling between coasts until the project inspired me to move to California indefinitely." These activities culminated in a slew of singles and the Led Astray, Washed Ashore EP. In 2010, Mexican Summer released Tamaryn's critically acclaimed LP The Waves, a collision of hypnotic psychedelia and bittersweet dream pop.
Tender New Signs' nine songs showcase stadium-sized guitars, surging with softly-lit, languid melodies and a familiar sense of purpose anchored by Tamaryn's intimate vocal delivery and unmistakable presence. The choice to continue self production seems to be key in persevering their sound. Tamaryn explains how the writing process is intrinsically linked to the recording process, "Rex finds that getting in the studio and taking things apart to adjust the subtleties of their sonics inspires him to want to play guitar more in general, and therefore is probably the biggest influence on how we make music. We like the idea of seeing how far we can take what we have, and we work best together without too many other distractions. The Waves found us in this 'minimal wall of sound,' so we took that style and applied it to these more defined song structures."
Tracks like "Heavenly Bodies" are anthems of surrender and reflection, while "The Garden" evokes those tiny moments of change when numbness gives way to feeling, and projects them into gigantic rock and roll epiphanies. Tender New Signs creates its own hope and transforms it into something sublime. "In making this record, I hoped to transcend the mundane world, by living in a new one of my own creation, " Tamaryn says, "now it's time to invite everyone else in it with me."
~~~~~~~~~~~~~~~~~~~~~~~~~~~~~~~~~~~~~~~~~~~~~~~~~~~~~~~~~~~
About the Paganini Ballroom:
Brighton's Barcelo Old Ship Hotel has recently undergone a £250,000 refurbishment – & its Grade II-listed Regency-style Paganini Ballroom has gained most from the cash injection. Built in 1750, it was the former Assembly Room for Brighton & remains the city's oldest meeting room. It also has a prominent social history.
Following sympathetic restoration work, the space now boasts majestic interiors with impressive attention to detail. Bespoke woven carpets designed to reflect the ballroom's suptuous ceiling roses sit beneath stately crystal chandeliers, while tasteful painwork adds to the traditional appeal.
Now benefiting from its own entrance on Ship Street, the Ballroom is dramatically located at the top of a romantic sweeping staircase, making it the perfect venue for events where first impressions count.
~~~~~~~~~~~~~~~~~~~~~~~~~~~~~~~~~~~~~~~~~~~~~~~~~~~~~~~~~~~
http://benothingbtn.tumblr.com/
Don't want to see ads? Upgrade Now
11 went
Deleted user