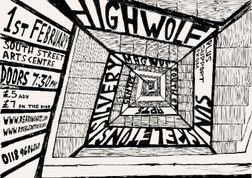 Date
Friday 1 February 2013 at 7:30pm
Description
South Street & doubledotdash!? present:
HIGH WOLF
with support from SUN SKELETONS and SILVERY MAGNUS
HIGH WOLF (france)
HIGH WOLF's music mixes cosmic loops, fuzzy guitars, droney synths, mystic vocals and tribal percussions, inspired by primitive and ritual music as well as adventurous modern music.
http://highwolf.bandcamp.com/
SUN SKELETONS (reading, uk)
SUN SKELETONS is sam cranking the shahi baaja jr. plus others. depending on availability. hopefully you'll get dave and paul. they can really bust it out. but they're busy people with tough business schedules. and it's hard to know what's around the corner. and it's a serious business too. power lunches and budget deficits.
http://sunskeletons.tumblr.com/
SILVERY MAGNUS (reading, uk)
a perverted loner, SILVERY MAGNUS mostly plays electronic machines and manipulated feedback. has a disgraceful fetish for sound modifying pedals. also enjoys magnets & metal objects. smears his sound onto computers & minidiscs & cdrs.
http://silverymagnus.bandcamp.com/
Tickets are £5 in advance, and will be £7 on the door, subject to booking fee.
Don't want to see ads? Upgrade Now