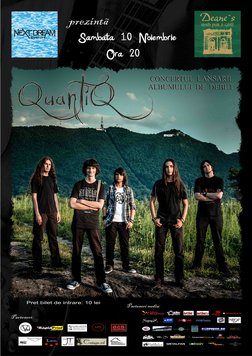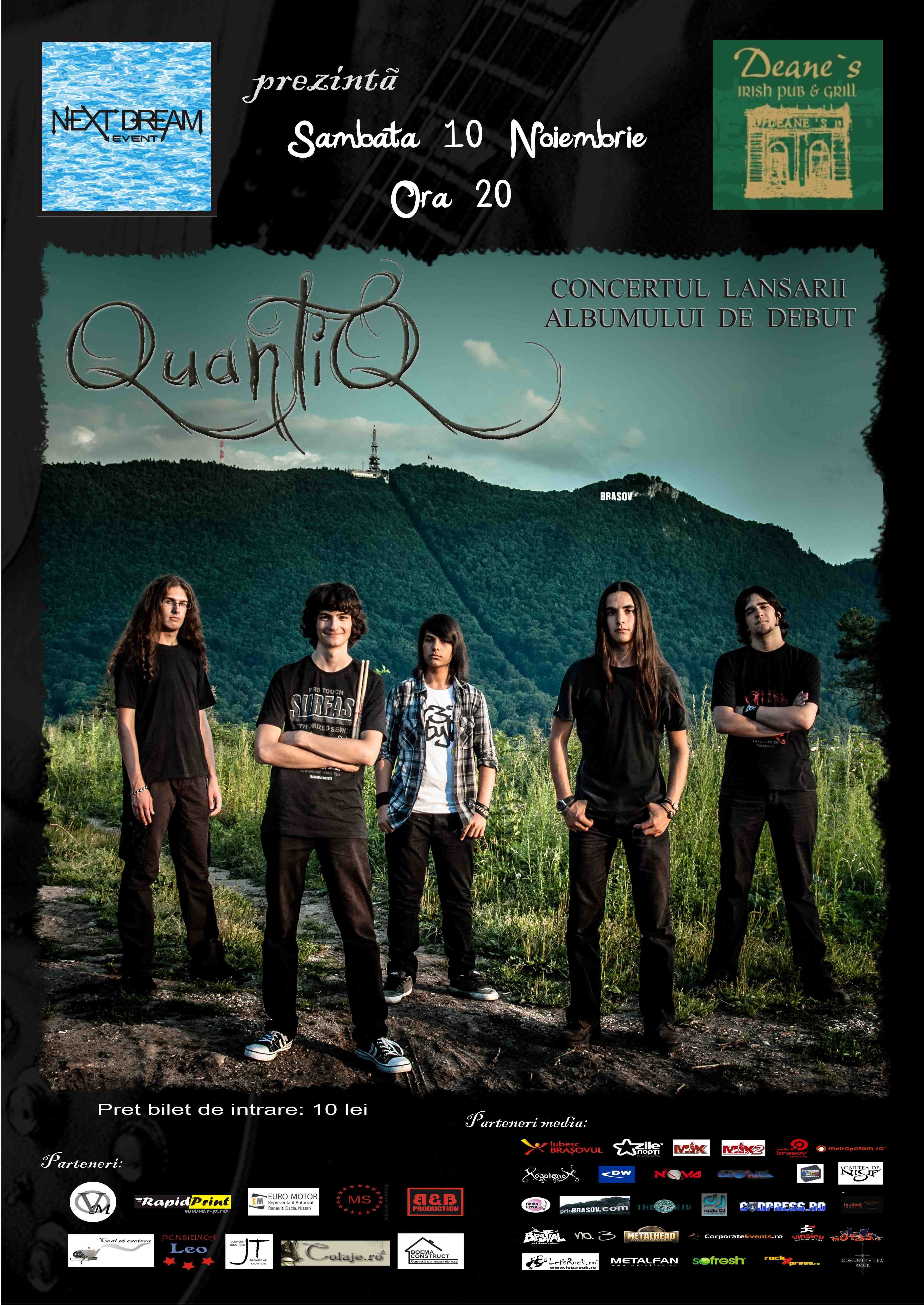 Date
Saturday 10 November 2012 at 8:00pm
Location
Deane's Irish Pub
Brasov, Romania
Description
Sambata, 10 Noiembrie 2012, Next Dream Event are placerea de a va invita la un eveniment unic, atat prin atmosfera pe care o va degaja, cat si prin semnificatia sa - tanara trupa rock QuantiQ isi lanseaza albumul de debut. Intitulat "Umbre De Plumb", albumul isi propune nu numai sa poarte ascultatorul intr-un univers muzical deosebit ce imbina progressive rock-ul cu elemente alternative, gothic si post-rock, ci si sa-l faca sa-si deschida inima catre sentimente uitate, de un romantism aparte.
QuantiQ s-a nascut in urma cu aproape 3 ani, la initiativa lui Horia (voce si chitara), Vlad (clape si voce) si Sergiu (tobe). Apoi, dupa o perioada de cautari, componenta a fost definitivata in momentul sosirii in trupa a lui Mihai (bass) si a lui Robert (chitara si voce). Inspirati de trupe precum Dream Theater si Pink Floyd, tinerii muzicieni brasoveni au reusit in scurt timp sa-si definitiveze un stil propriu. Primi pasi concertistici i-au facut in cadrul unui alt eveniment marca Next Dream Event - The Festival Of Dreams (unde au cantat alaturi de Oniric si Laonlyness). Au urmat apoi o multitudine de evenimente, unele mai importante ca altele, fie ca au fost festivaluri (Posada, Ost Fest, Ghost), concursuri sau simple recitaluri alaturi de artisti autohtoni sau internationali. QuantiQ se poate mandri pe buna dreptate de impartirea scenei cu nume ca Bon Jovi sau T-Rex.
Ei bine, anul acesta a adus si primul album QuantiQ, pe care trupetii vor sa-l ofere in seara de sambata publicului, printr-un show live, dar si fizic - primii 50 sositi il vor primi cadou. Dar pentru a va pregati pentru concert, quanticii muzicieni va ofera si un link unde puteti asculta albumul in intregime http://quantiq.bandcamp.com/ .
Asadar nu ne mai ramane de spus decat ca va asteptam cu mult drag intr-o locatie superba - Deane's Irish Pub, situata pe strada Republicii la numarul 19, muzica fiind pregatita sa va inunde simturile incepand cu ora 20. Pretul unui bilet de intrare va fi de 10 lei, atmosfera placuta fiind la discretie din partea noastra. Pentru rezervari de masa puteti suna la numarul de telefon 0268 47 45 42.
Cu acelasi drag,
Next Dream Event.
Don't want to see ads? Upgrade Now