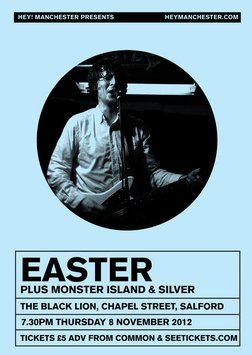 Date
Thursday 8 November 2012 at 7:30pm
Location
The Black Lion Hotel
Chapel Street, Salford, Manchester, M3 5BZ, United Kingdom
Description
With the Hob Talk EP and a line-up change behind them, support slots with the likes of White Hills, Rangda, Mugstar, Yuck and The Phantom Band have helped Easter establish a formidable live reputation, and in June 2012 they released their long-awaited debut albumInnocence Man on White Box Recordings.
Swiftly picking up airplay from Tom Ravenscroft on BBC 6Music and John Kennedy on XFM, a host of great reviews followed. Awarding the album 4 stars, The Big Issue called it 'triumphantly bittersweet with glorious intensity', while Manchester Music made it their album of the month and hailed it as 'one of the city's best musical landscape portraits yet'.
Genre mixers in the manner of Sebadoh, Easter songs veer wildly from their expected course into psyched up jams and Crazy Horse wig-outs, but there is always a hint of introspection, a sense of place, that underpins the songwriting itself. Following a packed album launch in June, Easter will be heading out on the road in November, both in support of the album and to air new material before starting work on the follow up.
'I utterly adore it when I encounter a recording that I cannot stop listening to …one of the finest things i've wrapped my ears round this year without a shadow of a doubt!' – 5/5, Norman Records
'Built on 90s US alt-rock foundations – think a holy trinity of Sebadoh, Slint and Sonic Youth, Innocence Man is an extraordinary listen: an immense, brooding and ruggedly beautiful journey, as monumental and carefully hewn as the carvings at Mount Rushmore or the implacable Victorian brickwork of Strangeways prison' – Folly of Youth
Support comes from Monster Island (sounding like 'a ragged combination of The Fall, Pavement and The Pixies') and solo artist SILVER (think a cross between Grouper, Tiny Vipers and Joni Mitchell).
Price: £4 adv
More info
Don't want to see ads? Upgrade Now