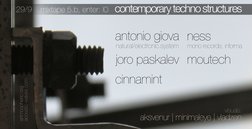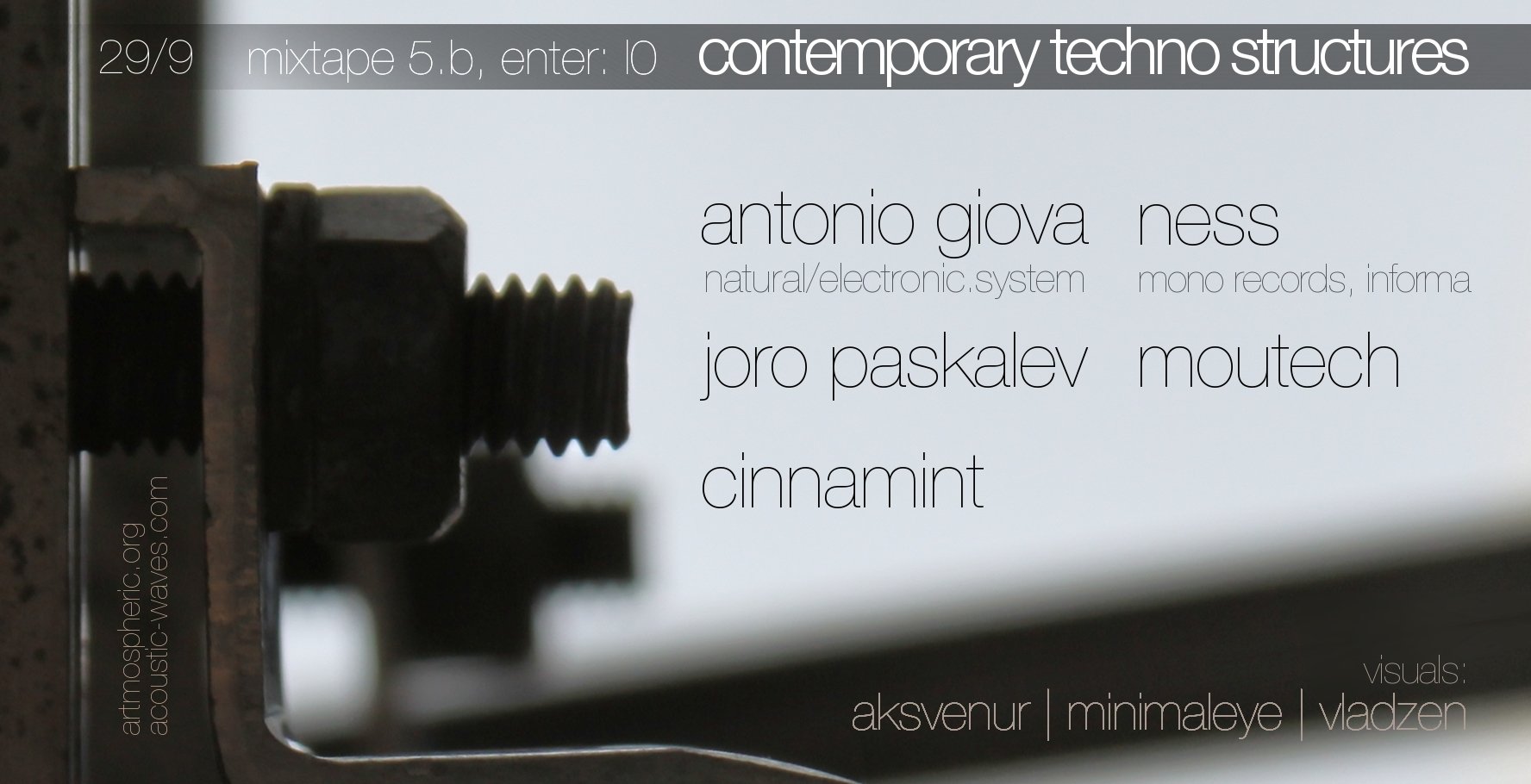 Date
Saturday 29 September 2012 at 10:30pm
Description
Поредната вечер от серията Contemporary Techno Structures предстои на 29-и септември, събота.
За случая от Рим пристига Antonio Giova от дуото natural/electronic.system, гостували заедно преди две години на Artmospheric Festival. От него очакваме засмукваща обиколка из океанското дъно, която ще започне още преди полунощ. Друг негов сънародник също се завръща за повторно участие у нас - Ness, познат на тези, които посетиха предишната дийп техно вечер от поредицата.
Този път мястото е "b-side" или малката зала на Mixtape 5, която след скорошния ремонт вече е едно от малкото пространства, предоставящи комфортна акустична среда, след осъщественото третиране по проект на Acoustic Waves.
Подробна информация за събитието можете да намерите на www.artmospheric.org.
___
The next Contemporary Techno Structures event is scheduled for September 29th, Saturday.
We are looking forward to Antonio Giova's second appearance here after natural/electronic.system took part at Artmospheric Festival back in 2010. He will be guiding us on another walk through the deepest depths of the ocean..
Another Italian friend, Ness, who is currently very active in producing quality techno music and already well-known here in Sofia, will be back to join the gig with a proper dose of his floating sound.
More interesting stuff to be expected from Moutech, who earlier this year published a podcast for Only for robots blog, and the regular techno contributors Joro Paskalev and Cinnamint.
This gig will be held at Mixtape 5 b-side, a venue with perfect acoustics, since it has recently been treated by Acoustic Waves.
Don't want to see ads? Upgrade Now