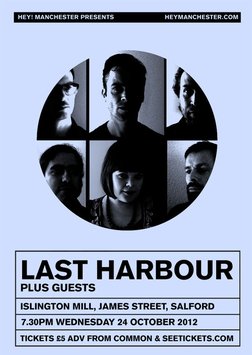 Date
Wednesday 24 October 2012 at 7:30pm
Description
Last Harbour are an expansive collective playing 'swooning dustbowl baroque' (Plan B) that come from 'the same tangled patch of briar as The Bad Seeds and Tindersticks' (Uncut). The only claims they make for their music are that it be honest and searching. From dusty laments to doom-filled rock, from starkly beautiful duets to drifting clouds of ambient noise, there's always an intensity that strikes hard. Last Harbour's acclaimed 2010 albumVolo and EP Lights were co-produced by Richard Formby (Wild Beasts, Spacemen 3) and were featured across 6Music shows including Gideon Coe, Tom Robinson and a session on Marc Riley.
Last Harbour have announced a UK tour for October with a new single, Replacements, out on 22 October to coincide. This special tour sees with band collaborating with acclaimed visual artist and photographer Andrew Brooks. Brooks is well known for his work capturing lost urban spaces (the 'Hidden Cities' series) and BBC commissions, and has exhibited nationally and internationally in recent years. He will be working directly with the band through rehearsal to create a visual world for each song from their current album Your heart, it carries the sound. The live shows will see Brooks reconfiguring that material in real-time, becoming part of the band for a short time. A previous collaboration between Brooks and Last Harbour was the video for their 2010 single 'Lights'.
'The final frontier of funeral pop' – Artrocker
'Rich and foreboding, tracing a thread back to the post-industrial landscapes of Joy Division' – Drowned in Sound
'Like Scott Walker re-ordering Bowie's Heroes' – Uncut
GladEyes are main support for this show, with Her Name Is Calla's Tom Morris playing a rare solo set to open proceedings.
Price: £5 adv
More info
Don't want to see ads? Upgrade Now