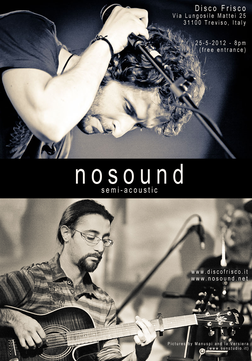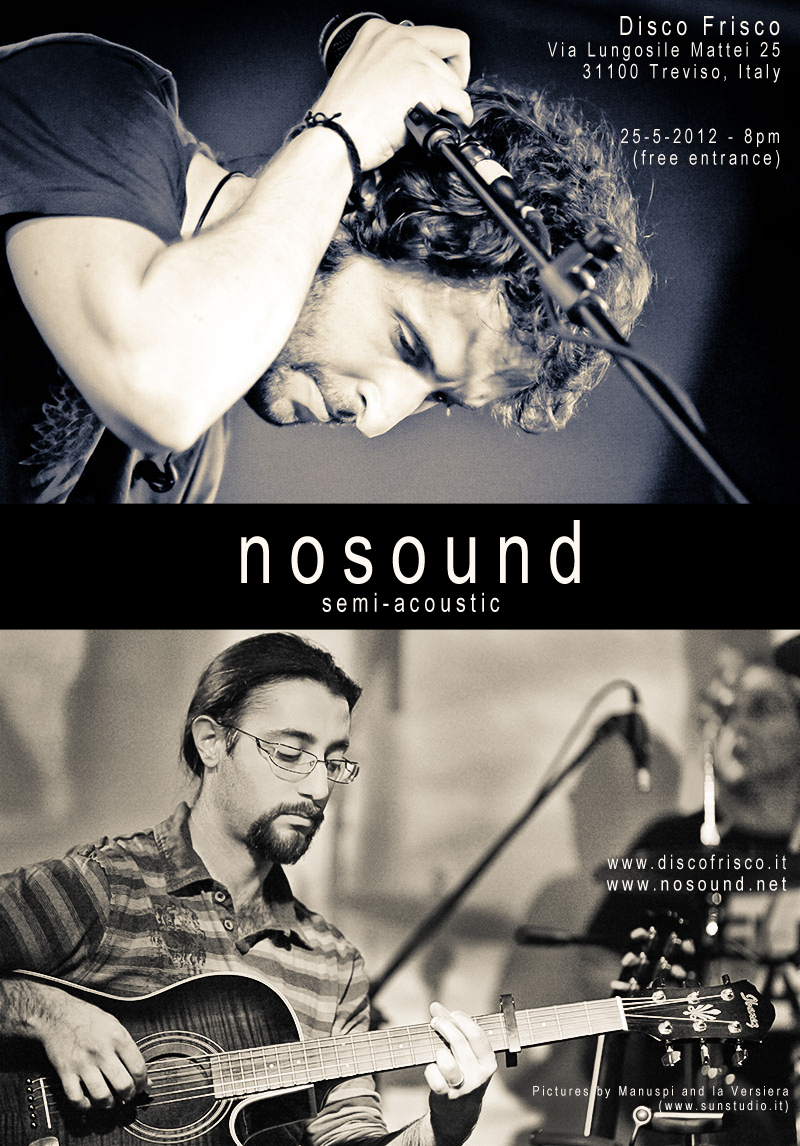 Date
Friday 25 May 2012 at 8:00pm
Location
Disco Frisco
Treviso, Italy
Description
NOSOUND semi-acoustic
@Disco Frisco
Via Lungosile Mattei 25, 31100 Treviso, Italy
ITALIAN:
Dopo una serie di concerti in Inghilterra, Italia, Olanda e Germania, i Nosound tornano in formazione semi-acustica (voce, tastiere e chitarre) presentando per la prima volta in Italia l'album The Northern Religion Of Things, in attesa del nuovo lavoro da studio con la band al completo previsto entro la fine del 2012.
Partendo da quanto proposto a fine 2011 a Londra alla Union Chapel (in apertura al concerto degli Anathema), la musica evolve in chiave intimista con suggestioni elettroniche ed ambient, arricchite da chitarra acustica e piano ed accompagnate da sequenze formate dai vari video pubblicati per questa musica.
La scaletta conterra' alcune tracce da The Northern Religion Of Things, piu' un brano aggiunto per questa occasione ed un'anteprima dal nuovo album da studio.
"Having heard 'The Northern Religion Of Things' I'd love to know the next step of the band. They've set the bar too high with this one..." ReflectionOfDarkness
"All together it makes this their most personal album to date and an asset for your (Nosound) collection." ProgWereld
"The Northern Religion Of Things is a jewel of intimate and cozy atmosphere and one of the most successful of this artist of rare inspiration." MusicWaves
ENGLISH:
After a series of concerts in England, Italy, Holland and Germany, Nosound are back in a semi-acoustic formation (voice, keyboards and guitars) presenting for the first time in Italy the album The Northern Religion Of Things.
Following the late 2011 Nosound 'duo' performance at Union Chapel in London (opening act for Anathema gig), the music becomes again intimate with ambient and electronic influences, enriched with acoustic guitar and piano, and accompanied by visual sequences formed by various videos released by the band.
The setlist will contain some songs from The Northern Religion Of Things, a piece not played in this arrangement before and a new track from the upcoming studio album which will be released at the end of 2012.
"Having heard 'The Northern Religion Of Things' I'd love to know the next step of the band. They've set the bar too high with this one..." ReflectionOfDarkness
"All together it makes this their most personal album to date and an asset for your (Nosound) collection." ProgWereld
"The Northern Religion Of Things is a jewel of intimate and cozy atmosphere and one of the most successful of this artist of rare inspiration." MusicWaves
Don't want to see ads? Upgrade Now