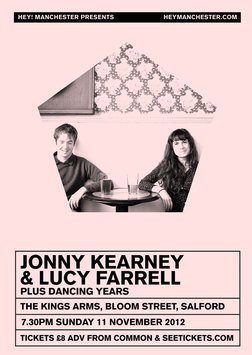 Date
Sunday 11 November 2012 at 7:30pm
Description
We're delighted to welcome back one of the country's most talented duos, Jonny Kearney and Lucy Farrell.
Tickets are available from Common (no booking fee), Piccadilly Records, Vinyl Exchange, Seetickets.com, WeGotTickets.com, Ticketline.co.uk and on 0871 220 0260.
Delicate, haunting and heartbreaking are just a few of the words that have been used to describe Jonny Kearney and Lucy Farrell's music. After meeting at Newcastle University six years ago, they formed an unlikely alliance – unlikely because Jonny with his bittersweet kitchen-sink dramas, shows sympathy with American storytellers like Bob Dylan and Tom Waits, while Lucy's traditional folkie upbringing and vocal style couldn't be more English. Just as likely to appeal to fans of Gillian Welch and the Low Anthem as the traditional folk world, their six-track EP entitled The North Farm Sessions received four stars from the Guardian and Q, BBC Radio 1, 2 and 6 airplay, and sold heavily on tour supports with The Unthanks and Bellowhead, and at summer festivals including Green Man, End of the Roadand Cambridge. To The Boy from The North Farm Sessions EP is being used in an independent Irish film staring Andy Serkis entitled Death of A Hero, which premiered recently at Toronto Film Festival.
Eighteen months after their acclaimed debut EP, Jonny and Lucy finally release their debut album, Kite, produced by Adrian McNally (The Unthanks), It speaks volumes about the quality and quantity of their songwriting that none of the EP tracks feature on the debut album.
'Such a beautiful record' – Lauren Laverne, BBC 6Music
'Delicate, thoughtful and intimate' – four stars, the Guardian
'Folk music's best kept secret' – Uncut
Support comes from Dancing Years. Dancing Years (formerly Joseph & David) comprise David Henshaw and Joseph Lawrenson, who have been writing music together for two years now, dividing their time between Cardiff and their Leeds hometown. When performing live, they are joined by a host of friends who provide additional piano, guitar, vocals, accordion, drums and violin to reconstruct the full, powerful sounds of their records. Their live performances have seen the band gather an increasing amount of plaudits as a result of a full UK tour in support of Benjamin Francis Leftwich as well as gigs supporting the likes of James Vincent McMorrow, Dry The River and Peggy Sue. Fans of Bon Iver will admire David's stunning vocals as he drifts from sweet, delicate hushed whisperings to roaring intensity, while fans of Beirut and Devandra Banhart are likely to be enticed by the rich, varied depth of the instrumentation throughout.
This show takes place at the Kings Arms, one of our favourite small venues (and ale houses) in the city – just an eight-minute walk from Deansgate.
http://www.jonnyandlucy.com/
http://www.facebook.com/DancingYears?sk=app_178091127385
http://kingsarmssalford.com/
http://www.heymanchester.com/
Don't want to see ads? Upgrade Now