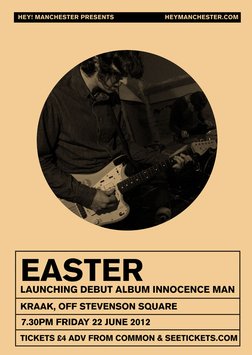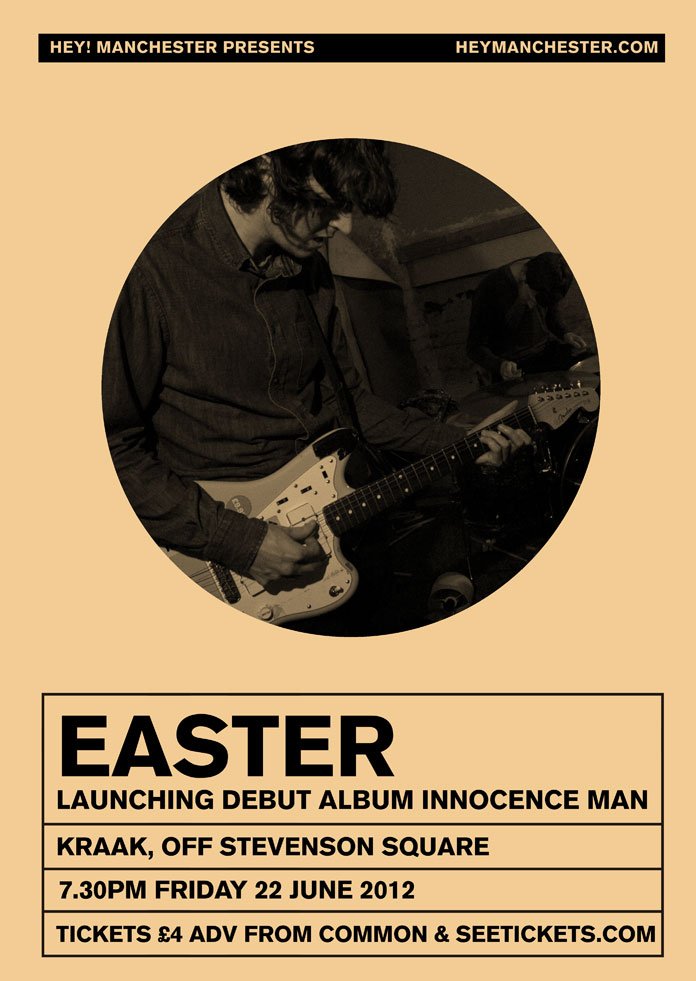 Date
Friday 22 June 2012 at 7:30pm
Location
Kraak Gallery
11 Stevenson Square, Manchester, M1 1DB, United Kingdom
Tel: 07958050730
Web: http://www.kraak.co
Description
We're pleased to be working with one of this city's best new bands, Easter.
Tickets are available from Common (no booking fee), Piccadilly Records,Vinyl Exchange, Seetickets.com, WeGotTickets.com, Ticketline.co.uk and on 0871 220 0260.
Hailing from Crumpsall, North Manchester, Thomas Long has been writing, jamming and gigging in the city since he was fifteen. Easter is the outlet for his songs, given form by a band that has existed in some form since 2009, when the beautiful Hob Talk EP was released.
For two years it was tough to find a settled band and gain momentum but things came good and now Easter have a choice line up of musicians in place – Lonelady drummer Andrew Cheetham, experimental musician Danny Saul on guitar, and bass player Gavin Clarke. Having played with David Pajo, Tall Firs, The Phantom Band, Rangda, White Hills, The Fresh and Onlys, Yuck and Pontiak, Easter have built up a solid underground fan base and 'couldn't be any more different or intriguing than anything on the current rock scene'.
On 11 June their debut album Innocence Man will be released on White Box Recordings. The album was recorded live in a single night in a Northern Quarter loft studio – it should have been two but the first session was completely erased and with no spare cash or time left, this fuck-up served only to enhance the raw, intense vibe of a perfectly lo-fi recording situation. Innocence Man also features a wonderful turn on backing vocals and cello by Julie Campbell on the Americana-infused centre-piece Begin Again.
Genre mixers in the manner of Sebadoh, Easter possess hooks born from screeching, wailing guitars and lead-heavy drums. Songs veer wildly from their expected course into psyched up jams and Crazy Horse wig-outs, but there is always a hint of introspection, a sense of place, that underpins the songwriting itself. The release of Innocence Man sees Long's 'Crumpsall pipe dreams' becoming reality.
'Easter blur the lines between pop structures and loose experimentalism, a musical backdrop of Godspeed and Sonic Youth melded together with the atmospheric vocal delivery of Red House Painters' Mark Kozelek. Wonderful stuff from outta nowhere' – Piccadilly Records
'By pulling in influences from Explosions post-rock to Sonic Youth noise to lo-fi indie, it's kind of everything you needed to know about alternative guitar music all in one band' – Manchester Music
Kraak is a performance and exhibition space in the Northern Quarter. It's down a cobbled street, just behind Fit To Dance off Stevenson Square.
http://www.easterband.co.uk/
http://soundcloud.com/easterband
http://www.heymanchester.com/
Don't want to see ads? Upgrade Now