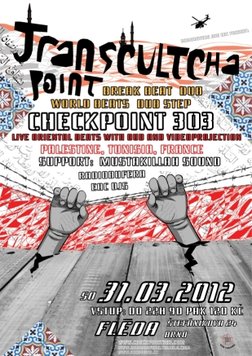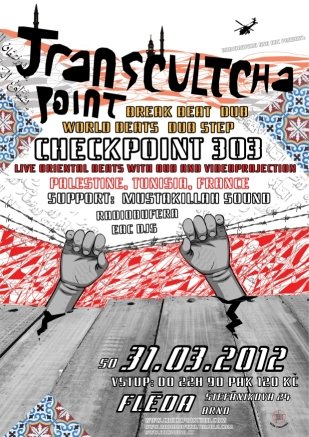 Date
Saturday 31 March 2012 at 9:00pm
Location
Fléda
Štefánikova 24, Brno, 602 00, Czech Republic
Tel: +420-775 376 001
Web: http://www.fleda.cz
Description
RadioBufera and EAC present:
CHECKPOINT 303
(Palestine/Tunisia/France)
live oriental beats with oud and videoprojection
Support (world beats, dub/dubstep, breakbeat)
Mustakillah Sound
RadioBufera
EAC
vstup: 90/120 czk
Projekt Checkpoint 303 je takřka ideální synonymum pro slovní spojení "world beats". Tunisko-palestinské duo z Paříže, které v současnosti sídlí v Londýně, produkuje experimentální hudební koláže, v nichž se odráží kulturní atmosféra a sociální napětí blízkého východu.
Hudebně se ChP303 pohybují poblíž spřízněných Ramallah Underground nebo u nás více známějších jmen jako Asian Dub Foundation či Fun-Da-Mental. Základem hudby, jež se pohybuje na téměř nečitelných hranicích breakbeatu, experimentální elektroniky a downtempa jsou orientální rytmy, samply vypovídající o konfliktu v Palestině a nahrávky autentických zvuků z Tunisu, Palestiny a Egypta. Jejich živá vystoupení jsou doplněna akustickou hrou na arabskou loutnu oud a tématicky laděnou videoprojekcí.
Ač jsou svým založením ChP303 spíše undergoundové uskupení, jedná se o významný a v zahraničí respektovaný projekt. To dokládá i jejich úspěšné vystupování po celém světě a fakt, že si je jako předskokany vybrala na své francouzské a britské turné kapela Massive Attack.
http://www.checkpoint303.com
http://www.facebook.com/CP303
http://www.myspace.com/checkpoint303
http://radiobufera.tumblr.com
http://eacsound.cz
Don't want to see ads? Upgrade Now