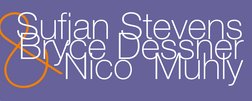 Date
Sunday 8 April 2012 at 8:30pm
Description
Nico Muhly Diacritical Marks
Sufjan Stevens Run rabbit run (selection)
Bryce Dessner Quintets
Muhly/Stevens/Dessner Liedcyclus voor stem strijkkwartet en trombones
Het Muziekgebouw Eindhoven en Paradiso presenteren een zeldzame samenwerking door de drie misschien wel meest bepalende creatieve geesten uit de New Yorkse indie scene van dit moment.
In het afgelopen jaar maakte Sufjan Stevens met twee nieuwe albums wederom zijn status waar als onnavolgbaar singer-songwriter genie; zorgde Bryce Dessner met The National voor uitverkochte zalen tijdens Cross-linx en tekende Nico Muhly o.a. voor de soundtrack voor de Oscarwinnende film The Reader en de arrangementen op Jonsi's laatste album.
De drie heren schrijven in opdracht van Muziekgebouw Eindhoven gezamenlijk een liedcyclus voor zeven trombones en strijkkwartet. Zonder twijfel op voorhand het meest veelbelovende en grensverleggende concert van het seizoen.
Geproduceerd door Muziekgebouw Eindhoven i.s.m. Barbican Centre (Londen) en Sydney Opera House
Kaarten voor deze voorstelling zijn ongeplaceerd; er is geen inleiding bij dit concert.
Credits
Gezelschap
Muziekgebouw Eindhoven en Paradiso
Featuring
New Trombone Collective
Navarra String Quartet
Cast
Sufjan Stevens
Bryce Dessner
Nico Muhly
Don't want to see ads? Upgrade Now