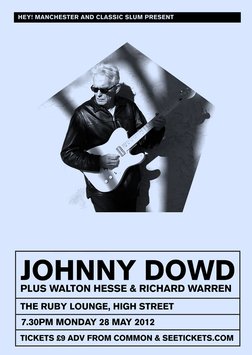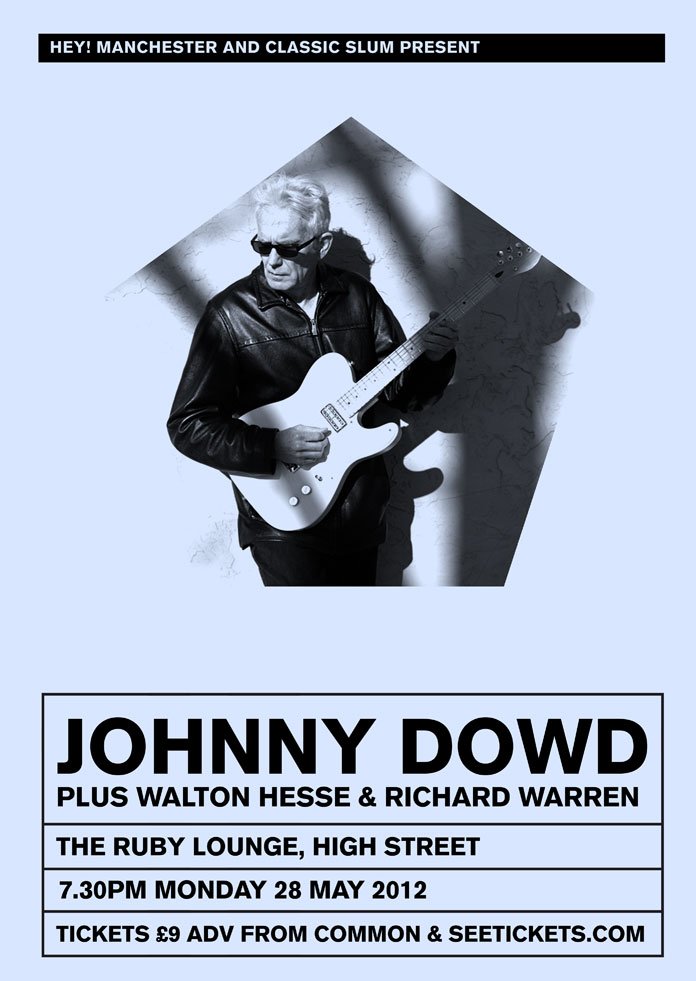 Date
Monday 28 May 2012 at 7:30pm
Description
We're excited to be presenting Johnny Dowd's first Manchester show in over five years.
Tickets are available from the bar, Common (both no booking fee), Piccadilly Records,Vinyl Exchange, Seetickets.com, WeGotTickets.com, Ticketline.co.uk and on 0871 220 0260.
Texan guitar-slinger and dark, musical visionary Johnny Dowd is set to release his new studio album No Regrets, a record about 'girls and women', on 2 April on his own Mother Jinx Records. The Ithaca, New York-based musician has been constantly evolving sonically since his early, lo-fi gothic Americana releases and No Regrets marks another installment for an artist who has become one of America's finest observers of life in the dark recesses of the American Dream. Recorded at The Shop, his own small recording facility and featuring the likes of Jennie Lowe Stearns, Mary B Lorson, and longtime collaborator Kim Sherwood-Case, No Regrets is one of Johnny's most personal records to date.
Dowd was almost 50 when Wrong Side of Memphis, his debut solo record of wracked country-folk-rock tunes, drew comparisons to Nick Cave in the alternative press. To a degree, that parallel was justified, as Wrong Side of Memphis devoted itself to murder songs and tales of doomed sinners. Dowd had grown up in Texas, Memphis, and Oklahoma before operating a trucking business in upstate New York, and his songs veered close to the source of American creepiness. Yet gallows humour and Dowd's crackly voice tended to undercut any traces of self-importance, while his debut album – dominated by his singing and guitar, yet featuring spooky dabs of organ and synthesiser that placed him outside of the rootsy Americana camp – immediately established Dowd as an important cult figure whose weirdness seemed to be wrought from true experience.
On his second album, 1999′s Pictures from Life's Other Side, Dowd edged slightly away from the cliff, using a full band of musicians and a female backing singer to craft a punchier and less folk-rooted sound. His singing and lyrics, however, remained nearly as disquieting as they were the first time around. Temporary Shelter, issued in early 2001, and The Pawnbroker's Wife, from the following year, were more accessible records. Cemetery Shoes followed in 2004, while A Drunkard's Masterpiece (comprised of three opuses that flaunt Dowd's patented mix of dark, mutant alt-country) arrived four years later.
'Brilliantly macabre, rib-tickling, poised and admirably raw dirty rock 'n' roll from the shaded supremo' – Daily Mirror
'A Drunkard's Masterpiece is a creative car crash of Americana, beatnik rock, poetry, prose, jazz rock, rap, screaming metal guitar, retro pop, spoken word and country noir' – MOJO
This is Johnny's first Manchester show since a joint headline show with Jim White in 2006. His previous Manchester show, at Night & Day Cafe in 2005, has since been released as a live album. This show is a co-promotion with Classic Slum.
Support comes from another Hey! Manchester favourite, Walton Hesse. Burst into being from the sunny imagination of songwriter Matt Grayson, Walton Hesse are a lapsed congregation of optimistic outcasts standing on the shoulders of Big Star and Wilco, peering into the shaft of a 13th Floor Elevator. Frontier-facing and burdened by a twisted nostalgia this alt-country psych creation blend the melodious harmonies of Matt and Nicola Crosby haunted by the ghostly union of Gram and Emmylou to bring Arizona desert plains to the streets of Manchester.
Opening the show will be Richard Warren. Driving folk-punk, full of the fire and working class pride, stripped to a brutally sparse frame and conjuring up spirits of the death-balladeers of the Fifties. His musical career began in the mid-1990s and has encompassed everything from the dynamic power-pop of The Hybirds to an ephemeral burst of cult success as sonic explorer Echoboy, not to mention a few revolutions of the planet as guitar-man for hire with Spiritualized and Soulsavers (featuring the legendary Mark Lanegan). Warren's shows have been described as 'Lynchian', with one reviewer commenting that 'he plays songs of a man who's seen it all and was largely unimpressed'.
http://www.johnnydowd.com/
http://www.myspace.com/waltonhesse
http://www.richardwarren.info/
http://www.heymanchester.com/
Don't want to see ads? Upgrade Now