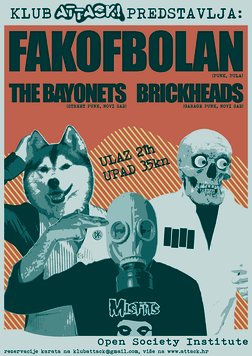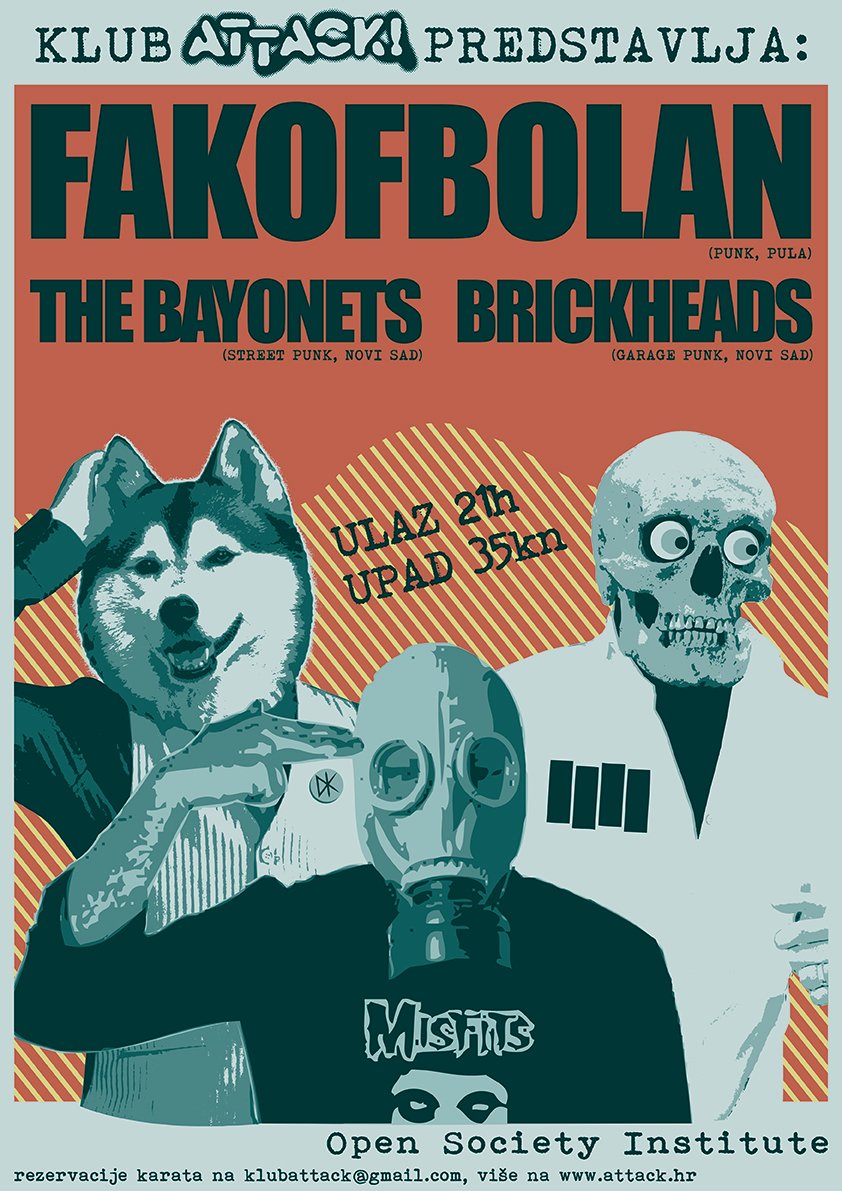 Date
Friday 16 March 2012 at 9:30pm
Description
FAKOFBOLAN
http://fakofbolan.cjb.net/
Nemoguće je da postoji netko od pank populacije, a da nije čuo za ove Puležane. Nekima bend iz tinejđerskog razdoblja stvaranja DIY pank scene 90- tih, a nekima iz tinejđerskog razdoblja prve dekade novog milenija. Dakle, ono što su Mozart i Beethoven za klasičnu glazbu, to su FOB za svakog pankera ili pankericu koji/a drži do svog statusa iskrenog/e i pravog/e pankera/ce.
Prije nego što im izađe novi album, Fakofbolan odrađuje obećanje i svira po prvi puta u Attacku!
Neznani junaci
http://www.youtube.com/watch?v=ALZTms8F9gA
Ulica
http://www.youtube.com/watch?v=fGW_UX53NVM
THE BAYONETS
http://www.myspace.com/thebayonets
Već svima znani melodični street punk bend iz Novog Sada. Nakon prvog albuma "Our Fight" i par europskih turneja u Zagreb stižu u novoj postavi. Na ovom koncertu će promovirati 6 novih pjesama koje izlaze u obliku split albuma sa The Dipsomaniacs iz Sunderlanda. Riječ je o novom bend članova Red LOndon, Angelic Upstarts, Leatherface i Red Alert. Album se zove "Well Connected" i izlazi za njemački Mad Butcher Records (Los Fastidios, Stage Bottles, The Movement, Attila The Stockbrocker…)
Runnin' through the wall
http://www.youtube.com/watch?v=2f3KG-buk0g
Plakati
http://www.youtube.com/watch?v=7WOAI-E9Phs
TV prilog o bendu
http://www.youtube.com/watch?v=1HNlY2HQ3m4
BRICKHEADS
http://www.myspace.com/brickheads
Garage punk rock trojac iz Novog Sada. Do sad su izdali jedan album, "Music Pollution", za SKCNS label za koji su izdavali mnogi novosadski punk bendovi poput Atheist Rapa, Mitesersa i Goblina.
Po prvi put u Zagrebu!
Underground in Novi Sad
http://www.youtube.com/watch?v=ozekG_ixsT0
Karta je 35kn, pretprodaje nema i može se jedino rezervirati na e-mail adresu: klubattack@gmail.com sa subjektom "FOB rezervacija" najkasnije do ponoći 15. ožujka. Rezervirati možete samo jednu ulaznicu isključivo na vaše ime i prezime.
Klub se otvara u 21h a rezervirane ulaznice možete podignuti najkasnije do 22h.
Don't want to see ads? Upgrade Now