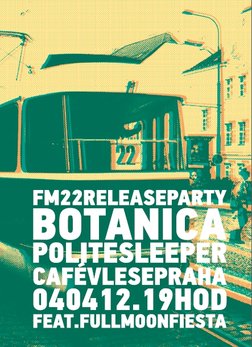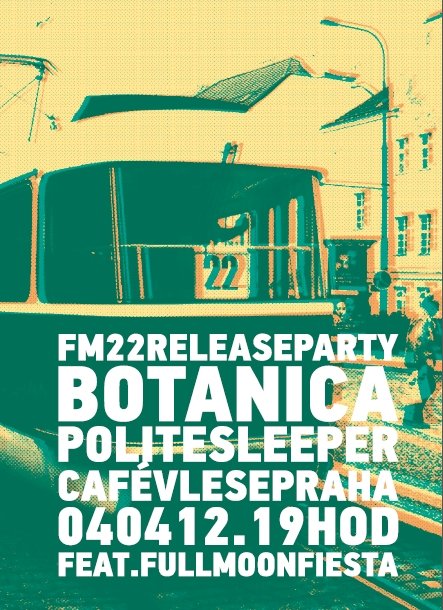 Date
Wednesday 4 April 2012 at 8:00pm
Location
Café V Lese
Krymská 273/12, Praha, 101 00, Czech Republic
Description
Nový úplněk, nová párty. Vychází nové číslu hudebního časopisu Full Moon a číslo #22 si na svůj křest pozvalo newyorskou smetánku. Ve sklepních prostorách Café V Lese vystoupí ve středu 4. dubna stará známá Botanica s Brianem Viglinonem za bicími a folkpunkové trio Polite Sleeper. A večer čeká hosty DJská noc Fiesta. Začíná se o půl osmé, lístky budou stát 250 Kč.
facebook: http://www.facebook.com/events/319403964776403
last.fm: http://www.last.fm/event/3191841
Swingující punkový kabaret Botanica je jeden z výsledků žánrových kolizí ve žhavém newyorském hudebním podnebí, podobně jako spolky Gogol Bordello, Balkan Beat Box nebo Firewater. Hudba Botaniky možná není tak přímočará, ale zato elegantnější, rozmanitější a ve výsledku i razantnější. Stejně jako barevná atmosféra New Yorku čiší z produkce skupiny fluidum Berlína, jeho dekadence, rozmary a smyslnost. Na albech Botaniky se eklekticky snoubí rock, blues, klezmer nebo šanson, její leader Paul Wallfisch je skutečným entertainerem v pravém smyslu tohoto slova. Zpěvák, bavič, poděs, destrukční pianista, satir a ďábelský symbol v jednom. Divoké taneční kousky střídají zadumaná blues, balkánskou diskotéku zase berlínský bar se štiplavě ranní atmosférou. Ansámbl představí novou desku volně na motivy klasiky Mistra a Markétky, What Do You Believe In, poprvé na vinylu!
Kytary a nohavice u kalhot proklatě vysoko! Trio Polite Sleeper (zpěvák a kytarista Jason Orlovich, bubeník Tim Wilson a klávesák Michael Curtes) se také vrací už poněkolikáté za posledních pět let. Folk-punkový lo-fi ansámbl, postavený na základech a bývalých členech Yellow Press (album Comfortable Curses vyšlo kdysi na Day After), přijíždí s heslem: "The trio with a long punk history earned its chameleon reputation as both a wild live act and three gentlemen troubadours over countless tours and three lovely LPs." Žádný z jejich minulých koncertů nezklamal, je načase znovu vytáhnout taneční botky.
Don't want to see ads? Upgrade Now