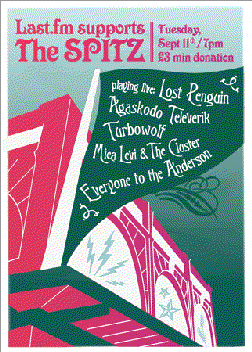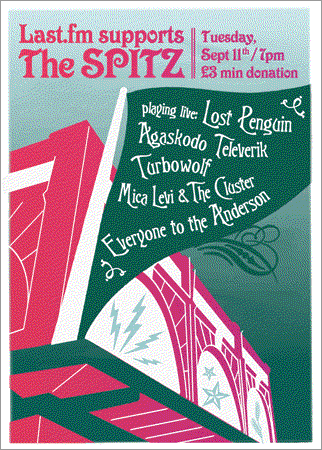 Date
Tuesday 11 September 2007 at 6:00pm
Location
The Spitz
109 Commercial Street, Old Spitalfields Market, London, E1 6BG, United Kingdom
Tel: 020 7392 9032
Description
Thanks for coming out!
Back in the early zeroes, two of the three founders of Last.fm used to put on events at The Spitz, an East London venue thatÕs been showcasing new bands almost as long as Spitalfields has had a market (which is 369 years, fact fans). Then they got distracted by all this web start-up malarkey.
But on the 11th September 2007 they returned Ð with the rest of us, plus five amazing bands, our finest Last.fm deck-wreckers, and special guest DJs Hot Chip.
Altogether, we rocked the place and in the process raised £1,600 on the door alone (not to mention the bar which was practically drunk dry!). Anyway enough typing check out the footage below for yourselves...
Don't want to see ads? Upgrade Now