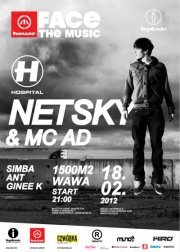 Date
Saturday 18 February 2012 at 9:00pm
Location
1500 m2 do wynajęcia
ul. Solec 18, Warszawa, 00-410, Poland
Tel: (22) 6288412
Description
Zapraszamy na kolejną, świetną imprezę w ramach cyklu Face The Music!
Tym razem wystąpi dla Was znany już w Polsce młody artysta spod skrzydeł wytwórni Hospital Records – Netsky!
Na jego występ zapraszamy 18 lutego 2012 do warszawskiego klubu 1500m2. Razem z nim na scenie pojawi się MC AD.
Netsky, poza tym, że przez wielu uważany jest za następcę High Contrasta, ma miano jednego z największych i najszybciej rozwijających się talentów połamanej sceny. To uznanie młody artysta zyskał głównie dzięki wydanemu w 2010 roku albumowi pod przejrzystym tytułem "Netsky", jak i dzięki licznym remixom. Najlepszym potwierdzeniem jego zasług na scenie muzycznej są nagrody zdobyte na prestiżowym Drum & Bass Awards ('Best Upcoming Producer', 'Best Breakthrough DJ', 'Best Breakthrough Producer', 'Best International
Artist', 'Best Liquid DJ').
Więcej o młodym Belgu znajdziecie na jego stronach:
www.myspace.com/netskymusic
www.hospitalrecords.com
Razem z Netsky'm w 1500m2 wystąpi MC AD. Już jako szesnastolatek można było go usłyszeć w londyńskim Eruption FM. Szybko zaczął współpracę z takimi artystami jak DJ Zinc, Loxy i MC Rage, niedługo też trzeba było czekać, aż
wyruszył w pierwszą międzynarodową trasę koncertową, wkrótce po tym też w trasę po Ameryce. MC A.D. na stałe współpracuje z True Playaz, Renegade Hardware i Hospitality.
Więcej o MC AD znajdziecie na jego stronie:
www.myspace.com/mcad1
Jako support wystąpią: Simba, Ant i Ginee K.
Bilety na te wydarzenie są już w sprzedaży w stałych punktach,
tj. Salony EMPiK, Saturn, MediaMarkt i inne punkty Ticketpro w całej Polsce. Sprzedaż internetowa: www.ticketpro.pl oraz www.muno.pl
cena biletów: do 15 stycznia 29 zł / od 16 stycznia 35 zł /
w dniu imprezy 45 zł
Sponsorem cyklu Face The Music jest marka House.
Więcej informacji:
www.illegalbreaks.com
www.house.pl
Don't want to see ads? Upgrade Now