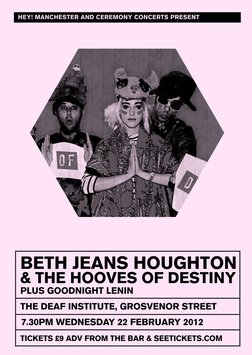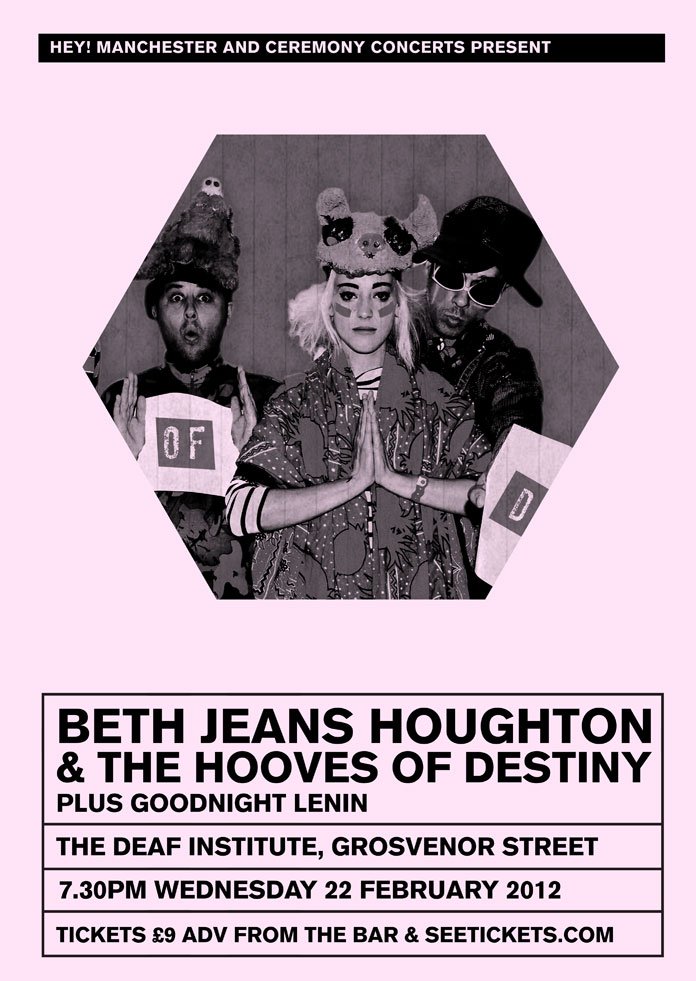 Date
Wednesday 22 February 2012 at 7:30pm
Description
Hey! Manchester and Ceremony Concerts are excited to welcome back Beth Jeans Houghton and her band the Hooves of Destiny.
Tickets are available from the bar, Common (both no booking fee), Piccadilly Records,Vinyl Exchange, Seetickets.com, WeGotTickets.com, Ticketline.co.uk and on 0871 220 0260.
Beth Jeans Houghton's debut album Yours Truly, Cellophane Nose introduces one of the most self-assured new artists of the year, a pop polymath whose blend of psychedelia, glam rock and chain gang folk is quite unlike anything else you're likely to hear in 2012. Like her utterly unique stage outfits, it's made from disparate individual elements that wouldn't work on paper, but sing out like a holy choir in the execution. Adding muscle to Beth's far-ranging vocals are her band The Hooves Of Destiny. Comprising Dav Shiel (drums, vocals samples) Rory Gibson (bass, vocals), Ed Blazey (guitar, trumpet, vocals) and Findlay Macaskill (violin, vocals), they're a crack unit recruited from Beth's native North East.
Three years in the making, this album was created with producer Ben Hiller (Blur, Elbow, Depeche Mode). Initially, Beth had reservations about working with such a big name behind the desk, being almost punk-like in her attitude and resolutely independent in every facet of her career. Over time, Ben and Beth developed a harmonious working relationship, and the album changed shape many times in the making. Unusually, the album features a song that Beth wrote about her first relationship at 17, named Veins, which sits alongside brand new tracks like the ever-changing single Dodecahedron.
Since her first performance in 2006 Beth has played alongside a diverse collection of artists such as Jeffrey Lewis, King Creosote, St Vincent, Euros Childs and Diane Cluck among others. While still in her teens, Devendra Banhartinvited her to join him on the main stage at Green Man Festival, declaring her 'a musical magician'.
'When she opens her mouth the sound is Vashti Bunyan crossed with Nico and Laura Marling' – the Guardian
Support comes from Goodnight Lenin. Inspired by Dylan, Young and Simon & Garfunkel, the band formed in 2009 and were soon performing at Moseley Folk Festival and with First Aid Kit and British Sea Power. Their first single, Crook in the Creek, was released through Static Caravan Recordings in August 2010 and received airplay on Guy Garvey's Finest Hour, among others. Their follow-up, The Wenceslas Square EP, was released in July 2011, with the band also performing at Glastonbury, Kendal Calling and Larmer Tree festivals last year.
http://www.myspace.com/bethjeanshoughton
http://goodnightlenin.virb.com/
http://www.heymanchester.com/
http://www.myspace.com/ceremonyconcerts
Don't want to see ads? Upgrade Now