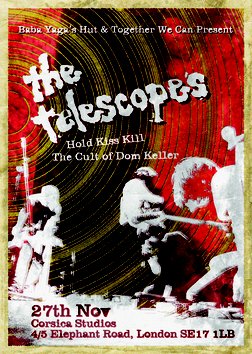 Date
Sunday 27 November 2011 at 7:00pm
Description
"Every sound you've ever heard was but a preliminary exercise for the all-embracing maelstrom of The Telescopes" Melody Maker, 1989
There's been much reminiscing of The Telescopes amongst psych lovers who were both there to see them in their magical heyday, and those who had the misfortune to have missed that beautiful era but the fortune to discover the many great pieces of art they left behind. Well we're all in luck because on 27th November 2011, after Portishead talked Steve Lawrie into fully reviving The Telescopes' live show for one of this summer's ATP parties, a reinvigorated Telescopes have embarked on what is being seen as a new dawn within the camp as they currently work on a new album. As part of this new dawn they have asked us to get the word out, that if you look through your telescope, you'll see that the spaceship has already burst through the stratosphere and is once again in orbit.
The Telescopes were formed in Burton-on-Trent in 1986 and could best be described as a noise/space rock band - The Jesus And Mary Chain, My Bloody Valentine and Spacemen 3 being influences and contemporaries. In 1988 they issued their first single, 'Forever Close Your Eyes', a split flexi-disc with LoOp issued on Cheree Records. They then moved to What Goes On Records and released their debut LP, Taste and The Perfect Needle single , perhaps their most famous song. A live album appeared on Fierce Records, following which they signed to the legendary Creation Records.
The show also features heavyweight support from Hold Kiss Kill who Artrocker proclaimed "Your new favourite band" and Rough Trade described as "The illegitimate offspring of Toni Halliday and Kevin Shields with Jim and William Reid as proud uncles nodding with approval." But it doesn't stop there as they'll also be joined by The Cult of Dom Keller whose debut album EP1 was recorded by Spiritualized lead guitarist Doggen.
Tickets:
http://www.corsicastudios.com/index.php/buy-tickets
http://www.wegottickets.com/event/137561
Presented by Baba Yaga's Hut and Together We Can.
Don't want to see ads? Upgrade Now