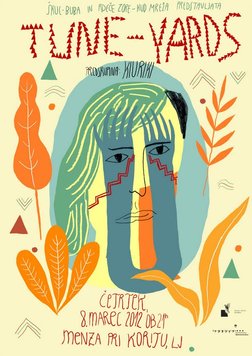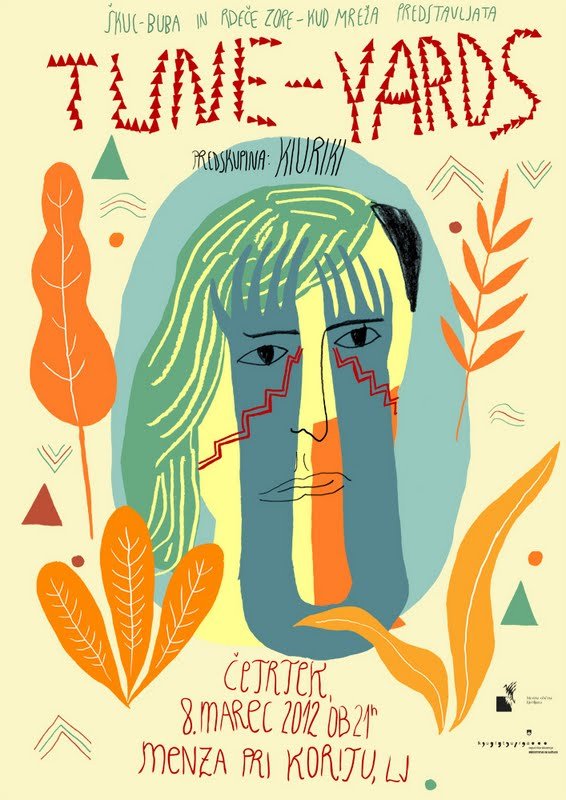 Date
Thursday 8 March 2012
Description
ŠKUC-Buba in Rdeče zore-KUD Mreža predstavljata:
tUnE-yArDs
Četrtek, 8. marec 2012 @ Feministični in queerovski festival Rdeče zore, Menza pri koritu, LJ
Vstopnica: 12 eur v predprodaji / 15 eur na dan dogodka
20:00 BLAGAJNA
21:00 VSTOP
21:20 KIURIKI
22:30 tUnE-yArDs
& DJ Ninja in Fumarola
-----------------
tUnE-yArDs
(experimental, indie, folk, soul – Connecticut, USA)
Kritiki so si bolj ali manj edini: tUnE-yArDs, projekt ameriške glasbenice Merrill Garbus, je nekaj najbolj samosvojega, kar se je v zadnjih dveh letih pojavilo na obzorju novih »indie« muzik. Zaradi domiselnega spajanja afriške ritmike in zahodnega art-popa ga primerjajo z Brianom Enom in Davidom Byrnom, vendar ga v resnici nobena primerjava ne opiše zadovoljivo: čeprav zvočno podobo tUnE-yArDs sestavlja vrsta prepoznavnih referenc, je odlika Merrill Garbus v tem, da jih spaja na povsem edinstven način.
Merrill Garbus je pod imenom tUnE-yArDs nase opozorila s presenetljivim prvencem BiRd-BrAiNs (Marriage Records, 2009), ki ga je posnela z diktafonom in prenosnikom. Američanka iz Nove Anglije, ki je dotlej igrala v kanadskem indie pop triu Sister Suvi, je še isto leto podpisala pogodbo s slovito britansko založbo 4AD, ki je album izdala v remasterizirani in dopolnjeni različici. Guardian jo je razglasil za »odkritje leta«.
Drugi album, w h o k i l l, je izšel aprila 2011. Na njem je Merrill združila moči z basistom Nateom Brennerjem, ki je soavtor nekaterih komadov na plošči in jo spremlja tudi na koncertih. Album so po inovativnosti in zmožnosti avtorice, da to inovativnost izrazi v formi tradicionalne pop pesmi, primerjali s klasikama Evol in Sister zasedbe Sonic Youth. Zaradi osupljive mešanice afriških ritmov, hiphopa, loopov, art-popa in rocka ter besedil, v katerih se Merrill med drugim ukvarja z reprezentacijami ženskosti in seksualnosti, se je plošča znašla na večini lestvic najboljših albumov leta 2011.
Osupljiva mešanica afriških ritmov, hiphopa, loopov, art-popa in rocka ter besedil, v katerih se med drugim ukvarja z reprezentacijami ženskosti in seksualnosti, je številne kritike prepričala, da so jo razglasili za ploščo leta.
tUnE-yArDs odlikujejo odlični koncerti, energijo, značilno za žive nastope, pa je zaznati tudi na studijskih ploščah. Skladbo »Fiya« so leta 2010 uporabili v reklami za BlackBerry Torch, komad »Gangsta« pa v nadaljevankah Weeds in The Good Wife.
WEB:
www.tune-yards.com
www.4ad.com/tune-yards
www.facebook.com/tuneyards
www.twitter.com/tuneyards
Kiuriki
V "kriznem duetu" Kiuriki igrata Nina F. in Uroš Simončič, slovenska improvizatorja mlajše generacije. Nina F. alias Kikiriki na sintetizatorjih, tereminu in vokalih je znana po svojih hrupnih solističnih nastopih in sodelovanju z zasedbami Krvojemalci, Pilule, Zgrešena Investicija, Be Creep in Oberiu. Tolkalec Uroš Simončič je v preteklosti improviziral s številnimi mednarodno priznanimi glasbeniki, z Nino F. pa igra od leta 2011, ko sta pri domači založbi Eat This Production posnela prvi album Morning After. Na Radiu Študent si je prislužil oznako "free-punk-synth-thrash impro", duet pa pohvalo, da "na domači sceni naseljuje malodane prazen prostor – predvsem zaradi spogledovanja s tukaj redko slišanim pristopom k hrupni improvizaciji ter odprtosti prihodnjega razvoja" (Marko Karlovčec).
Povezave:
www.myspace.com/kikiiriki
http://soundcloud.com/kiuriki
http://eatthisproduction.com/?page_id=481
Po koncertu DJ program z Ninjo (SLO) z izborom electro, electrohouse, electroclash, disko in funky breakbeatov ter Fumarolo (SLO) z razposajenimi in plesnimi ritmi indie rocka, indietronike, dance/postpunka, novega vala in še česa.
Don't want to see ads? Upgrade Now