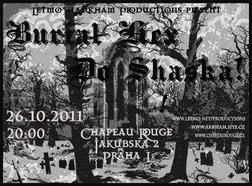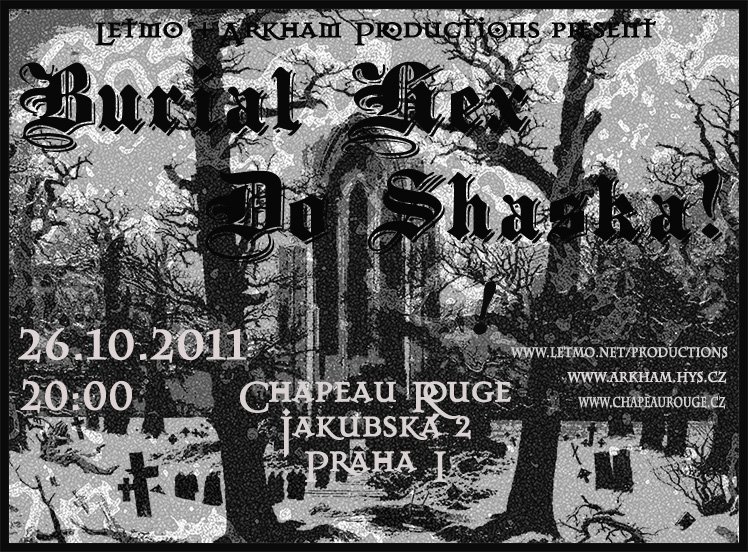 Date
Wednesday 26 October 2011 at 8:30pm
Description
http://www.letmo.net/productions
http://www.arkham.hys.cz/
Clay Ruby (aka Burial Hex) se čím dál víc vzdaluje jasné kategorizaci. Sakrální kompozice s hlukovými erupcemi a chladný puls minimalistického diska s trýznivým vokálem, jaký uslyšíte spíš v black metalu, se v jeho aktuální tvorbě navzájem proplétají s udivující samozřejmostí. Málokdo má tak silnou vizi jako Clay, aby se dokázal ponořit do tolika stylů, zachytit jejich definující vlastnosti a přitom jimi být ve výsledku nakonec nedotčen, stále sleduje svůj vnitřní ideál.
Díky své hudbě nezařaditelně tajemné hudbě a okultní symbolice se stal ikonou witch houseové mládeže a nové dlouhohrající album Book Of Delusions vychází i s remixy mj. od Mater Suspiria Vision nebo Dream Boat.
Rodák z Wisconsinu původně vzešel z americké noisové scény, má společné nahrávky se Zola Jesus nebo Kinit Her, občas hraje v Sylvester Anfang, Jex Thoth, The Second Family Band nebo Journey To Ixtlan, je aktivní i v remixování (naposledy vydařené remixy Phallus Dei spolu s Bohren & Der Club Of Gore, Der Blutharsch a dalšími) a spoluvlastní label Brave Mysteries, kde se na podzim chystají desky Pwin Teaks a excelentním Italům His Electro Blue Voice).
Do Prahy se vrací podruhé po loňském koncertu v K4 a čekat se dá cokoliv.
Do Shaska! patří už ke klasickým jménům české industriální scény a po letech proměn zůstávají na pomezí ethno dubu a industriálního ambientu. Jejich vlastní cesta v některých momentech připomene odbočky, které si zvolil Burial Hex, takže jejich setkání na společném pražském koncertě bylo celkem nasnadě.
Koncert proběhne ve středu 26.10.2011 od 20:30 v klubu Chapeau Rouge (Jakubská 2, Praha 1). Vstup: 200,- pouze na místě.
http://www.youtube.com/watch?v=AVr5FEeyQ5o
http://www.youtube.com/watch?v=lJW-4oZ2Hb4
http://soundcloud.com/burial-hex
http://burialhex.bandcamp.com
http://www.myspace.com/burialhex
http://www.doshaska.net
Don't want to see ads? Upgrade Now
12 interested
Deleted user

Deleted user