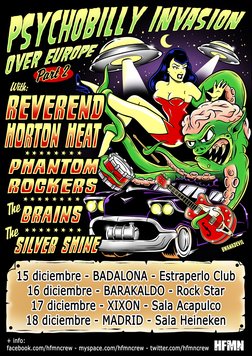 Date
Saturday 17 December 2011
Description
HFMN CREW presenta:
REVEREND HORTON HEAT
PHANTOM ROCKERS
THE BRAINS
THE SILVER SHINE
Si el pasado febrero fueron THE METEORS los que encabezaran la gira PSYCHOBILLY INVASION, esta vez serán los americanos REVEREND HORTON HEAT, sin duda alguna máximo exponente del rockabilly tarado americano.

Después de su aclamada actuación en el AZKENA ROCK FESTIVAL de Vitoria, recibimos con mucho gusto de nuevo al Reverendo!!

Después de patearse desde los bares más andrajosos de USA hasta los festivales más grandes del mundo, REVEREND HORTON HEAT pueden presumir de gozar de la reputación que se merecen: la de unos animales del rock n roll que no tienen miedo a nada ni a nadie. No les da miedo ni el country más añejo ni el psycho más peleón, ni el sonido limpio ni la distorsión, ni el whiskey escocés ni el bourbon más cabrón. No en vano se han ganado el respeto de toda la comunidad del rock n roll por sor lo que son, unos animales del rock n roll.

Esta vez irá acompañado de los veteranos del psycho británico PHANTOM ROCKERS, los canadienses THE BRAINS, y los búlgaros THE SILVER SHINE que tan buen sabor de boca nos dejaron el pasado febrero.

Sus próximas fechas en la península serán:
15 diciembre 2011 @ Badalona – Estraperlo Club
Last.fm: http://www.last.fm/event/2032222
16 diciembre 2011 @ Barakaldo - Rock Star
Last.fm: http://www.last.fm/event/2032224
17 diciembre 2011 @ Xixon - Acapulco
Last.fm: http://www.last.fm/event/2032229
18 diciembre 2011 @ Madrid - Sala Heineken
Last.fm: http://www.last.fm/event/2032231
Info Facebook: https://www.facebook.com/event.php?eid=269091996435422
Info MySpace: http://www.myspace.com/hfmncrew/blog/544011655
Más info sobre el grupo en:
http://www.reverendhortonheat.com/
http://www.phantomrockers.com/
http://www.myspace.com/thebrains
http://www.myspace.com/thesilvershine
Más info de la gira en:
http://www.facebook.com/hfmncrew
http://www.myspace.com/hfmncrew
http://www.twitter.com/hfmncrew
http://www.facebook.com/hardcoreformynose
http://www.last.fm/user/hfmncrew
Don't want to see ads? Upgrade Now