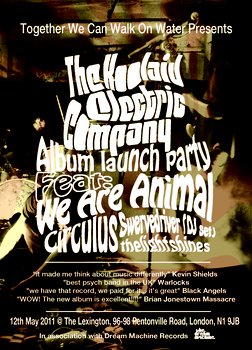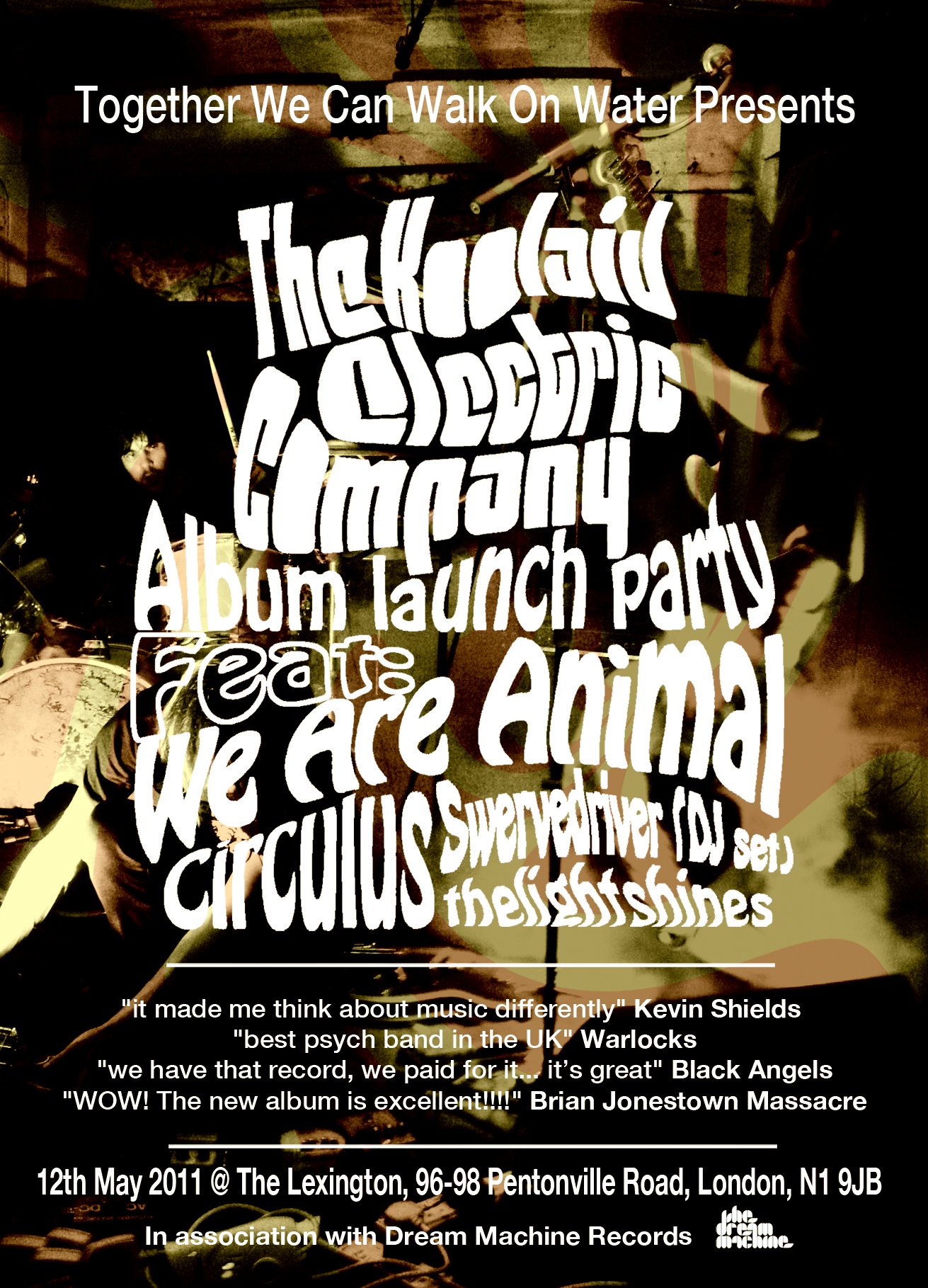 Date
Thursday 12 May 2011 at 6:30pm
Description
Full Details: www.myspace.com/togetherwecanwalkonwater
Tickets: £6 Advance - Limited capacity - advance tickets recommended from www.wegottickets.com www.ticketweb.co.uk www.seetickets.com
Together We Can Walk On Water Presents The Koolaid Electric Company Album Launch Party
In association with Dream Machine Records
the koolaid electric company, we are animal, Circulus, swervedriver and thelightshines
Together We Can Walk On Water Presents The Koolaid Electric Company Album Launch Party
This is a very special Together We Can Walk On Water indeed. At long last The Koolaid Electric Company release their first album after miraculously becoming the UK's most loved home-grown psychedelic shoegazers without releasing a single album. Well I say miraculously, anyone who's seen them live knows exactly why it's happened and knows why they've been the choice support or playing partners of The Brian Jonestown Massacre, The Black Angels, The Warlocks, Clinic, The Howling Bells, Asteroid #4, Kevin Shields (My Bloody Valentine) and Will Carrruthers (Spacemen 3/ Spiritualized) to name but a few. In fact Marty Wilson Piper (The Church), Ricky Maymi (Brian Jonestown Massacre) and Will Carruthers all play on tracks on the new album, whilst Ryan van Kriedt of Asteroid #4 and The Dead Skeletons mastered what was already a masterwork.
"It made me think about music differently" Kevin Shields
"Best psych band in the UK" Warlocks
"We have that record, we paid for it... it's great" Black Angels
"WOW! The new album is excellent!!!!" Brian Jonestown Massacre
You'll find the internet littered with people seeking out more information about where to find this band's music. No mean feat for a band with no proper releases, no PR and a general 'no bullshit' policy. Their reputation as musicians and as a mesmerising band has brought notoriety alone.
On the 12th May we're throwing a massive party to celebrate the album launch and you can see why current 'hot property' We Are Animal, UK Psychedelic stalwarts Circulus and Swervedriver want in on the action too. There's so much respect out there for these Leighton Buzzard charmers, amongst musicians and gig goers alike, and a general sense their time would eventually come. With the album finally here and everything set up to take things to the next level, this is a landmark gig not to be missed!
The album they thought would never come:
http://johnbuckley100.wordpress.com/2010/02/11/are-the-koolaid-electric-company-the-great-lost/
The album people sought but could not find:
http://keepmusicevil.freeforums.org/the-koolaid-electric-company-t1068.html
Expect sweet swirling sounds and maybe, just maybe, a few very special on stage contributors on the night…

www.myspace.com/thekoolaidelectriccompany
www.facebook.com/pages/The-Koolaid-Electric-Company/108405732524645
The line-up also includes:
We Are Animal
We Are Animal's debut album, 'Idolise', is a mixture of rousing hooks, weird sounds, ear-grabbing riffs and a nice bit of cowbell.
Natives of North Wales they can be found at the foot of Mount Snowdon and record all their songs the day they are written (bar one or two vocal parts) on basic equipment. They use whatever space is available in various households, slate quarries, fields, woods and old folks homes ("we don't have the monies to record our music in a studio") around their local area. This unpretentious, DIY approach to making and producing music means that the sum total of their output is something rather exciting and original. Their music is characterised by buzzing guitars, pummelled drums, great hooks and impressively accomplished song writing.
We Are Animal have been prolific both in their output and their live presence ever since they got together in 2009. Armed with their home demos they have already been championed by both BBC Radio 1 and 6 Music, XFM, NME, Kerrang and Juice FM and a bagful of regional programmes. NME highlighted We Are Animal as their breakthrough artist of the week in late August 2010, and a brief search of the blogging world reveals a growing and enthusiastic following.
http://www.myspace.com/weareanimal
http://www.bbc.co.uk/radio1/bigweekend/2010/artists/weareanimal/
Circlucs
Circulus are a psychedelic folk/progressive rock band from South London, England, founded by vocalist Michael Tyack.
The band uses a mix of modern and medieval instruments such as the lute, cittern, crumhorn and rauschpfeife, along with the moog synthesizer, bass and electric guitars. Tyack claims to believe in fairies and pixies, and they have been known to play their live shows with the audience sitting on the floor.
Circulus were featured in a two-page spread of an NME issue in 2005, and a two page interview in Terrorizer in 2006. Their album Clocks are Like People was reviewed in Metal Hammer magazine in September 2006, receiving 8/10.
The band featured in an SVT (Swedish) music television documentary called This Is Our Music in 2005, and were interviewed on BBC2's The Culture Show on 3 February 2007 as part of an item on the 'new folk'.
Mojo magazine chose Circulus to cover "Lucy in the Sky with Diamonds" for their 40th anniversary Sgt. Pepper's Lonely Hearts Club Band tribute album, Sgt. Pepper...With a Little Help from His Friends, given away with their March 2007 issue.
Number 73 "The Lick On The Tip Of An Envelope Yet To Be Sent"
The Times Top 100 Albums of The Decade
"A deadly serious quest to rescue us all from the real dark ages - the times we live in... Britain's leading nine piece medieval prog/folk/space/rock ensemble." NME
"Unsettling, tear jerkingly beautiful and wonderfully refreshing"
Alexis Petridis - Guardian
"...their sound is totally unique coming across like a mixture of medieval English folk, Fairport Convention and Ozric Tentacles. This album takes the band into melodic pop territory with some beautiful multi-part harmonies"
Rough Trade
"Undoubtedly the best psychadelic neo-medieval folk rock band in Britain"
Tom Cox – OMM
http://www.myspace.com/circulus
thelightshines is a one man show, featuring lo-fi drones, tambourines, backwards triangles, sitars, guitars, and the sound of old records. Sam lightshines has released vinyl and given stuff away. Another popular fixture on the London Psych scene, you will ask yourself how does just one man create this sound?
thelightshines
'It's spaced out stuff, kind of how I imagine (and yes, it is something I think about daily) BRMC would sound if they went round to Anton Newcombe's, called up Brian Wilson to make up the numbers, ate a few specially ordered mushrooms, then held a séance so that Sid Barrett could join in the ensuing jamming session. I'm sure you'll agree, such a tantalizing and frankly barmy analogy could only be conjured up for something special, and thelightshines are it.' High Voltage
Links:
http://www.myspace.com/thelightshines
And last but by no means least The DJ's:
Swervedriver
Yes that's right the legendary Swervedriver will be there to show their support and show us their record collection
Ola's Kool Kitchen
She's cool just the way we like it, with a K! Ola frequently covers Primavera Sound and the Lockstock Festivals and is the trusted word on the proverbial street.
Don't want to see ads? Upgrade Now