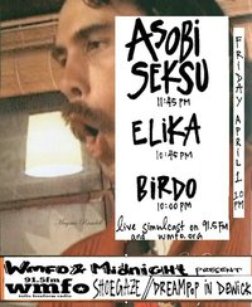 Date
Friday 1 April 2011 at 10:00pm
Location
Dewick-MacPhie Hall
25 Latin Way, Somerville, MA, 02144, United States
Description
WMFO & Midnight Present:
=Dreampop in Dewick= featuring ASOBI SEKSU!
ASOBI SEKSU
http://www.asobiseksu.com/
// 11.45 PM
ELIKA
http://www.elikamusic.com/
// 10.30 PM
BIRDO
(Tufts band)
// 10.00 PM
Doors at 9:30. This is a free but limited event; first come, first served, so come early! We will have to turn people away once we hit capacity.
*Come early to see a Tufts-NEC classical string quartet live on stage!
JCC* will be taking donations for Japan earthquake and disaster relief.
The show will be live-simulcast on WMFO 91.5 FM and streaming online at www.wmfo.org (so you can get your shoegaze on with us from anywhere in the world)
The first in a series brought you by Midnight & WMFO, so stay tuned for more announcements about what April holds!
Don't want to see ads? Upgrade Now