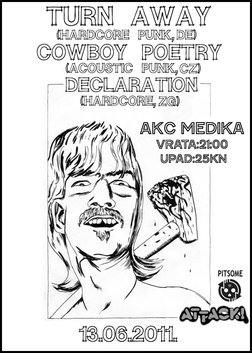 Date
Monday 13 June 2011 at 9:00pm
Description
Autonomni Kulturni Centar - Attack! u suradnji sa Insane Booking & Promotions i Pitsome Gear predstavljaju hardcore / punk / acoustic / pop koncert u AKC Medika – u klubu Attack!
TURN AWAY - hardcore punk, Ludwigsburg (DE)
http://www.myspace.com/turnawayhq
http://www.reverbnation.com/turnaway
Peteročlani bend koji dolazi iz gradića pokraj Stuttgarta donosi nam melodičan i emocionalan, na trenutke himničan hardcore pomiješan sa punk rockom. Na sceni su još od 2000. godine i imaju par izdanja iza sebe. Nakon odlaska par članova bend mijenja svoj zvuk od oldschool hardcorea do sadašnjeg stila kojeg opisuju kao kombinaciju bendova poput Have Heart, Comeback Kid, ranog Good Ridancea i Hot Water Musica. Na ovoj turneji predstavljaju još uvijek aktualni EP "To The Open Sea" izdan za United Blood Records prošle godine.
COWBOY POETRY - acoustic punk, Prag (CZ)
http://www.myspace.com/thisiscowboypoetry
Philipp Dunkel, pjevač njemačkog hardcore benda Finding Faith s gitarom seli se u Prag i pod imenom Cowboy Poetry radi isto što i Frank Turner, Chuck Ragan, Elliott Smith ili Tim Barry. Izvadite svoje flanel košulje i pripremite se za party!
DECLARATION – hardcore, Zagreb
http://www.myspace.com/declarationpunk
Svima znani zagrebački hardcore bend sačinjen od još više zagrebačkih hardcore i punk bendova. Nakon prvog izdanja za Subvultures Records i odrađene prve europske turneje vraćaju se u Mediku oderat vaše guzove.
+ hardcore punk slušaona by dj Prikolica i dj Ćuturica
VRATA: 21H
UPAD: 25KN
AKC Medika – klub Attack!
Pierottijeva 11, 10 000 Zagreb (Croatia)
www.pierottijeva11.org/
www.attack.hr/
Don't want to see ads? Upgrade Now
6 interested
Deleted user

Deleted user