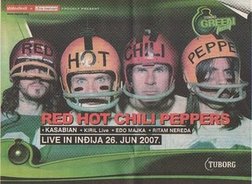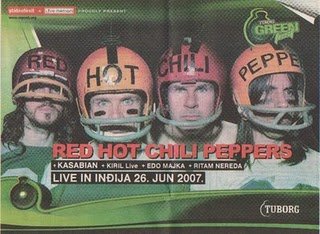 Date
Tuesday 26 June 2007
Location
TBA
Inđija, Serbia
Description
UPDATE: Koncert je potvrdjen na zvanicnom sajtu! https://tickets.redhotchilipeppers.com/index.php?location=eu
Izvor Blic, 13/02/2007
Najveća rok atrakcija, bend "Red Hot Chili Peppers" napokon, posle beskonačnog čekanja, dolazi u Srbiju! Entoni Kidis i ekipa će 26. juna održati koncert u Inđiji, ugovor sa grupom je potpisan, a kako nezvanično saznajemo, organizator nastupa na kojem se očekuje između 50.000 i 60.000 ljudi je "Udruženje Egzit".
Koncert će biti održan pored autoputa, u blizini Inđije, otprilike tačno na pola puta između Beograda i Novog Sada. Uskoro će biti poznata cena ulaznica, kao i drugi detalji vezani za organizaciju.
Inače, kako saznajemo, za dolazak "Pepersa" u Srbiju nije bila presudna količina ponuđenog novca, već su članovi benda želeli da imaju pouzdanog i kredibilnog partnera u regionu koji će organizovati njihov koncert. Američki rokeri će ovog leta u Evropi svirati samo 12 koncerata, a budući da će nastup u Inđiji biti jedini koncert "Pepersa" u jugoistočnoj Evropi, očekuje se da će veliki broj fanova doći i iz okolnih zemalja. Kako nezvanično saznajemo, organizator koncerta je "Udruženje Egzit", a u Inđiji se očekuje između 50.000 i 60.000 posetilaca. Iako nekome može biti čudan izbor lokacije, poznato je da RHCP vole da sviraju na zanimljivim mestima, u kojima ranije nisu bili. A korist od nastupa sjajnog benda biće višestruka, Inđija će se preko noći naći u centru pažnje javnosti, a zagriženi obožavaoci "Pepersa" će napokon moći uživo da čuju svoje ljubimce, koji važe za jedan od najboljih koncertnih bendova na svetu.
Bend su 1983. godine u Los Anđelesu osnovali Entoni Kidis, Majkl Flea Balzari, Džek Ajrons i Hajlel Slovak, a sadašnju postavu uz Kidisa (vokal) i Balzarija (bas) čine i bubnjar Čed Smit i gitarista Džon Frušante.
Na početku karijere "Pepersi" su bili klasičan surf bend, svirali su po srednjim školama i između 1984. i 1987. godine su objavili tri odlična albuma, koji, iako dobro primljeni od kritičara, nisu omogućili grupi da postane popularna i van Amerike. Međutim, stvari se menjaju nakon ploče "Mother's Milk" objavljene 1989. godine sa koje su skinuti hitovi "Higher Ground" i "Knock Me Down". Dve godine kasnije RHCP osvajaju svet, album "Blood Sugar Sex Magik" je prodat u više od 12 miliona primeraka, a megahitovi su postale pesme "Under the Bridge", "Give it Away", "Breaking the Girl". Posle uspeha ovog albuma, "Pepersi" su nastavili da haraju svetskim top-listama, a nakon sjajnog albuma "Californication" (prodato 15 miliona kopija) iz 2000. godine, sa kojeg su hitovi postale numere "Otherside", "Scar Tissue", "Love Rollercoaster"... grupa iz Kalifornije je sebi zacementirala mesto u A ligi svetskih bendova.
U Inđiji "Pepersi" će promovisati i svoj novi album "Stadium Arcadium" sa koje se uveliko vrte numere "Dani California" i "Tell me Baby"
Lokacija
http://www.indjija.net/upload/images/vesti/slike/lokacija400.jpg
Sve informacije o koncertu možete naći na sajtu
http://www.redhotchilipeppers.indjija.net
Don't want to see ads? Upgrade Now
246 went
Deleted user