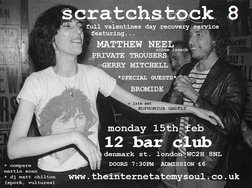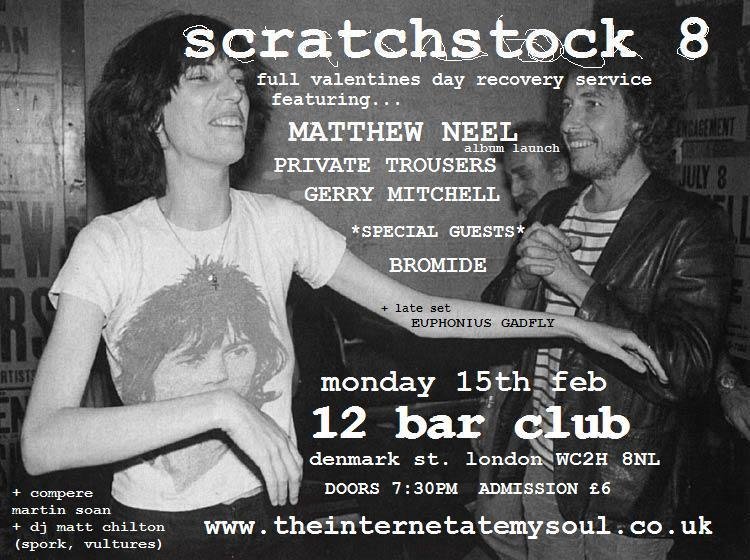 Date
Monday 15 February 2010 at 7:30pm
Location
12 Bar Club
203 Holloway Road, London, N7 8DL, United Kingdom
Tel: 020 7240 2120 / 020 7240 2622
Description
MATTHEW NEEL and friends celebrate the launch of his nick drake / REM / waterboys infused debut album 'new maps of hell' on scratchy records. www.myspace.com/matthewneelpage
"Matthew Neel is the missing link between Nick Drake, Beck & Richard Hawley......intelligent, dark melodic folk" troubadour cafe, earls court
"New Maps Of Hell is a sombre piece of art which is strangely alluring and mesmerising" awal.com
with support from
PRIVATE TROUSERS wet dog offshoot band powered by rich and his amazing home made instruments. expect multiheaded ukeleles including one with a miniature practise amp inside. the boy's got flare(s). sorry.. www.myspace.com/privatetrousers
GERRY MITCHELL resonance fm's own poet in residence ruminates on the 'idiot box' in the corner and other modern distractions. www.mypace.com/gerardmitchell
SPECIAL GUESTS ooooh !
BROMIDE label boss still plugging 'the trouble with.. bromide'. well, it's only been out since august 08.. www.theinternetatemysoul.co.uk/bromide.htm
+ late set from EUPHONIUS GLADFY - last seen performing a well-timed cover of 'killing in the name of' about a month before that whole christmas campaign kicked off. cool !
+ dj matt chilton (spork, vultures)
+ compere martin soan (pull the other one)
admission £6
matthew neel john martyn nick drake
Don't want to see ads? Upgrade Now