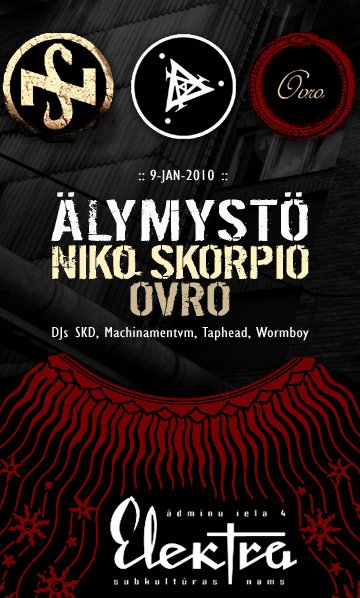 Date
Saturday 9 January 2010
Description
Saturday, 09=JAN=2o1o Fabrika *Elektra* presents concerts of Finnish projects:
ÄLYMYSTÖ
NIKO SKORPIO
ORVO
+ djs: TAPHEAD (fin), SKD, MACHINAMETVM, WORM
Cinema room: Finnish art movies
Doors open at 20:00 till 6:00. Tickets: 2 Ls / 3 Ls after 22:00
Founded in 2002, Älymystö combines industrial rhythms, ambient soundscapes and art noise into performances unlimited by genre distinctions. Älymystö has currently six members and it has been touring in Finland, Russia and the Baltic countries. The band has released two EPs and a full length album Atomgrad, which offer the listeners both peaceful soundscapes and beats to dance by. In addition to vocals, electronic backgrounds, guitar and theremin familiar from the previous albums, the latest release features both live bass and cello.
Älymystö releases a new Split EP titled 19:38:00. The digital download is out on December 24th 2009 and collectors edition 12" vinyl picture disc on April 1st 2010. 19:38:00 is released by Skithund Records and distributed by Kinkt Records. The first wave of 19:38:00 storms out on Christmas Eve as a digital download on iTunes and Nokia Music Stores. In the same time 19:38:00 will be also listenable in its entirety on Spotify and some other selected online services. The physical distribution of 19:38:00 begins on April the 1st 2010 with a collectors edition 12" vinyl picture disc.
Niko Skorpio produces, composes and performs various kinds of electronic and experimental music. Started with extreme metal in 1990, but quickly moved on to electronic music in favour of the infinite compositional and sonic possibilities it enabled. Released his debut solo album in 1998, and has since released numerous albums, EPs and other recorded works. Niko Skorpio is also a member of several other bands, including Thergothon (1990-1993), This Empty Flow (1994-1996) and Hæretici 7o74 (2004-).
Ovro is an unconventional conjurer of surrealistic soundscapes, illustrator of dreams and nightmares with a distinct style. Her debut album Malice in Underland was released by Some Place Else late 2003. On her third and latest studio release Mosaick the Serpent / Vipera Aurea (2006), Ovro is again creating disturbing, distressing and at times downright scary atmospheres, spiced with her kind of humour and echoing her magico-religious view of the world. She is also member of Hæretici 7o74, which performed in klubs Depo back in May 2006.
DJ Taphead is also Älymystö's guitarist and he will be playing some jazz influenced noise (or noise influenced jazz). The cinema room will show various Finnish art movies.
SKD, Machinametvm, and Worm you may allready know as being involved in Latvian industrial scene, among all else, with projecs Bedu Vestnesis, Darba Dienests, Flagra i Machinametvm, Apatijas Process, Pixel Hero and W.O.M.B.
Doors open at 20:00 till 6:00. Tickets: 2 Ls / 3 Ls after 22:00
Subculture house "Elektra" is located in leather production ex-factory A/S Elektra on Adminu str. 4, Riga, Latvia. Entrance via main gate, 13m straight forward to the central building of the territory, go to the green door labeled "Sturm", ring the bell, enter the stairway, 3rd floor.
Check for more information in here:
http://www.alymysto.com/2009/12/08/alymysto-atyd-live-industrial-double-bill-6-9-1-2010/
http://www.alymysto.com/2009/11/09/alymysto-atyd-split-album-out-in-24-12/
Don't want to see ads? Upgrade Now
15 went
Deleted user