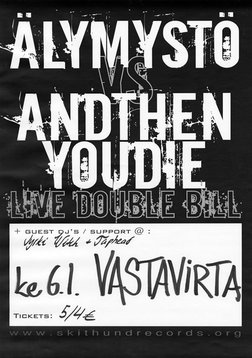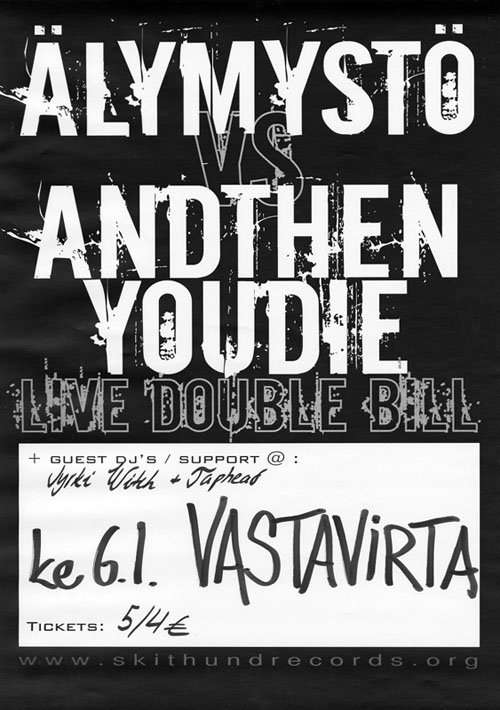 Date
Wednesday 6 January 2010
Location
Vastavirta-Klubi
Pispalan Valtatie 39, Tampere, 33250, Finland
Tel: +358-(0)50-5160644
Web: http://www.vastavirta.net
Description
ÄLYMYSTÖ vs AND THEN YOU DIE
:::::::::::::::: live double bill ::::::::::::::::
ÄLYMYSTÖ
AND THEN YOU DIE
DJ Jyrki Witch (Lumous)
DJ Taphead (Laava)
liput 5/4 € :: showtime 22:00
19:38:00 by Älymystö & ATYD digitaaliseen jakeluun 24.12.2009
Suomalaiset electro-industrial-yhtyeet Älymystö ja And Then You Die (ATYD) julkaisevat Split EP:n, joka kantaa nimeä 19:38:00. Split EP:n digitaalinen jakelu aloitetaan 24.12.2009, ja rajoitettuna painoksena julkaistava 12" kuvallinen vinyylilevy ilmestyy 1.4.2010. 19:38:00:n julkaisija on Skithund Records, jakelijana toimii Kinkt Records.
Ensi vaiheessa 19:38:00 julkaistaan 24.12.2009 digitaalisena latauksena iTunesin ja Nokian verkkokaupoissa. Samaan aikaan Split EP on kuunneltavissa kokonaisuudessaan mm. Spotifyn sekä vastaavien online-palveluiden kautta. 19:38:00:n fyysinen jakelu aloitetaan 1.4.2010, jolloin keräilijöiden iloksi julkaistaan rajoitettuna painoksena 12" kuvallinen vinyylilevy.
Älymystö on vuonna 2002 perustettu helsinkiläis-tamperelainen yhtye, joka yhdistelee industrial-rytmejä, ambient-äänimaisemia ja taide-noisea genrerajoja kumartelemattomaksi kokonaisuudeksi. Nykyisin kuusijäseninen Älymystö on keikkaillut niin Suomessa, Venäjällä kuin Baltiassa. Yhtye on julkaissut tätä ennen kaksi EP:tä ja täysimittaisen Atomgrad-albumin, jotka tarjoilevat niin rauhallista tunnelmointia kuin tanssirytmejä. Tuoreimman julkaisun kappaleissa kuullaan aiemmilta julkaisuilta tutun laulun, konetaustojen, kitaran ja thereminin lisäksi myös basso- ja sellotunnelmointia
Vaasassa vuonna 1990 perustettu pitkän linjan kokeellinen industrial-yhtye ATYD on kulkenut omia polkujaan jo 20 vuoden ajan. ATYD luo elektronisen äänimaiseman ja perinteisten soittimien yhdistelmällä uhkaavan kuvan ihmismielen hallitsemattomasta puolesta. Tulevalla julkaisulla ATYD juhlistaa pitkää taivaltaan neljän uuden kappaleen muodossa, joiden lisäksi Draume-raidalla kuullaan ensimmäistä kertaa yhteistyötä Norjalaisen Drontheim-yhtyeen kanssa. ATYD:n virallinen musiikkivideo kappaleesta "Shirley" on katsottavissa täältä.
Älymystö ja ATYD tekevät julkaisun kunniaksi muutaman harvinaisen yhteiskeikan – minikiertueen päivämäärät ovat:
6.1.2010 Tampere, Vastavirta
7.1.2010 Helsinki, Torture Torstai, Kuudes Linja,
8.1.2010 Tallinna, Rockstar's
9.1.2010 Riika (Älymystö + support)
Lisätietoja:
www.vastavirta.net
www.skithundrecords.org
www.myspace.com/skithundrecords
www.kinkt.com
www.alymysto.com
www.myspace.com/alymysto
www.myspace.com/atyd
Don't want to see ads? Upgrade Now