Dela
16 jul 2008, 15:49
Cocoon
Ibiza presents: DISCO INVADERS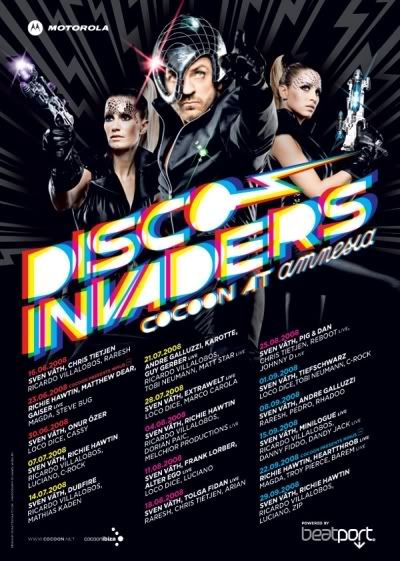 This is the year 2008, and what once was called Science Fiction has now arrived in the present. Everybody is using an adequate communicator, controlling and storing half his life, and music is more and more becoming a very important part of it. The songs that help us forget our daily routine are the soundtrack of our lives, meanwhile covering the whole world. Cosmic Electronic Grooves from planet Minimal Techno Funk – and each summer, Ibiza is the capital of this planet and
Sven Väth
is its galactic commander! The Amnesia pyramid continues sending out its signal, and the signal says: Disco Invasion! We are following this signal and will travel all the way through the Techno universe, in order to bring you the revolution: the Disco Invasion, that blends everything together and leaves behind old categories. 'The sky is the limit' on planet Minimal Techno Funk, Ibiza is our International Spaceport and Sven gives us the command for take-off!
Cocoon Ibiza is an absolutely unique story of success, and is approaching its tenth anniversary with rapid strides. But neither the long-time duration of the Cocoon Summer Residency nor its constantly growing support are the true indicators of success – it's the musical content and the high artistic values of the campaigns that have been and still are unrivalled on the island, regarding continuity and consequence. Where chumming-up mainstream has replaced the Balearic Beats over the last years,
Cocoon
was able to give a totally new musical impulse to the island and has also significantly influenced many competitors. The latest strike in this constantly developing Cocoon universe does now unite the euphoria of the late Disco and Funk era and current Techno and House tendencies, and thus heralds a new stage of contemporary music.
The matching frequencies and sounds are delivered by the three Cosmic Groove Commanders
Sven Väth
,
Ricardo Villalobos
and
Richie Hawtin
. supported by the Electronic Funk Armada around
Loco Dice
,
Luciano
,
André Galluzzi
,
Steve Bug
,
Marco Carola
and
Pig & Dan
. Also, Miss
Magda
and the brothers
Tiefschwarz
are on board again, and Frankfurt support comes this year from
Frank Lorber
,
C-Rock
,
Dorian Paic
and our most beloved space vegetable: Cosmic
Karotte
!
Similarly to the past Ibiza orbits, the Cosmic Dance Department is again taking care for the newcomer space pilots of the last years:
Raresh
and
Chris Tietjen
will be with us – and this year's new cadets on the Cocoon Spaceship are
Reboot
,
Johnny D
,
Danny Fiddo
,
Matt Star
, Mathias Kaden as well as Berlin-based
Cassy
and Vakant shooting star
Tolga Fidan
.
In this summer, live consoles are operated by
Minilogue
,
Gaiser
,
Extrawelt
,
Heartthrob
,
Dandy Jack
,
Melchior Productions
,
Barem
and
Guy Gerber
; but also the Ibiza veterans from our friendly star alliance
Alter Ego
will be at the controls on the command bridge and will have a significant influence on the course.
Cosmic Dance is here to stay!
Night 6 - July 21st - Andre Galluzzi, Karotte, Guy Gerber live, Ricardo Villalobos, Tobi Neumann, Matt Star live
Night 7 - July 28th - Sven Väth, Extrawelt live, Loco Dice, Marco Carola
Night 8 - August 4th - Sven Väth, Richie Hawtin, Ricardo Villalobos, Dorian Paic, Melchior Produtions live
Night 9 - August 11th - Sven Väth, Frank Lorber, Alter Ego live, Loco Dice, Luciano
Night 10 - August 18th - Sven Väth, Tolga Fidan live, Raresh, Chris Tietjen, Arian
Night 11 - August 25th - Sven Väth, Pig & Dan, Chris Tietjen, Reboot live, Johnny D live
Night 12 - September 1st - Sven Väth, Tiefschwarz, Loco Dice, Tobi Neumann, C-Rock
Night 13 - September 8th - Sven Väth, Andre Galluzzi, Raresh, Pedro, Rhadoo
Night 14 - September 15th - Sven Väth, Minilogue live, Ricardo Villalobos, Danny Fiddo, Dandy Jack live
Night 15 - September 22nd - Cocoon pres. m_nus - Richie Hawtin, Heartthrob live, Magda, Troy Pierce, Barem live
Night 16 - September 29th - Closing - Sven Väth, Richie Hawtin, Ricardo Villalobos, Luciano, Zip
WHO'S COMING??? :)