raindrops on roses and whi.....
great song, but here are some of my favourite artists and why (i will add to this list continuously):
Frank Zappa
-
where do i possibly begin? with a library of works so vast and amazing its hard to find a place to start. satire and seriousness, rock and jazz, classical and avant-garde i could go on and on. some of frank's albums that have inspired me most are
Uncle Meat
,
We're Only In It For The Money
,
The Yellow Shark
and many many more.
John Zorn
-
another composer/musician/etc whose library of works is astonishing. he received the
macarthur grant
in 2006 for his musical accomplishments. amazing musician. some of my favourite works of his include
The Circle Maker
,
Moonchild
, his
Naked City
project and sooooo much more.
Dave Brubeck
-
...and his whole quartet - my favourite lineup being the '58-'67 crew:
* Dave Brubeck – piano
* Paul Desmond – alto saxophone
* Eugene Wright – double bass (also credited "Gene Wright")
* Joe Morello – drums
changing the face of music through use of obscure time and brilliant melodies, dave and his quartet helped propel jazz music into different dimensions with their elaborate compositions. some of my favourite albums of theirs are of course
Time Out
,
Time Further Out
,
Indian Summer
and many many more.
John McLaughlin
-
and also the great and mighty
Mahavishnu Orchestra
. wow. a guitar that changed my life. everything from his solo work - albums like
Extrapolation
- to the mighty mahavishnu
Inner Mounting Flame
- and the awesome work with Mr
Miles Davis
on albums such as
Big Fun
,
On The Corner
,
Bitches Brew
and soooo much more, this man's guitar has changed the way i listen to and make music. the musicians like
Billy Cobham
on drums,
Jan Hammer
on keys,
Jerry Goodman
on violin and
Rick Laird
on bass from the mahavishnu that he made music with and all the way back to his
Gordon Beck Quartet
days...among the many many others in his travels as a legendary guitarist has made him one of my heroes.
John Fahey
-
composer of stunning scores for the acoustic guitar (mostly), mr fahey has become one of my favourite musicians over the past few years because of his awesome style (which he coined "
American Primitive
") - and other similar artists as well such as
Leo Kottke
,
Jack Rose
and
Peter Lang
. some of my favourite albums of his are
God, Time and Causality
,
Blind Joe Death
(all of them),
The Yellow Princess
, and all of the rest of them too - just like everyone else on this list. ;)
Igor Stravinsky
-
changed music and also changed your brain without you knowing it (if you listen to his music). such a wonderful musical mind he was. i can not put into words the way his music has effected me over the years.
The Rite of Spring
,
The Firebird Suite
, his concertos for violin and orchestra, etc etc.....love this man's music.
Edvard Grieg
-
another great classical music mind, grieg's works are arranged brilliantly. his use of dynamics and chromatic scales for his melodies instantly attracted me to his music.
Peery Gynt
is one of the most inspiring pieces of music i think i may have ever heard. i love all of his works of course, but it is no wonder that particular piece is so popular. ;)
Beastie Boys
-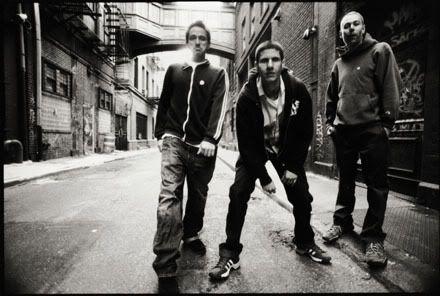 a powerhouse trio from the boroughs of new york city, the b-boys have been pumping out the jamz since i was a kid. i was first introduced to them in the
Paul's Boutique
era and was immediately hooked. since then, they have turned out quite a few records - a few of my other favourites are
Check Your Head
,
Ill Communication
, and
Hello Nasty
(i love them all of course though...haha).
Les Claypool
-
from his work with
Primus
to
Les Claypool's Frog Brigade
and everything in-between, les has been a huuuuuuuuge musical inspiration to me. les' compositions are unique. some of my favourites that have involved les are
Suck On This
(
Primus
),
Live Frogs Sets
(
Les Claypool's Frog Brigade
),
Highball With the Devil
(
Les Claypool And The Holy Mackerel
) and all the more (
Primus
was especially influential).
Beck
-
a man of many genres, beck's blending of musical madness evokes many different musical emotions. older albums like
Stereopathetic Soulmanure
are lo-fi blurbs of greatness and even the
Mellow Gold
and
Odelay
days saw beck as a sarcastic, nonsensical composer but the release of
Mutations
and
Sea Change
to me, solidified his status as a "real" singer songwriter. beck continues to release fantastic and different music with each new album. one of my all time favourite artists.
Buckethead
-
one of the most versatile guitarists there ever was/will be. shredding metal riffs that could melt your face or beautiful, masterful notes of grace and elegance, this guy does it all.
Decoding the Tomb of Bansheebot
,
Electric Tears
,
Population Override
, and so much more. he has been involved with acts like
Colonel Claypool's Bucket of Bernie Brains
,
Praxis
,
Thanatopsis
and many more as well.
Björk
-
although i am not a 'vocal' musician, Björk's voice/singing/style has had a large influence over me. the notes i choose in my improvisations and in my compositions have both been influenced heavily by her vocals.
Post
,
Vespertine
,
Homogenic
- all of them!!!! how could i choose a favourite? ;)
Tonedeff
-
with inspiration from all over, tone not only provides an excellent musical accompaniment, but he has an incredible talent and skill when it comes to his flow and lyrics. this guy will change hip-hop.
Archetype
,
Hyphen
,
Underscore
and much more - including his work as producer of the
Qn5
label with sooooo many other great artists.
NOFX
-
electrifying, energetic, and unique, NOFX has been punking us all since long before Ashton whats-his-name...these guys do indeed
keep punk rock elite
with their musical madness. with so many albums to choose from, it's hard for me to pick a favourite, but if i had to pick one, it would be "
So Long and Thanks for All the Shoes
" - makes me wanna go out and kick the shit out of my skateboard...hahaha.
David Bowie
-
another man of many faces/genres, bowie's music takes as many different shapes as the man himself. bowie is a musician who doesnt receive nearly as much credit as he deserves for changing music imho. his music is a staple of radio stations everywhere. the sad part about that is, as great as those radio songs are, there were sooooo many more that eclipsed those you hear daily by ten-fold. bowie has also worked with, or been involved with a great many musicians/bands that you likely didnt even know about ;) some of my favourite albums of his are
"Heroes"
(which was done in part with Robert Fripp, whom we will be getting to shortly ahaha),
The Man Who Sold the World
,
Earthlings
and of course, all the rest. :)
Robert Fripp
-
King Crimson
"mastermind", Fripp is quite the musician. with a musical instrument, or in the studio behind the controls, he helps to push the boundaries of musical limitation. i shouldnt even have to mention, but aside form the regular "In the Court..." album, some of my favs are
In the Wake of Poseidon
,
Lark's Tongues in Aspic
and of course his solo works like
Radiophonics
and
I Advance Masked
to name just a short few...
Pavement
-
lead by the great Malkmus, pavement was one of "those 90's bands" that never received the type of accolades they deserved. first time i heard them was on
this clip
- been hooked ever since. just recently (for the past few years) have been listening more and more and wondering why i wasnt listening more and more for the past 15 years. you should too. ;)
Boris
-
please, indulge. i <3 wata.
~
Skiye