Ledare:
Ingen! (Vill du bli ledare? Se vårt
hjälpavsnitt för grupper
för att ta reda på vad du kan göra.)
Policy för att gå med:
Öppen
Skapad den:
26 apr 2008
Beskrivning: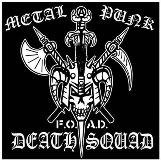 Every metal maniac who's possessed by bandz like English Dogs, G.I.S.M., Broken Bones, Black Uniforms, Amebix, Discharge, Disclose, Deviated Instinct, Genöcide, Axegrinder, Rattus, Hellbastard etc...

Every punk/crust maniac who's possessed by bandz like Hellhammer, Warfare, Celtic Frost, early Bathory, early Sodom, Darkthrone, Motorhead, Sacrilege (Uk), Virus, early Voivod etc...

Everyone who are just fan of both punk and metal)

And of course everyone who are into mighty bands of novadays: G.A.T.E.S., BLUDWULF, Toxic Holocaust, Barbatos, Children Of Technology, Hotbild, Tiger Junkies, Inepsy, Wastelander, Nuclear Fröst, War Ripper e t.c.

This squad is for PUNK_METAL WARRIORS!
Support heavy, crust, thrash, crossover, oldschool black and oldschool death metal, dis-core and UK82, scandinavian hardcore, japanese thrash punk/hardcore and finncore!