Track:
Stylo
Featuring Mos Def and Bobby Womack
Artist:
Gorillaz
Album:
Plastic Beach
(8 Mar 10)
Tags:
electronic
,
multi-genre
,
my gang rotw
Video: Click the pic...
YouTube, official video
The biggest music news of the week, apart from the
threat of closure to BBC 6 Music
(see also
BBC-o-gram
and also the
full review
), is the new album from Gorillaz, due out next week and streaming in full now at
NPR
.
There isn't much I can add to the excitement. Everyone knows who they are and can't have failed to have missed the eager anticipation online and in print.
Plastic Beach is my joint number one album of 2010, along with Massive Attack's Heligoland. I was pleased to see The Sunday Times write positively about them:
By Mark Edwards, 28 Feb 2010

Next week, the new Gorillaz album, Plastic Beach, arrives. Alongside Damon Albarn and his usual cartoon crew, we will be treated to an extraordinary and eclectic line-up of guest stars. Plastic Beach features appearances by Lou Reed, Bobby Womack, Mark E Smith, Gruff Rhys, Snoop Dogg, Mos Def, De La Soul, Kano, Bashy, even a reunion of The Clash's Mick Jones and Paul Simonon — rock legends, punk legends, soul legends, rap legends and grime luminaries, all brought together under the banner of pop's most proudly manufactured band.

Plastic Beach arrives just a few weeks after the similarly guest-starry Heligoland, the first album for seven years from Massive Attack. Heligoland includes contributions from long-time sparring partners Horace Andy and Martina Topley-Bird, alongside Hope Sandoval, Elbow's Guy Garvey, TV on the Radio's Tunde Adebimpe and Gorillaz's (or, if you prefer, Blur's) Damon Albarn.

[...] Therein lies the secret of the success of both Plastic Beach and Heligoland. Both Damon Albarn and Massive Attack clearly have the talent, patience, open-mindedness and musical adventurousness to turn what might be simple guest appearances into true collaborations. When the guest stars become real musical partners, that's when the album as a whole becomes more than the sum of its guest-starry parts.
I couldn't reco the video for my favourite track from Heligoland,
Paradise Circus
, for its adult content. So to make up for it, I have chosen Stylo from Plastic Beach, which to my mind, is the same difference, i.e. both bands are as good as each other, though they sit at opposite ends of the same table.
The video is wonderful. If you haven't seen it yet, go and do it now before reading any further. I'll help you - I'll post a nice big picture. Here are the donuts that appear in the video. mmMMmm. Go scroll up, right click on the pic, open the video in another tab, max the screen, and look out for... !!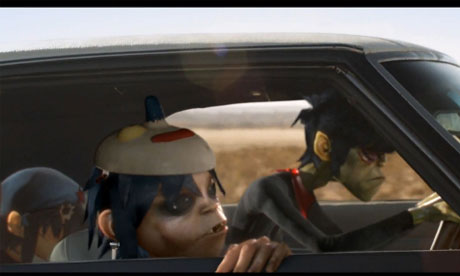 Stop peeking. Go scroll up. Source: as before
For such an insanely sunny track, the underlying themes in the music and the video are morbidly dark. Bruce Willis looks the epitome of cool driving his 68 El Camino, throwing his trademark looks to camera.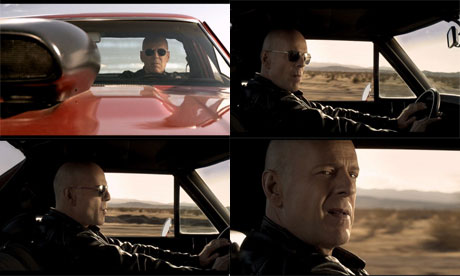 Source: as before
The video is as funny as it is sunny as it is dark. The spectre of Death, wearing a mask borrowed from
The Knife
siblings, who takes the fat cop reaching out for the box of donuts, is a wacky touch. As if cartoon characters in a beat up car with real cops chasing after them isn't wacky enough already.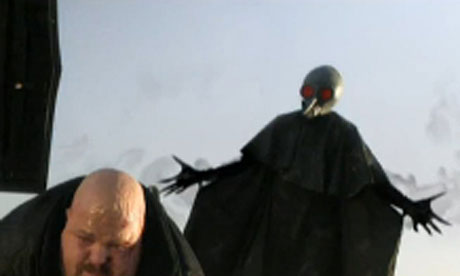 Source: as before
The music is like Massive Attack at a disco. Damon Albarn's hypnotic, seductive vocals set a tone that doesn't continue when he's blown out of the water when Bobby Womack appears. Mos Def adds to the aural flavour without imposing on it, providing richness and depth.
Bruce Willis chases our kids over a cliff and into the sea, where their vehicle morphs into some sort of aquatic fish-like machine, heading for... where?... must be Plastic Beach.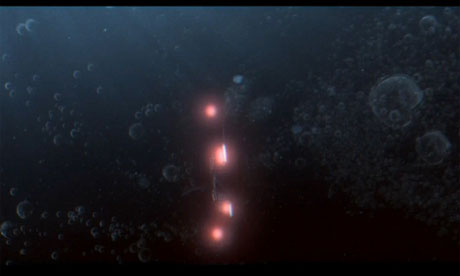 Source: as before
You can hear an interview with Murdoc on BBC 6 Music
in this podcast
, which aired today.
Stylo, along with
Empire Ants
, is as upbeat as the album gets. The album begins with an orchestral intro, moves on to
Snoop Dogg
channelling
Gil Scott-Heron
-
The Revolution Will Not Be Televised
- before taking in an unexpected arabic mixed with grime theme. As innovative as the first half is, the second half quietens things down to a more steady and sedate pace, giving music that doesn't blow your mind on first listen then bore you, but the kind that you find yourself going back to, that will eventually contribute to the soundtrack of your life. But I would say that.
Babs
My Gang
Reco of the Week archives
Disclaimer: Mines
Source: Amazon
Admin: Stats as of today:



Last.fm listeners of this track - 6,428
No. of plays scrobbled in Last.fm - 30,211
Position in Last 7 Days: 31 / 2,120
Position in Last 6 Months: 93 / 2,079

Video
Date Added: March 01, 2010
Views: 475,271, Ratings: 7,889, Comments: 6,162, Favourited: 14,072 times



Stats after 7 days:



Last.fm listeners of this track - 17,288
No. of plays scrobbled in Last.fm - 69,034
Position in Last 7 Days: 8 / 11,603
Position in Last 6 Months: 93 / 2,079

Video
Views: 1,733,420, Ratings: 14,732, Comments: 11,536, Favourited: 26,439 times

419 Unique Visitors
477 Page Views

Unique Visitors
Page Views
.