Ledare:
Ingen! (Vill du bli ledare? Se vårt
hjälpavsnitt för grupper
för att ta reda på vad du kan göra.)
Policy för att gå med:
Öppen
Skapad den:
2 apr 2008
Beskrivning:
Dedicated to composers of the early romantic period: Felix Mendelssohn, and his sister: Fanny Mendelssohn.
Welcome to "Mendelssohn" Group! For those who love the early romantic composers:

Jakob Ludwig Felix Mendelssohn Bartholdy, known generally as Felix Mendelssohn (February 3, 1809 – November 4, 1847) was a German composer and conductor of Jewish parentage of the early Romantic period. His work includes symphonies, concertos, oratorios, piano and chamber music. http://en.wikipedia.org/wiki/Felix_Mendelssohn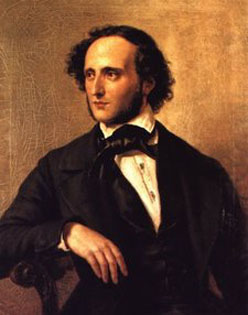 Fanny Cäcilie Mendelssohn (14th November 1805–14th May 1847), later Fanny Hensel, was a German pianist and composer, and was the sister of Felix Mendelssohn. Fanny Mendelssohn composed 466 pieces of music, including a piano trio and several books of solo piano pieces and songs.
http://en.wikipedia.org/wiki/Fanny_Mendelssohn