May 17th is NIN Play Day!
Ledare:
AnnaDraconida
Policy för att gå med:
Öppen
Skapad den:
25 apr 2010
Beskrivning:
Because last.fm needs more GOOD music: from now on May 17th, the birthday of Trent Reznor, will be the official NIN Play Day! Who's with me?!
Let's show our support for quality music by playing NIN, and only NIN, on the 17th of May!
Unlike other Play Days this is a 2x A YEAR EVENT!
Here's our lovely banner -thanks to xSusana for the contribution!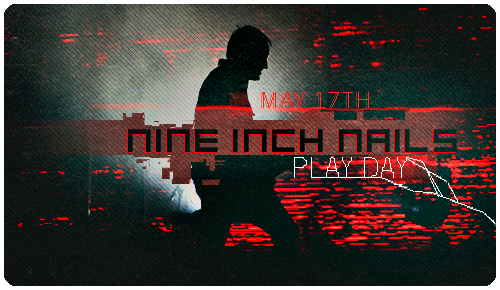 "OFFICIAL" SECONDARY NIN PLAY DAY:
I have a special treat for those who missed the PD in May or simply can't wait a full year till the next one.
21/09/11 is THE FRAGILE PLAY DAY, celebrating the release of NIN's magnum opus!
To add the image below to your last.fm profile, copy & paste the following code into your About Me (remove all spaces, of course!):
[ url = GROUP URL HERE] [ img ]
http://img685.imageshack.us/img685/1770/ninanimsmall.gif
[/ img ] [/ url ]