Ledare:
hdsander
Policy för att gå med:
Öppen
Skapad den:
2 sep 2009
Beskrivning:
KGRL is off air since October 11th, 2010
iTunes Radio, in Alternative Rock genres
-or-
-or-
About K G R L
KGRL is a Los Angeles-based non-profit non-commercial internet radio station that plays the freshest and the best ALL QUALITY female artist / fronted acts in a wide variety of genres. KGRL is listener supported and that means KGRL is free of annoying advertisements.

The station started on May 7, 2006 as a test broadcast that eventually led to a full broadcast several days after the acquisition of license and royalty coverage. KGRL is currently signed up with Loudcity for the license which makes us 100% legal internet streaming radio station.

So really, what does KGRL mean? KGRL is not an acronym but just a name for a radio station that represents the feminine side of music. Think of it like saying "k-girl" but one that pertains to the type of music and not to limit or define exclusivity for female listeners. Sometimes even the most hardcore males needs a breather from the heaviness of what they always listen to and we're here to provide the best alternative without sucking on mainstream pop radio.
We tag

KGRL. Listen to the

KGRL tag radio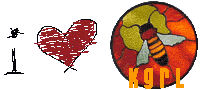 Hi visitor, welcome at the Flower Kingdom! Leave a message... and come back.
Notice: We're not officially related to KGRL.fm! To contact the radio's host visit KGRL's website.
My most remarkable new releases of 2012... av hdsander | 14 dec 2012 |

10 kommentarer

Anna Ternheim, live and acoustic in Hamburg av hdsander | 1 dec 2011 |

3 kommentarer

KGRL.fm is still streaming - an update. av hdsander | 11 jul 2010 |

2 kommentarer
Se alla