Ledare:
LonelyMerri
Policy för att gå med:
Öppen
Skapad den:
23 jun 2008
Beskrivning:
This group is for everyone who loves James Bourne aka Future Boy and his amazing music! =]
Go to www.thefutureboy.com and buy James' first electronic pop solo album! James Bourne
was a member of
'Busted'
(2001-2005) and
'Son of Dork'
(2005-2007).
He formed a new band named
'Call me when I'm 18'
in 2009 but this project is cancelled.
Since 2010 James is focused on his solo project
'Future Boy'
and released his first solo album Future Boy: Volume 1. The Future Boy sound is very electonic and totally different to his other projects.
Future Boy Volume 2 will be released in 2014 as a free game on Facebook. You have to play a game called "Space Travellers" to unlock the songs.
But if you miss his pop/rock/punk sound don't worry!
James Bourne will also release an EP under his real name. This EP will include the songs he wrote for the band project "Call Me When I'm 18".
April 16th 2013 James and his brother Chris released a song called "Mowhak". This song is written by Chris and sung by James.
You can buy "Mohawk" by The Bourne Insanity on iTunes.
In November 2013 James Bourne and his Busted-bandmate Matt Willis joined McFly and formed the supergroup McBusted to go on tour in April/May 2014.
They also released a McBustedmix of McFly's single Love Is On The Radio (co-written by James).
James wrote on every McFly album (except their latest album "Above The Noise") and has written for artists such as Gabriella Cilmi, The Saturdays, Boyzone, Melanie C, Jonas Brothers,
Mitchel Musso, Allstar Weekend & Miranda Cosgrove.
'Loserville The Musical'
is the successful musical written by James Bourne & Elliot Davis inspired by the 'Son of Dork' album 'Welcome To Loserville'.
He also works on a new musical called
'Out There'Where you can find James himself:
http://www.twitter.com/jamesbourne
http://www.facebook.com/CHECKOUTMYJAMESBOURNESONGS
http://www.facebook.com/officialfutureboy
http://www.youtube.com/jamesbournefuture
http://instagram.com/jamesfutureboybourne
My support for James:
http://www.jamesbourne.de.gg
http://www.twitter.com/JBSL
DISCOGRAPHIE
May 3rd 2010
Future Boy Vol.1, Side A
-Get Up
-Pressure To Stay Together
-
Step By Step
-
Karate On My Heart
-Hoping For Disaster
(Download
www.thefutureboy.com
)
June 1rst 2010
Future Boy: Vol.1, Side B
-You Can Dance
-Headlights
-Nervous
-Internet
-
Space Travellers
(Download
www.thefutureboy.com
)

2013

McFly
- Love Is On The Radio
[Tom Fletcher/Danny Jones/Dougie Poynter/Harry Judd]
2011

David Pfeffer
- All Blessings Fall
[Gary Go]
Pixie Lott
- Everybody Hurts Sometimes
[Pixie Lott, Christopher Baran]
, Til The Sun Comes Out
[Pixie Lott, Christopher Baran]
Allstar Weekend
- James
[Zachary Porter/Christopher Baran]
2010

Allstar Weekend
- Journey To The End Of My Life;
Here With You
[Allstar Weekend]
Miranda Cosgrove
-
Brand New You
[Espen Lind/Amund Bjorklund]
Miranda Cosgrove
-
What Are You Waiting For
[Espend Lind/Amund Bjorklund]
Gabriella Cilmi
-
Superman
[G. Cilmi/Greg Kurstin]
2009

Vedera
-
Goodbye My Love
[Vedera/Brian L./Simon W./Jason D./Kasia L./Kristen M./ Drew L.]
Backstreet Boys
- Don't Try This At Home
[Claude Kelly]
The Saturdays
- Forever Is Over
[Louis Biancaniello]
Mitchel Musso
-
Speed Dial
[Mike Busbee]
Eoghan Quigg
- 28,000 Friends
[Mike Busbee]
; Year 3000
[Matt Willis/Charles Simpson/Steve Robson]
2008

McFly
- Do Ya, Everybody Knows
[Tom Fletcher/Danny Jones/Dougie Poynter]
Boyzone
–
Can't Stop Thinking About You
[Steve Mac]
Charlotte Perrelli
- Appreciate
[Jake Schulze/Savan Kotecha]
RipChord
- Heartbreaker
[Phil Wallbank]
Georgina Hagen (Britannia High)
- Best of Me
[Gary Barlow/Gary Go/Eliot Kennedy]
2007


Melanie C
- Immune
[Pete Woodroffe/Charlie Grant]
Swedish Amateurs
- Miss Sweden
[Matt Willis/Charles Simpson/Andreas Carlsson/Jake Schulze/Filip Lampell]
Pat Monahan
- Great Escape
[Pat Monahan]
William Tell
- Yesterday Is Calling
[PJ Smith]
Avenue B
- Bad Habit
[Olivia Arciero]
2006


McFly
- We're The Young
[Tom Fletcher/Danny Jones/Jason Perry]
; Lonely
[Tom Fletcher]
2005


Son of Dork
– We're Not Alone
[Tom Fletcher]
; Ticket Outta Loserville
[Charlie Grant/Pete Woodroffe]
;
Party's Over ; Eddie's Song
[Chris Leonard]
; Boyband
[Brandan Brown]
;
Holly I'm The One ; Sick ; Murdered In The Mosh
[The Matrix]
;
Slacker ; Wear Me Down
[Michael Raphael]
;
End Up Like This; Little Things
Wouter
- Miss Sweden
[Matt Willis/Charles Simpson/Andreas Carlsson/Jake Schulze/Filip Lampell]
McFly
– Memory Lane
[Tom Fletcher]
; No Worries
[Tom Fletcher/Charles Simpson]
Nick Jonas
- Appreciate
[Jake Schulze/Savan Kotecha]
Jonas Brothers
- Year 3000
[Matt Willis/Charles Simpson/Steve Robson/John McLaughlin]
2004


V
– Chills In The Evening
[Tom Fletcher]
McFly
– 5 Colours In Her Hair ; Obviously
[Tom Fletcher/Danny Jones]
; Unsaid Things
[McFly]
;
That Girl ; She Left Me ; Down By The Lake ; Surfer Babe ; Broccoli ; The Guy Who Turned Her Down
[Tom Fletcher]
Busted
- Thunderbirds Are Go
[Tom Fletcher/Matt Willis/Charles Simpson/Barry Gray]
; Mummy Trade
[Charles Simpson]
; Let It Go
[Harry Judd/Dougie Poynter]
2003


Busted
- Crashed The Wedding ; Who's David ; Over Now; Loner In Love
[Tom Fletcher]
;
She Wants To Be Me ; 3am
[The Matrix/Matt Willis/Charles Simpson]
;
Air Hostess
[Tom Fletcher/Matt Willis/Charles Simpson]
; Falling For You ; Nerdy ; That Thing You Do
[Tom Fletcher/Charles Simpson]
;
Can't Break Thru
[Michael Raphael]
;Meet You There
[Charles Simpson]
2002


Busted
– Year 3000
[Matt Willis/Charles Simpson/Steve Robson]
;
What I Go To School For ; You Said No ; Losing You; Everything I Knew ; When Day Turns Into Night
[Matt Willis/Charles Simpson/Steve Robson/John McLaughlin]
;
All The Way ; Dawsons Geek; Loser Kid; Last Summer ; Late Night Sauna
[Matt Willis/Charles Simpson]
;
Sleeping With The Light On; My Good Friend
[Matt Willis]
; Britney
[Steve Robson/John McLaughlin]
; Psycho Girl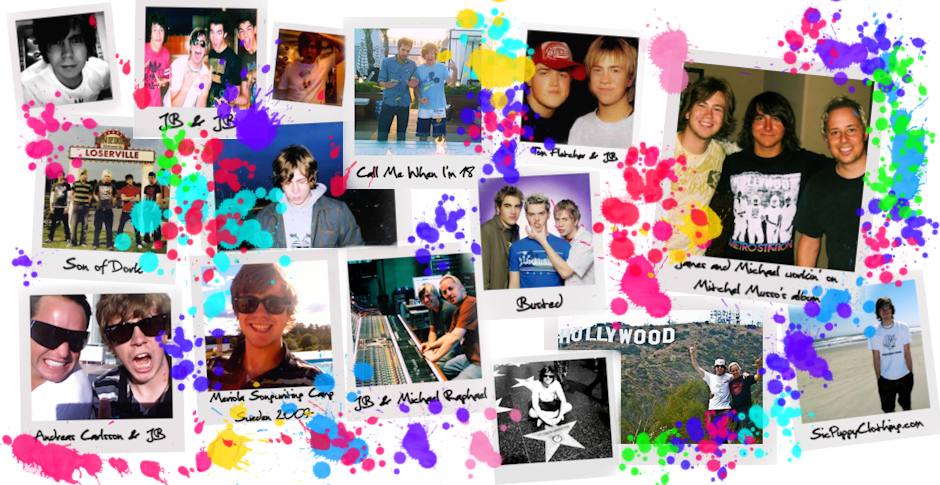 JBSL's latest tweets