TO WATCH These FULL Event of Sonny Click the Link below:
Sonny Landreth's FULL Event Live at Crossroads Guitar Festival 2007!
Sonny opened Eric Clapton's Crossroads Festival with a short but spirited set on Saturday, July 28. The 12-hour event featured legendary guitarists such as Jeff Beck and BB King, big names including Steve Winwood, Sheryl Crow and Willie Nelson, and rising stars like John Mayer and Robert Randolph.
Sonny's setlist for the event:
Port of Calling
Promise Land
Native Stepson
Uberesso
Hell at Home (with Eric Clapton)*
*Clapton's performance with Sonny was his only appearance until the evening, and was a long-awaited thrill for Sonny fans.
Uberesso and Hell at Home are included on the Crossroads 2007 DVD set, now available!
SLIDE ON!
Musicgreetzz Will
Still NOT Member of the Sonny Landreth Group?:
GO TO:
Sonny Landreth Group
and Join! & Spread the words!:)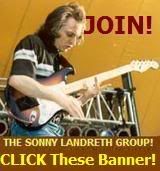 Sonny Landreth