SEASON 5 WILL START IN AUGUST
Please do not leave the group, or it will be deleted.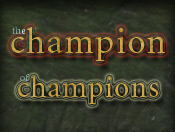 Welcome
This is the fourth generation of the [Game] The Music Elite umbrella of games. Taking rules from all games and the format of Generation 2 Obscure Music Game in seasons. The group also features, CoC Rankings, Most Successful Groups in the Champion of Champions memberlist each season and even more present and future.

The game follows into the last generations footsteps taking the best champions in those groups to battle it out to be the Champion of Champions.
Applying Deadline


*The applying deadline is the 12th of April 2010, invites will be sent to a few weeks beforehand.
Overview


Here there are a list of the invited who have passed the qualifcation rounds in there chosen group (see overview). Each time a player gets striked, it will appear on here.

Key: ['no'] number of strikes
All members taking part in season 4 beta

All_Metal_Fever
Applecrumble (Replacing egg21)
Deni001
donBastardo


E-zilla

(Replacing Abatement)


farah4623


HumanRejection
Jd_Jd_Jd
killerblau


king_prawn95


min-thom


rolandkirk


temujin1234
Tokage15
TRACKHACKER
tYhJyYsRuLeS

Knockout COC Season 4
~MAY 10~
Qualifying
* Must have at Least 6 or more Champion stats in Obscure Music Game, Not Another Pointless Game and [Game] Music Knowledge Challenge
* Replacement users will be called in for the invited who PM me that they do not want to play the season.
* Unkown Ranking Players from all three games will be chosen by activity in their group. Max of 2 per group.
Rules for Striking/Virtual Kicking

NEW FORMAT COMING SEASON 4

Full explanation of how this season works and the rules to it are here
How It Works


(excluding season 4)
*Each CoC member has at least one round per season.
* You will get striked by the above rules.
*You can multiple strike a player from the above rules. For example: if you know the band and they have over 2k listeners they get 2 strikes.
*Strikes for and strikes against are added up to give you a SF/SA difference. This gives you the first ranking, if you are level on strike difference , you will be separated by the number of kicks you got. (not strikes)
* If a member had two or more rounds in the season, the members strike difference will be divided by the number of rounds the member took. Making it fair for the members whom only had one round.
*All Times are in GMT [or BST] which is English time.
Seasons
Knockout Season 1
Knockout Season 2
Knockout Season 3
Knockout Season 4 (May)
Knockout Season 5 (Aug/Sept)
Knockout Season 6 (Oct/Nov)
Knockout Season 7 (Dec/Jan)
Knockout Season 8 (Feb/Mar)
Threads


Consecutive Monitoring Thread
Total Listeners Monitoring Thread
The Most Successful Group (Stats)
The Qualified Monitored
Suggestion Thread
Generation Tree
Generation 1: [Game] The Music Elite
Generation 2: Music Knowledge Challenge | Obscure Music Game
Generation 3: Not Another Pointless Game
Generation 4: Champions of Champions
Special Thanks
Axel65 for the logo
...Only The Best Compete
Hall of Fame: Under 100 Listeners, Now Over (W/e 22nd of May 2010) av HumanRejection | 22 maj 2010 |

1 kommentar

The Landmark 100 : The Last Push Towards Fame (15th May) av HumanRejection | 15 maj 2010
Se alla