I have to say, it's been a fantastic year for metal albums including a few fair impressive debuts...have probably bought more new albums this year than any other. Well without further ado, here's my top 15...
15. Watain - The Wild Hunt
14. Burzum - Sôl Austan, Mâní Vestan
13. The Meads of Asphodel - Sonderkommando
12. Progenie Terrestre Pura - U.M.A.
11. Cultes Des Ghoules - Henbane
10. Feigd - The Dark Passenger
9. Lychgate - Lychgate
8. Falkenbach - Asa
7. Oranssi Pazuzu - Valonielu
6. Caladan Brood - Echoes of Battle
5. Leprous - Coal
Having been impressed with their performance at Hellfest and being my first exposure to the band, I checked out their discography and have discovered they've just gone from strength to strength with each release. Heavily focused on melodic vocals and driven by captivating synths, i've been listening constantly to to this album over the last few months and find it hard to put down!
4. The Ruins of Beverast - Blood Vaults - The Blazing Gospel of Heinrich Kramer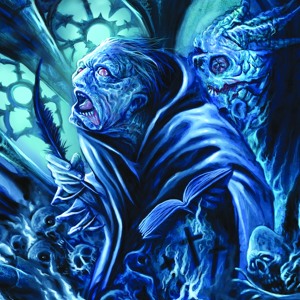 The doom influence on TRoB's sound continues to grow on every release but the band carry on being trailblazers in the world of black metal. What we have here is an album themed on the Inquisition and executed perfectly by the genius that is Alexander von Meilenwald. It will take multiple listens to truly appreciate the many layers of this lengthy opus.
3. Paysage d'Hiver - Das Tor
I would say that Das Tor demonstrates the greatest influence of side-project
Darkspace
of all of the bands demos - which works for me seeing how much I like them! It still retains a wintry edge but sounds like a chaotic blizzard blowing throughout.
2. Summoning - Old Mornings Dawn
We may have had to wait seven years for the follow up to their last album, but the band have definitely come back refreshed, with a more upbeat feel akin to Let Mortal Heroes Sing Your Fame and plenty of other instruments in the mix. They still retain their epic/atmospheric trademark sound, especially to be heard on 'Of Pale White Morns and Darkened Eves', and of course their Tolkien-influenced lyrics are well-written throughout.
1. Nocte Obducta - Umbriel (Das Schweigen Zwischen Den Sternen)
Harking back to their musical stylings just before they went on hiatus seven years ago, this really is an innovative slice of avant-garde black metal, in parts serene and melancholic and simply beautiful music throughout - perfectly encapsulated in the track 'Leere'.