Blog
→

NOVEMBER NEWLETTER!!
Recomendar
Nov 9 2009, 5h44
Hey gang!
Gobble, gobble, gobble!! Can you freaking believe Thanksgiving is this month???? Hopefully everyone had a great Halloween, full of spooky fun and candyyyyy =) We watched copious amounts of zombie flicks and handed out candy to little trick or treaters for the first time ever =) There were many adorable, cute little monsters that tricked and treated, but there was also a lot of the annoying kids that are obviously too old to be doing it, and it's kind of awkward handing them candy because they know you know they shouldn't be doing it? At any rate it was a lot of fun, as usual, and now we can gear up for the upcoming holiday season!!
It's hard to believe that we're almost at the end of another year, hopefully everyone has made the most of theirs. If you haven't... there's still time!! Lucky for you there's still almost two full months left! So you can still go create that one memory that 15 years from now you'll say "remember in 2009 when I _____" , you wanna fill that blank in =) Seriously.
And in typical fashion, our intro is a nonsensical ramble fest =) The newsletter this month is pretty long, so rather than keeping you stuck to a monitor or phone screen reading this for too long - lets jump into the festivities!!!
IF THESE TREES COULD TALK
- Above The Earth, Below The Sky -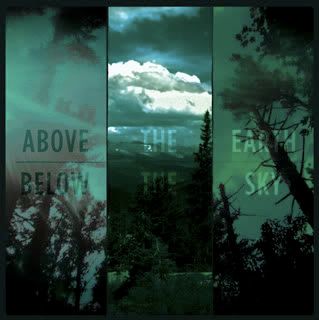 We should be getting the vinyl order for newest If These Trees Could Talk album "Above The Earth, Below The Sky" off to the plant by the end of this week. We know that lots of you have been very excited about this release, we've received endless emails checking on its status. We are supah dupah stooooked to finally be able to offer you a definitive piece of news to satisfy your appetite! We will begin taking preorders for these on NOVEMBER 20th, so mark your calendars! We are going to hold off on shipping any of the preorders until after the Christmas shipping frenzy has ended, to avoid any complications with lost packages. Shipping is a really risky venture around the holidays and when you're shipping hundreds of records, the odds are good that several will be lost =) So yeah, these will ship around the 1st of year to avoid all that nonsense =) Here's the pressing breakdown:
100 white w/ black haze (bands copies - only available on tour)
100 translucent sky blue (limited mailorder edition)
300 translucent mint green (regular mailorder edition)
Listen to
"What's In The Ground Belongs To You"
from the album by clicking
HERE
You can also check out the band on myspace
HERE
, on Facebook
HERE
or on Last.fm
HERE
Hype machine:
Above The Earth, Below The Sky is one of 2009's strongest releases and is an artistically crafted sight/sound to behold. It swoops and dives and hurts and soothes and will blow your fucking mind. 9/10
– Strangeglue
If you're a fan of well-crafted, intricate, moody music like the above-mentioned bands -in addition to other heady, cerebral rock acts like Tool, Mogwai, and Isis - my guess is you'll dig this band. This is thinking man's rock for listeners who revel in musical subtlety"
- Metalsucks
NOVEMBER 20th, preorder extravaganza, be there or be square =)
Constants News!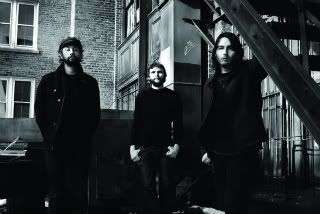 Some GREAT news from the Constants camp. Currently on the road finishing up a Fall US tour supporting their new album,
"The Foundation, The Machine, The Ascension"
, Constants have officially announced that their next record will be produced by none other than Justin K. Broadrick of Jesu / Godflesh fame =)
Orion said "Justin remixed a song for the Japanese version of our last album (Stiff Slack Records), and we were really into the direction he took the music. After talking with him for a while, we asked if he'd be interested in mixing our next record, and he offered to produce it."
They've already begun demoing and plan to begin tracking late this Fall in Will's studio, located in a historic barn deep in the woods of Connecticut. "The material so far is faster and heavier than anything we've done yet, and it's exciting for us to be working in a fresh and isolated environment, free from city distractions." says Will. "Presenting our ideas to Justin, who has had such an impact on modern music - we've upped our level of intensity and focus. Surprisingly the process has been more inspiring than intimidating so far."
So if that doesn't RULE then I'm not sure what does! It's sure to be a beast and, of course, louder than whatever you're listening to right now. Speaking of loud, you can pick up
"The Foundation, The Machine, The Ascension"
HERE!
. We'll keep everyone posted on the new albums progress for sure!!
CASPIAN!!!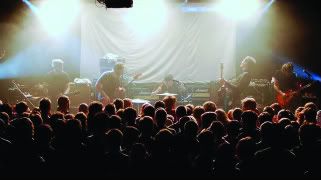 Our beloved Caspian has finally returned from their amazing jaunt across Europe. 50+ shows in just about that many days, nobody can ever say this band hasn't worked as hard as any other band out there to achieve what they have so far. We're incredibly proud of them, as I am sure anyone who has followed the band for any length of time is as well =) They've been going on and on about what a great time everyone showed them over there, so hopefully we can make the trip over there with them or one of the other bands during one of these upcoming years, because it sounds just AMAZING! For all you northeastern US peeps, keep your eyes out for some crucial upcoming January dates. As for the rest of the US, big tour coming up this Spring in support of
Tertia
- get pumped! Also in the late winter/early spring, we'll be reissuing Caspian's back catalog. So both
You Are The Conductor
and
The Four Trees
CD's will be getting reissued with new, upgraded packaging. We'll keep everyone posted on all this stuff as it gets closer! On November 20th at WUML The Fallout Shelter, the band will be performing live on-air around 9pm, you can stream the full set online at the stations website -
HERE'S THE WEBSITE
bookmark that joint and hit it up November 20th at 9pm!!! The band has also posted a new blog detailing much of this stuff &
HERE
read up!
P.S. we have less than 10 copies left of
The Four Trees
2xLP, still need a copy? Better head over
HERE
and snag one, because they're just about gone!
JUNIUS
- The Martyrdom of a Catastrophist -
As we all know by now, the Junius records arrived with a slight audio glitch. We are in the process of getting it fixed and the corrected audio is at the pressing plant being pressed as we speak. They should show up at our doorsteps in a few weeks and we can get this whole thing wrapped up and have your 2xLP shipped out to you. Just so you all know, we have already shipped out all preorders for the CD as well as all the tote bags and other items that people may have ordered when they initially placed their preorder for the 2xLP. So if you ordered two other records when you preordered the Junius 2xLP, those records are on their way to you now, etc. We'll keep everyone posted and feel free to email us at
orders@themylenesheath.com
with any of your questions or concerns.
But here's some more pictures of the packaging for those who have not yet seen them yet:
Here are the color configs all together:
And here are some individual shots of the colors:
Bronze/Black swirl, limited to 100. A few left
HERE
!
Clear w/Bronze haze, limited to 100, A few left
HERE
!
Cream w/Bronze haze, limited to 200. Only available from the band at US/UK tour dates!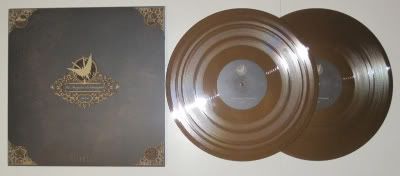 Bronze vinyl, limited to 600, available
HERE
!
Here's a couple shots of the spot gloss on matte finish for the vinyl jackets:
Here's a couple shots of the massive, 16 page book (also spot glossed) included with the vinyl: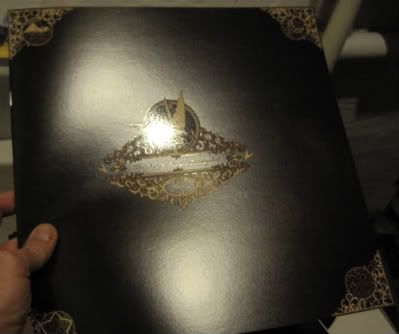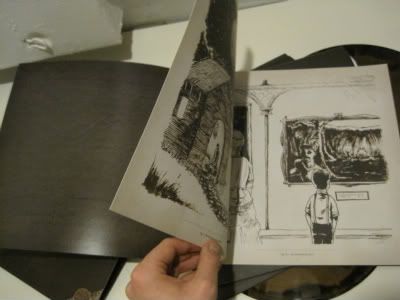 There you have it =) Again, we'll keep everyone posted as specific ship dates are determined and confirmed and we want to thank everyone for being so understanding and offering their words of encouragement after we sent out the last newsletter about this. It means very much to us and to see your support shine through, even when the news we're sharing with you isn't the news you want to hear, is truly special to us =) Ok... moving on to the next topic!
DISTRO UPDATE!!
A lot of new num yummies in the distro section of the webstore this month, including gems from
Robotic Empire
, France's
E-Vinyl Records
, and
43rd Parallel Records
. Take a look at some of the featured releases below and head over to the distro to view everything else by clicking
HERE
!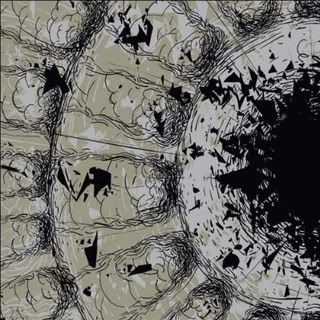 ROSETTA
(E-Vinyl)
The Galilean Satellites Disc 1 2xLP (blue vinyl, limited to 200)
"Philadelphia's Rosetta unleash their ambitious and groundbreaking debut double album entitled The Galilean Satellites! Combining ethereal/ambient soundscapes (think Explosions in the Sky and Mogwai) with sky-is-falling down-tuned heaviness and a vocal delivery that would make Coalesce's Sean Ingram proud, Rosetta jumpstart a new musical revolution by creating an aura of originality while gracefully paying tribute to its influences (Isis and Neurosis). Artwork by Aaron Turner (Isis/Old Man Gloom)."
- $20 -
PURCHASE
ROSETTA
(E-Vinyl)
The Galilean Satellites Disc 2 2xLP(yellow vinyl, limited to 200)
"Philadelphia's Rosetta unleash their ambitious and groundbreaking debut double album entitled The Galilean Satellites! Combining ethereal/ambient soundscapes (think Explosions in the Sky and Mogwai) with sky-is-falling down-tuned heaviness and a vocal delivery that would make Coalesce's Sean Ingram proud, Rosetta jumpstart a new musical revolution by creating an aura of originality while gracefully paying tribute to its influences (Isis and Neurosis). Artwork by Aaron Turner (Isis/Old Man Gloom)."
-$20 -
PURCHASE
SOUVENIR'S YOUNG AMERICA
(E-Vinyl)
Souvenir's Young America 12" (black vinyl, limited to 300)
"Blending ambient with electronic rock and progressive rock, SOUVENIR'S YOUNG AMERICA uses a wide array of diverse instruments like accordion, xylophone, cello, and samples to convey their often erratic and eclectic sound. Similar in vein to some bands they've played with like ISIS, BELLINI, GREGOR SAMSA, and SPARROWS SWARM AND SING, SOUVENIR'S YOUNG AMERICA have also shared a split 7" with CANDIRIA/ISIS ambient project SPYLACOPA."
- $15 -
PURCHASE
ISIS
(Robotic Empire)
Panopticon 2xLP (black vinyl)
"With guest bass (on "Altered Course") by Justin Chancellor of TOOL and production courtesy of Matt Bayles (MASTODON, BOTCH, etc.), Panopticon is the pinnacle of ISIS' considerable sonic achievements to date; a sprawling epic that firmly cemented their place in underground legend the world over. This deluxe double LP features a stunning gatefold jacket and double-sided insert on thick paper stock, with different artwork than the CD version on Ipecac."
- $20 -
PURCHASE
ISIS
(Robotic Empire)
In The Absence Of Truth 2xLP (translucent red/translucent yellow swirl, limited to 300)
"the ingredients are so carefully selected and masterfully performed that the collection creates a pretty endlessness, existing at its best as one long take of dark-n-stormy post rock. You should be in quiet awe"
- $20 -
PURCHASE
RED SPAROWES
(Robotic Empire)
At The Soundless Dawn 2xLP (silver/clear swirl, limited to 500)
"Tasteful use of space can be a rarity in modern instrumental music. Los Angeles' RED SPAROWES debut with "At The Soundless Dawn", a massive album with unconventional approaches to creating aural landscapes that prove not only tasteful, but downright outstanding."
- $20 -
PURCHASE
BENEATH OBLIVION / SIN OF ANGELS
(43rd Parallel)
split 10" (green vinyl, limited to 150)
This was a split 10" that 43rd Parallel released between our beloved Beneath Oblivion and Providence riff monsters, Sin of Angels. Beneath Oblivion contribute two tracks of crusty downtuned doom, with more emphasis on the "crust" than the 10" we put out. Nice thick, fold-over jackets with letterpressed covers and inserts. Essential Oblivion, get it - these are the last remaining green copies!! $10 -
PURCHASE!
And there is so much more in there as well, over a hundred different titles just waiting for you to provide them a good home!! Again, just head over
HERE
and look around, thanks guys!!
CD SALE!!
Read all about it! Read all about it!! Having a big sale in the webstore until next Friday - FRIDAY THE 13TH =) ALLLLLL CD's in the webstore are 30% off
or more
! Check out the sale
HERE
! Mad deals, mad I tell youuuuu!!!!! Stock up on some goodies =)
INTERNATIONAL SHIPPING RATES
Back in May of this year, the US postal service increased the international shipping prices. We never adjusted out shipping cost to reflect the change because we want to keep things a reasonable as possible for all you lovely folks who order our records from oversea. But, unfortunately with the ongoing economic state of the exchange rate, we can no longer carry the difference in shipping costs and have to increase our international shipping prices. =(
We'll be making this change as of November 16th, so get any orders in at the current rate while you can.
Here us how the changes will reflect:
Weight (in pounds)_____Old Price_____New Price
0.00 to 0.39___________$6__________$7
0.40 to 0.79___________$9__________$10
0.80 to 1.24___________$12_________$14
1.25 to 1.49___________$15_________$17
1.50 to 1.99___________$18_________$20
2.00 to 2.49___________$20_________$22
2.50 to 2.99___________$22_________$24
3.00 to 3.49___________$25_________$27
3.50 to 3.99___________$27_________$29
4.00 to 4.49___________$29_________$39
4.50 to 4.99___________$31_________$42
5.00 to 5.49___________$34_________$45
5.50 to 5.99___________$37_________$47
6.00 to 6.49___________$40_________$51
6.50 to 6.99___________$43_________$53
7.00 to 7.49___________$46_________$55
7.50 to 7.99___________$48_________$57
8.00 to 8.49___________$50_________$60
8.50 to 8.99___________$53_________$62
9.00 to 9.49___________$56_________$65
9.50 to 9.99___________$58_________$67
10.00 to 10.49_________$60_________$70
10.50 to 10.99_________$63_________$72
11.00 to 11.49_________$65_________$75
11.50 and up__________$68_________$77
It's not too terrible of an increase until you get to 4 lbs and up. Unfortunately, once a package reaches 4 lbs in weight, in can no longer be shipped First Class International and has to be sent Priority International, which is considerably more expensive. Plus we have to try and factor in the fees involved with processing your order (not to mention all the different packing supplies involved with mailing an LP). We hate to have to do this, but we've been hurting ourselves pretty bad over the course of the last handful of releases when it comes to shipping costs. We swear that this is as low as we can go without eating our shirts here, hopefully you all understand and definitely if anyone has any questions or wants to get in touch, please do =)
SHOWS!!
Beware of Safety
11/06/09...Los Angeles, CA @ The Bootleg Theatre (.dogs.TOUR HOMECOMEING SHOW) w/ Woolen
Caspian
11/20/09...Lowell, MA @ The Fallout Shelter on air Live radio performance
12/30/09...Cambridge, MA @ Middle East Upstairs w/ Constants and special guest
Actors & Actresses
11/14/09...Wichita, KS @ Rock Island Live
Constants
12/30/09...Cambridge, MA @ Middle East Upstairs w/ Caspian and special guest
Junius
11/06/09...Barcelona, Spain @ L'Eclectic Torelló
11/07/09...Laufen, Switzerland @ Biomill w/ Uphold
11/09/09...Poznan, Poland @ W Starym Kinie
11/10/09...Czech Republic @ Yacht
11/11/09...Dornbim, Austri @ Café Schlachthaus w/ These Monsters
11/12/09... München, Germany @ Sunny Red
11/13/09...Aachen, Germany @ AZ w/ Kokomo
11/14/09...Rotterdam, Netherlands @ Exit
11/15/09...Helder, Netherlands @ De Bliksem
11/18/09...Brighton, UK @ The Hope
11/19/09...Southampton, UK @ Hamptons
11/20/09...London, UK @ The Garage
11/21/09...Birmingham, UK @ Flapper
11/24/09...Liverpool, UK @ Korova
11/25/09...Leeds, UK @ Cardigan Arms
11/26/09...Edinburg, Scotland @ Sneaky Pete's
11/27/09...Belfast, Ireland @ Auntie Annies
11/28/09...Dublin, Ireland @ Academy 2
12/11/09...Boston, MA @ The Middle East Upstairs w/ Irepress, Tombs, Herra Terra (HOMECOMING /RELEASE SHOW!)
12/12/09...New York, NY @ The Studio at Webster Hall w/ Tombs, Irepress, Rosetta
Pheeeew! That was a mouthful! If any of you have any questions or concerns about any of the above information - or are just bored, feel free to hit us up - as always =) Well, we're not going to take any more of you time, this has been longer than the average newsletter already. Just to sum it up, the CD sale lasts for one week - ending next Friday, the international postage rate increase starts November 16th, Caspian is play an on-air set
HERE!
on November 20th at 9pm, and we'll be starting the If These Trees Could Talk preorder on November 20th as well =) Junius records should start shipping out by the end of the month and Thanksgiving should rule=) Have an absolutely awesome month peeps and we'll talk to you again in December!!! The Holiday season fast approaches!! Be safe guys, byeeeeeee!!!
xoxo,
Lindsay & Joel