Líder:
ah_kya
Política de associação:
Aberta
Criado em:
10 Mai 2008
Descrição:
fans of Super Junior's Kyuhyun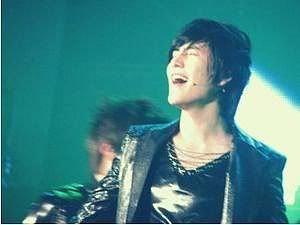 Cho Kyuhyun (Korean: 조규현; simplified Chinese: 曺圭贤; traditional Chinese: 曹圭賢; pinyin: Cáo KuÌxián; born February 3, 1988), more commonly credited as Kyuhyun (Korean: 규현; simplified Chinese: 圭贤; traditional Chinese: 圭賢; pinyin: KuÌxián), is a singer, dancer, and the youngest member of Korean boy band, Super Junior. He is currently a Modern Music major at Kyunghee University.
Kyuhyun's first media appearance was mysterious and not acknowledged. He made his first appearance as a part of Super Junior in a news broadcast on May 23, 2006 when the group was introducing their comeback single, "U". Kyuhyun made his debut perforance on May 26, 2006 at SBS's I-Concert performing the new single "U", where it was also the group's first comeback performance as a permanent group. Towards the end of 2006, Kyuhyun, along with Yesung and Ryeowook, were placed in Super Junior's first subgroup, Super Junior-K.R.Y. The trio debuted in November 5, 2006 on KBS's Music Bank. In early 2008, Kyuhyun was placed in a third Super Junior subgroup, Super Junior-M. The subgroup specializes in singing Mandarin versions of Super Junior's Korean songs, bringing the K-pop influence over to the Chinese music industry. Super Junior-M is the first international music group in the Chinese music industry to have members of both Chinese and Korean descent. The seven-member group debuted in China on April 8, 2008 at the 8th Annual Music Chart Awards and with the release of their first single music video, "U".