Líder:
Rodian
Política de associação:
Aberta
Criado em:
21 Mar 2008
Descrição: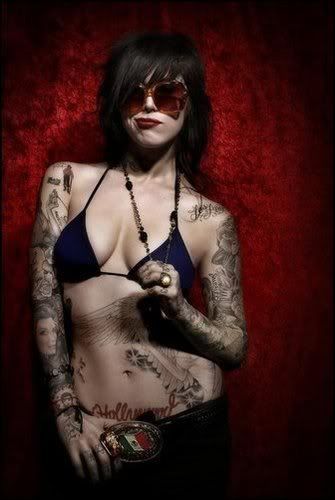 Born in Monterrey, Nuevo Leon, Mexico, Von D moved to the United States when she was four, settling in Colton, California. Her father René von Drachenberg and mother Sylvia Galeano were both born in Argentina. She speaks fluent Spanish and English[1].
Growing up in the Inland Empire, she made her first tattoo at age 14, a logo of the rock band Misfits. In early 1996, her friends asked her to pick up the machine and work on them (her first effort was a Misfits skull with a homemade rig). In 1998, she began working in her first professional shop, Sin City Tattoo. This was a great period of growth in her work and led to her eventually moving to True Tattoo for a chance to work with Clay Decker and Chris Garver. This afforded her the opportunity to live and work in Hollywood, Los Angeles.[3] Before working in Los Angeles, Kat Von D worked with her ex-husband, Oliver Peck, at his tattoo shop "Elm Street Tattoo" in Dallas, Texas.