Líder:
m0nkiii
Política de associação:
Aberta
Criado em:
27 Dez 2008
Descrição:


This groups users are followers of the site:
http://lastfm.shikaka.net/
Features on the site
- Milestones
- Artist/Track first to X plays
- Artist/Track milestones
- Consecutive track/artist plays
- Artists amount of topweeks
- New artistrank, where tracks/artists can be excluded based on number of plays
- Topartists/tracks for years, months, weeks, days
- Unique artists/tracks
- Average plays per second, minute... year
and much much more...
Use the following site to get a password:
http://lastfm.shikaka.net/makeMeAPassword.php
----------------------------------------------------------------------------------------------------------------------------
Updates & News:
2010-02-14


- - - - - - - - - - - - - - - - - - - - - - - - - - - - - - - - - - - - - - - - - - - - - - - - - - - - - - - - - - - - - - - - - - - - - - - - - - - - - - -
2010-01-21
I've added some support for Spotify for those of you that use it,
Try it out here!
That's just the beginning.
2009-08-26
I've added a new feature. You can now delete unwanted tracks from your stats. Search for tracks, mark unwanted tracks, write your password and press delete. Use it with caution. If you by mistake delete wrong tracks you might be forced to re-add yourself.
Try it out here
2009-08-18
I have changed some rules when updating. This time the update can only run for 5 minutes. My host can't handle it when it runs very long.
So when adding yourself it can be a bit annoying because you have to update several times. But if you want in that's the way to do it. In 5 minutes you can add ~7500 tracks. So it will take a while when adding yourself now.
2009-07-20
The update works again and I will start handing out passwords again.
My webhost got overloaded when a lot people updated at the same time. Now only one can update at a time. The number of updaters might increase over time.
2009-07-11
I want to thank
tacrolimus
for getting me a subscription for 3 months. I really appreciate it!
I've sent out around 30 passwords now. I hope you all have got one. If not, contact me.
2009-06-27
I've added a option to choose timezone. I'm still not sure how last.fm does with the summertime but the timezone makes the time more accurate.
Try it out.
2009-06-22
I've done a slider you can play with, try it out
here
. I hope you understand how it works because I'm too tired too explain at the moment.
Thanks to
Xemper
for the idea and view his explanation
here
2009-06-17
I'm gonna try a new thing concerning the adding of users. I'm gonna let you add yourself. This will not make it easier for you but will make it alot easier for me and I'll save a whole lot of time. You will get a password and use it to update your stats like old users do when they add new tracks to their stats.
It takes 1-3 seconds per page. One page contains 50 tracks so if you have 10 000 tracks it will take 3-10 minutes to add all of your tracks.
We'll try this out and see how it works. Don't forget to stop scrobbling while you add yourself. Contact me if you think there was a problem with the adding. Sometimes the trackcount matches the trackcount on last.fm but not always. You might have deleted tracks or added tracks with some kind of scrobbler. That's why the count might not be matching.
I hope you find this OK because adding users have taken alot of my time and this will make it more efficient.
2009-06-07
I've added some
statistics for the site
and
a table with statistics for all users
.
The pictures now updates on their own. So the option to choose which stats you want on your picture is for the moment gone. I prioritized the autoupdate because I noticed that the option to choose stats wasn't used very much.
2009-06-04
After a great idea by
PsychoOhneHirn
I've implemented a new feature. Average playtime per seconds, minute, hour, day and so on.
Check it out
. You can add this to your picture now if you'd like.
Keep in mind that some tracks haven't any lengths because they might be misspelled or last.fm haven't got them.
They might be added some day though.
I've taken away "Total plays" from the picture. I felt they weren't fun. If you want them back let me know.
2009-05-28
I like the
"Other statistics"
so I've added another similair one. It's "Other statistics" for one specific artist. The list of artists are listed in "most plays" order.
Check it out here
.
There's more to do but it's a start. In the future there will probably be an option to choose a specific track too.
When there's consecutive plays why not random plays too. So there's some news under
"Other statistics"
. Random plays, it's the opposite to consecutive plays. It's the number of played tracks in a row without playing the same track/artist in a row.
2009-05-26
I've added graphs over plays per hour, day, week, month and year. Under
"Other statistics"
.
2009-05-06
I've added a new "stats" in
"Other statistics"
. It's the time between plays. I've excluded times less than 8 minutes. It seemed like a good time. A while ago Last.fm updated the page so I got the hole timestamp for the play. Before I just got the timestamp for the current year. This means that for old users many timestamps are just a date. So the difference between plays on the same day will be zero (0) and the difference between days will be 24 hours. These differences are not included.
If you feel you want all your timestamps contact me and I'll add you all over again.
2009-04-17
The problem with adding new tracks should be fixed now.
2009-04-13
I've problems with adding new tracks at the moment. So the updating will be unavailable for some time.
I've changed some things in my database to save space. We all listen to tracks many times and of course users also listen to the same tracks. So the name of the tracks will appear many time. I've solved that by having a centralized system to get the name of the track. So when adding new tracks, when it's available again, it can take a while for your stats to update on the page.
2009-04-06
I should now support all different chars that's out there. I've read in some users tracks again, those of you that had a lot of ????. If you think you have a lot of ??? in your stats, contact me and I'll re-add you.
I've also added two new graphs.
- Unique tracks over time
- Unique artists over time
Do you have some ideas of graphs you'd like to see?
2009-03-27
There will be some downtime today sometime between 10.00 pm - 10.00 (GMT+0) am due to the upgrade.
2009-03-25
I've just read that my host will upgrade the hardware on friday. So hopefully I'll add many of you in the weekend. Stay tuned!
2009-03-23
My host havn't upgraded their hardware yet. But I'll will add some of you with low playcount. I'll probably wait to add you with >20 000 plays. But like I wrote before, I'll add you all ASAP.
2009-03-13
I have a few more to add for the moment. My host will update their hardware in the near future and my script is quite tough on the server so I'll wait for the upgrade. It will probably work smoother after the upgrade.
2009-03-05
I've added a new feature.
http://lastfm.shikaka.net/index.php?stat=genpic
You can now generate your picture on your own. It's an ongoing project like any other feature on the site. More different stats and options will appear. Because of this new feature the picture will not update of it's own. I'll probably add that autoupdate some day though.
2009-02-24
Spank
Capricornus
who reported a bug in the calculations of consecutive artists and tracks. All calculations were missing one play. They should be correct now.
Please report any bugs or errors of any kind
here
.
2009-02-23
I've added a second chart over an artists plays specified by you. If you haven't noticed you can zoom quite much in the charts.
I've also added a Donate button. It's there for those who wish to show their appreciation in that way.
2009-01-27
I've added a chart over played tracks:
http://lastfm.shikaka.net/index.php?stat=charts
I'll probably play around with charts a bit more.
2009-01-25
I've done a start for a picture on our stats: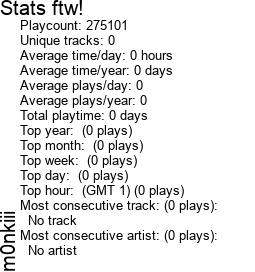 You can get your picture on this adress:
http://lastfm.shikaka.net/pics/yourusername.png
Note that I'm not that good on design. But this is just a start. Use it if you'd like. Some pictures might be quite wide due to long tracknames etc.
2009-01-21
I've added a feature so you can now update your stats on your own. I think that's the best method right now because the update doesn't work when the user scrobble. A autoupdate might screw it up!
You'll have to have a easy password so no other than yourself can update your stats.
So PM me with a easy one. I don't think we'll have to have the best security on this one :P
2009-01-19:
All users of this group has been added again and now all milestones should be correct. I think the bug has been active for a longer time than I first thought. It might been a month or more. So even "old" users in this group has been fixed.
2009-01-13:
I deleted some of the users because of the bug below. I'll gradually add them and the new users.
2009-01-12:
I've noticed a "bug" regarding the "Recently Listened Tracks"-pages. When I first started to read from it the pages contained 50 tracks. Now they only contains 49! One track/page was missing. I parse the lastfm.se site and this bug was known. On last.fm this was fixed.
So I'm sorry to say that the milestones and such aren't correct for the newcomers. The newest milestones and such for old users aren't correct. Can't remember when it started with 49 tracks, maybe one-two weeks.
But I'll switch site I parse and read your tracks again. But this could take a while. I'll let you know when it's done.
Edit: I fixed a newish script faster than I thought. So now I will add new users and tracks, and this time correctly.2009-01-09
: I've added minutes to Artist/Track charts. There's alot of tracks that stills don't have any length but it's getting there. About 70 000 tracks left to add the length to.
Example
2008-12-30
: I was inspired by
kurtrips's site
and made it easier to see topartists and toptracks of days, weeks, month and years.
Example
Why the Most Popular Music Is Not Always the Best por Milkshake8 | 1 Jun 2012 |

2 comentários

Lamar Smith Can't Hear You por Milkshake8 | 9 Jan 2012 |

3 comentários

Last.fm serenades users with new discovery tool por Milkshake8 | 15 Dez 2011
Ver todos