Líder:
xhexis
Política de associação:
Aberta
Criado em:
15 Mai 2011
Descrição:
Group for fans of today's and tomorrow's classical music.
Classical music in 21st-century
The Oslo Opera House, opening on 12 April 2008.
21st century classical
music is a diverse art form. Some elements of the previous century have been retained but there is a growing move towards
post-modernism
,
polystylism
and
eclecticism
, which seek to incorporate elements of all styles of music irrespective of whether these are "classical" or not—these efforts represent a slackening differentiation between the various musical genres;
pop
,
jazz
,
rock
, and others are seen as styles to be used in any work, rather than as separate disciplines. The combination of classical music and multimedia is also a notable practice in the 21st century; the internet, alongside its related technology, are important resources in this respect. The number of important women composers has also increased significantly.
Sir John Tavener, he was knighted in 2000 for his services to music.
For its October 2009 edition, the
BBC Music Magazine
asked 10 composers, mostly British, to discuss the latest trends in western classical music. The consensus was that no particular style is favoured and that individuality is to be encouraged. The magazine interviewed
Brian Ferneyhough
,
Michael Nyman
,
Einojuhani Rautavaara
,
Henri Dutilleux
,
John Adams
,
James MacMillan
,
Jonathan Harvey
,
Julian Anderson
,
John Tavener
, and
Roxanna Panufnik
. The works of each of these composers represent different aspects of the music of this century but these composers all came to the same basic conclusion: music is too diverse to categorise or limit. In his interview with the magazine, Dutilleux argued that "there is only good or bad music, whether serious or popular".
Julian Anderson
, a British composer, uses popular house and club music as the basis for many of his compositions. Indeed works such as
Khorovod
(1994) seem to anticipate the modern trend. His music combines the music of traditional cultures from outside the western concert tradition with elements of modernism, spectral music and electronic music. His large-scale
Book of Hours
for 20 players and live electronics premiered in 2005.
John Tavener
, another British composer, draws his inspiration from eastern mysticism and the music of the Orthodox Church.
Michael Nyman
is an English minimalist best known for his film score for
The Piano
. He often borrows from
baroque
music and is an acclaimed composer of operas, including (in this century)
Facing Goya
and
Sparkie
. The latter work draws its inspiration from a talking budgie. His shorter works often written for his own
The Michael Nyman Band
.
Often styled the "Father of
new complexity
", English composer
Brian Ferneyhough
has recently started writing works which reference those of past composers. His
Dum transisset
are based on Elizabethan composer
Christopher Tye
's works for viol; the fourth string quartet references
Arnold Schönberg
. His opera
Shadowtime
(libretto by
Charles Bernstein
), which premiered in Munich in 2004, is based on the life of the German philosopher
Walter Benjamin
.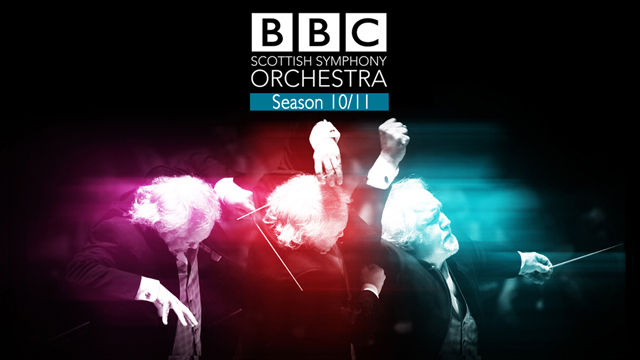 The BBC Scottish Orchestra, composer and conductor Ian Whyte..
Einojuhani Rautavaara
is a Finnish composer writing in a variety of forms and styles. His opera
Rasputin
premiered in 2003 and he has written a large—and rapidly growing—body of orchestral and chamber works.
Active since the mid-1940s, the French composer
Henri Dutilleux
follows the Impressionist and Neoclassical tradition of
Maurice Ravel
,
Claude Debussy
, and
Albert Roussel
. His latest works include
Correspondances
and
Le Temps l'horloge
, both of which are song cycles.
John Adams
is a Pulitzer Prize-winning American composer with strong roots in
minimalism
. His best-known recent works include
On the Transmigration of Souls
(2002), a choral piece commemorating the victims of the 11 September 2001 attacks (for which he won the Pulitzer Prize for Music in 2003) and
Doctor Atomic
(2005), which covers Robert Oppenheimer, the Manhattan Project, and the building of the first atomic bomb. In October 2008, Adams told
BBC Radio 3
that he had been blacklisted by the U.S. Homeland Security department and immigration services.
James MacMillan
is a Scottish composer and conductor influenced by both traditional Scottish music and his own Roman Catholic faith. His most recent works include operas (
The Sacrifice
premiered in 2007) and a
St John Passion
(2008).
Jonathan Harvey
, a British composer, was Composer-in-Association with the
BBC Scottish Symphony Orchestra
from 2005-2008. His 21st-century works include the large-scale cantata
Mothers shall not Cry
(2000), written for the BBC Proms Millennium, and the orchestral works
Body Mandala
(2006) and
Speakings
(2008).
Polish composer
Roxanna Panufnik
, the daughter of Sir
Andrzej Panufnik
, is one of the growing number of important women working in 21st-century composition. Her output includes operas, ballets, music theatre, choral works, chamber music, and music for film and television. Her most widely performed works include
Westminster Mass
, commissioned for
Westminster Cathedral Choir
on the occasion of Cardinal Hume's 75th birthday.